The first thing a new client in Oki-Toki faces is how and where to replenish the balance? The menu is located in the "Company\" section, in the " Documents and Payments " subsection.
This article refers to the " Cloud Call Center " product
Let's divide the process of the first replenishment into stages:
Payer setup;
Customer setting;
Choose a payment method from the proposed 5:

Fondy payment
LiqPay payment;
Payment Yandex (RU);
Payment Alfa-Bank (RU);
Payment by Sense Bank (Alfa-Bank) (UA).
Payer setup
Payer settings are made in the "\"Settings\" tab and contain two options:
Individual: this option is used to replenish the balance through Yandex. The most important and mandatory setting is the "E-mail" field. When making a replenishment through Yandex, in the \"Comment\" field, you must enter the e-mail that you specified in the physical settings. faces. Thus, Oki-Toki will understand who the money came from and which company they need to be credited to the balance sheet. The remaining fields are optional, but may help Oki-Toki to contact you if necessary.
Legal entity: this option is required for automatic transfer of funds in case of a balance replenishment method through Alfa-Bank. In this case, the most important field is "Registration number". When paying through a current account, we will link the payer's details (TIN/Regnum/EDRPOU) with the value entered in this field and credit funds to the right place.
Setting up a customer card
Customer's card is configured in the same tab and is needed to generate an act of services performed. We recommend filling out the form as completely as possible in order to have the correct act at the end, which will not need to be corrected.
Choosing a payment method
Payment with LiqPay is available in two ways:

Directly from the account: Going to the balance replenishment menu, select the "LiqPay" method. Enter the amount to replenish, create an account. After that, the invoice with the "Pay \" button appears in the list of payments. It remains only to click on the button and make the payment.
Download the pdf file of the generated invoice and pay for it according to the details.
Payment via Yandex: select the payment method "Yandex", use the number of our wallet, which is indicated there, or follow the link;
Payment through "Sense Bank (Alfa-Bank Ukraine)" and "Alfa-Bank Russia" are identical to payment through LiqPay. After creating an account, pay it in a convenient way for you.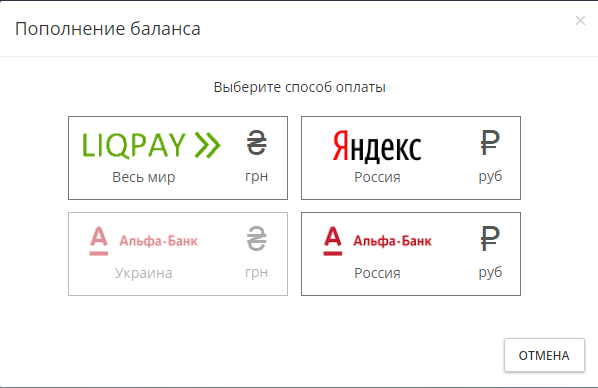 Additional Information:
Go to the cost calculator
Important! When paying through Yandex, for automatic crediting of funds, be sure to add to the comment the email that you specified in the individual's settings.