Conversation scripts from
Oki-Toki
A tool for systematizing, controlling and automating the process of communication with customers.
How to use Conversation Scripts?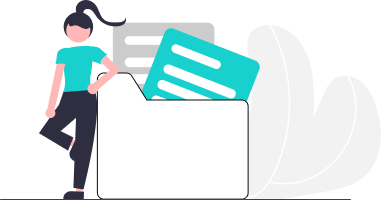 1
Sales scenarios
Create your own sales scenarios for different projects, making it easier for operators to work with objections and rejections. Connect Callback or Dialer to the scenario in Oki-Toki, and the operator will not forget about the call to the client, the filling history will remind you of the last "touch", and automatic notifications will send the CP without the participation of the operator.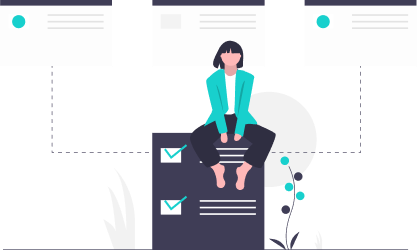 2
Questionnaires for surveys and research
Use a handy visual designer to create survey questionnaires. To launch a survey, you will need such Oki-Toki features as a powerful dialer with extensive customization options, phone and address validation, and API integration. Connect to operator surveys from anywhere in the world. Track the time spent on each question. Provide detailed statistics to the customer.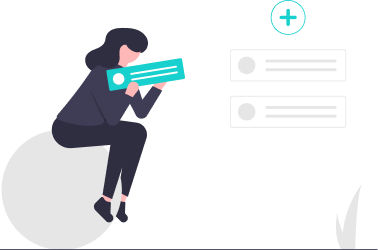 3
Conversation scenarios for an incoming line
Connect conversation scripts to the incoming line to optimize the processing of calls. Conversation scenarios in Oki-Toki can not only prompt the operator, but also help to keep a history of calls, schedule calls, load lists or send automatic messages, for example, from a CP or with information about an order.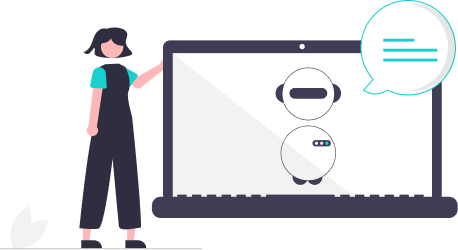 4
Conversation scripts for robots
Automate the processing of calls to your call center with conversation scripts for robots. Our robots do not need to be trained on your conversations – they are born with the skills inherent in good operators: a pleasant voice, manners, literacy and a sense of humor.
Where to use Conversation scripts

cold sales
Upload your sales scripts and track the performance of telemarketers.

Polls and questionnaires
Use Conversation Scripts to conduct market research, social or political surveys.

Receiving requests in the online store
Record and process calls to the call center, hotline or technical support of the online store.

Acceptance of orders in CPA networks and goods
Process calls and make additional sales with Conversation Scripts.
5 tasks that the Conversation Scripts tool solves
Process Automation
Simplify basic operations by automating processes with Conversation Scripts. What can you do:
Send automated messages to respondents via email or SMS.
Set up automatic notifications to responsible or customers, for example, about a sale or an application.
Schedule your next call. Set up remembering the last answer in the scenario with the ability to continue it.
Set quotas for surveys with the ability to automatically stop calling when the quota is reached.
Integrate with other CRMs to collect or send data during a conversation
Improving Efficiency
Oki-Toki conversation scenarios simplify the work of experienced operators and help beginners quickly turn on. You can:
Flexibly set up transitions between questions and answers.
Add explanations to questions, descriptions of answer requirements, and miscellaneous trivia for learning.
Use a single interface for all your call center projects.
Create your own conversation script templates.
Data collection
Using Conversation Scripts, you can eliminate the human factor like "forgetfulness" when entering required answers and unify data collection.
Use the binding of answers to the contact fields in the card.
Set survey quotas.
Keep a history of changes in the card. Create dropdown lists to save responses in a single format.
Set required fields.
Use automatic data validation during filling (addresses, names, etc.).
Operator training
Conversation scenarios in Oki-Toki simplify the process of integrating new operators or launching new projects as much as possible.
Use the "Sandbox" to train employees without affecting the statistics of work projects.
Easily add new operators to your project by displaying prompted questions sequentially instead of memorizing questions.
Test the "weak points" of the script before starting work.
Drawing up reports
Optimize your call center with Conversation Scripts. You will be able to track:
Individual KPIs for operators.
Involvement in work.
General statistics for the company.
Project statistics.
Aggregated data with different slices is already ready in our " Reports " tool.
Additional features of Chat Scripts

Preservation of the duration and authorship of each of the answers.

Validation (verification) of the entered values.

Connecting a list of possible values.

Response history with UNDO option.


Ability to import scripts from Google docs and Msword

Ability to manage scripts via API.
DID NOT FIND THE INFORMATION YOU NEED?
Leave a request and get even more information about our service!
What the Conversation Scripts tool looks like in Oki-Toki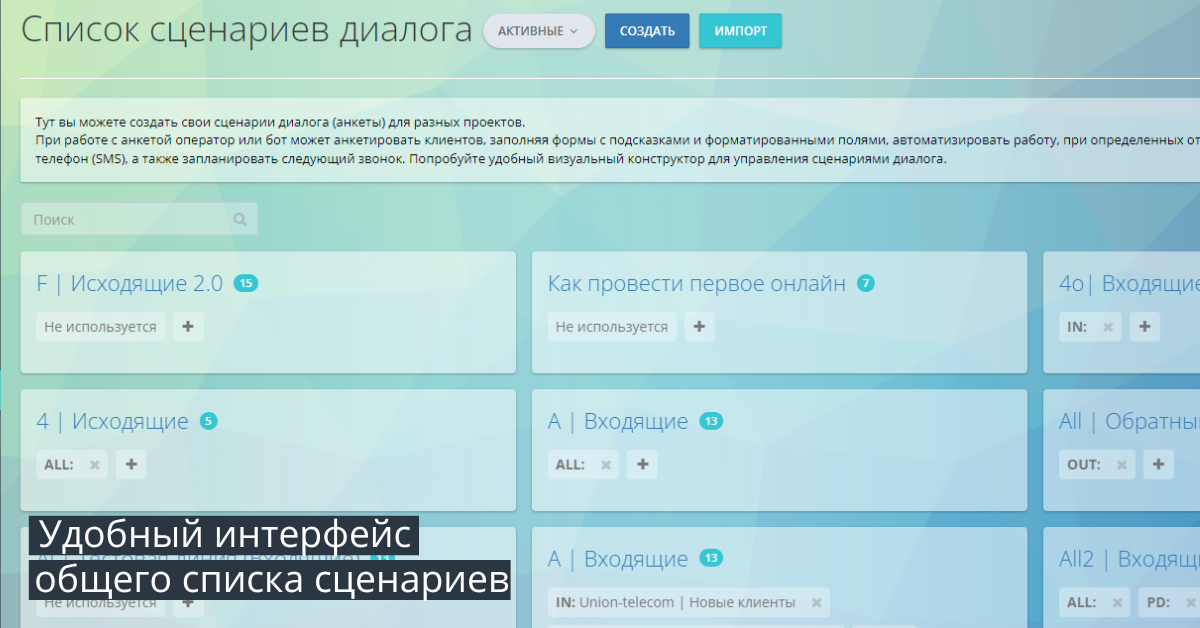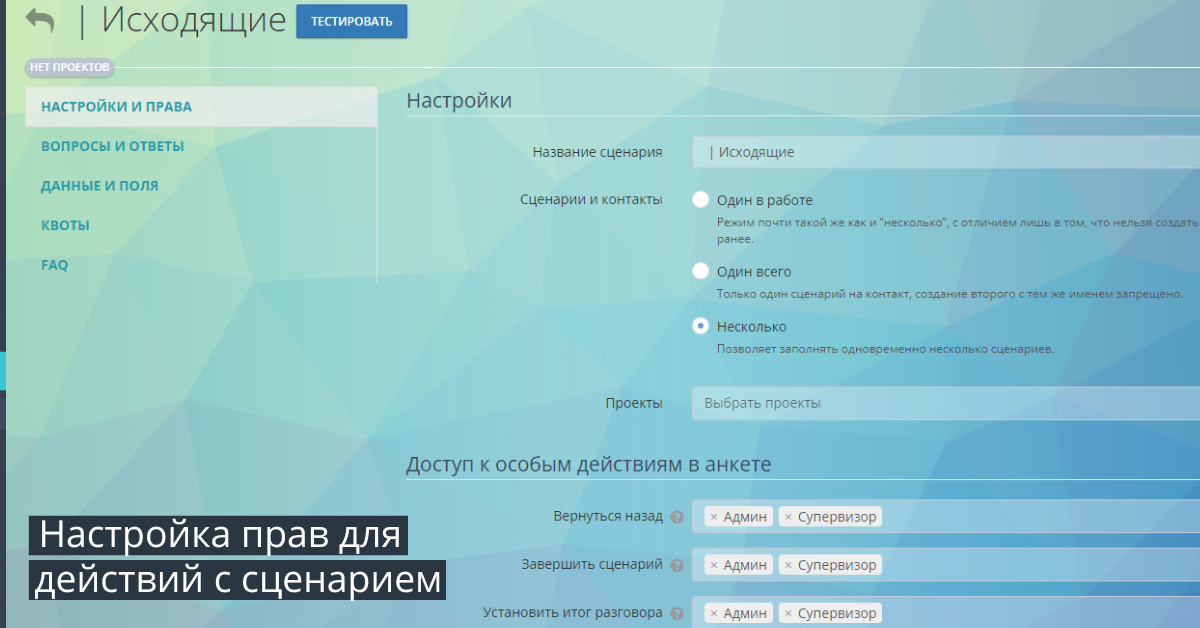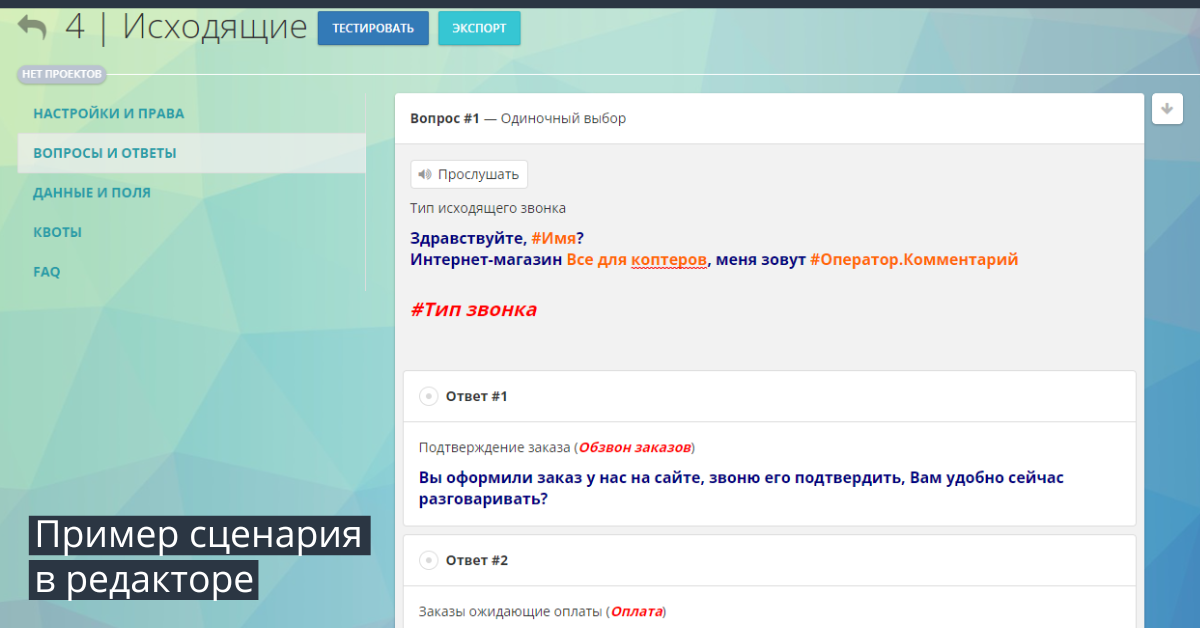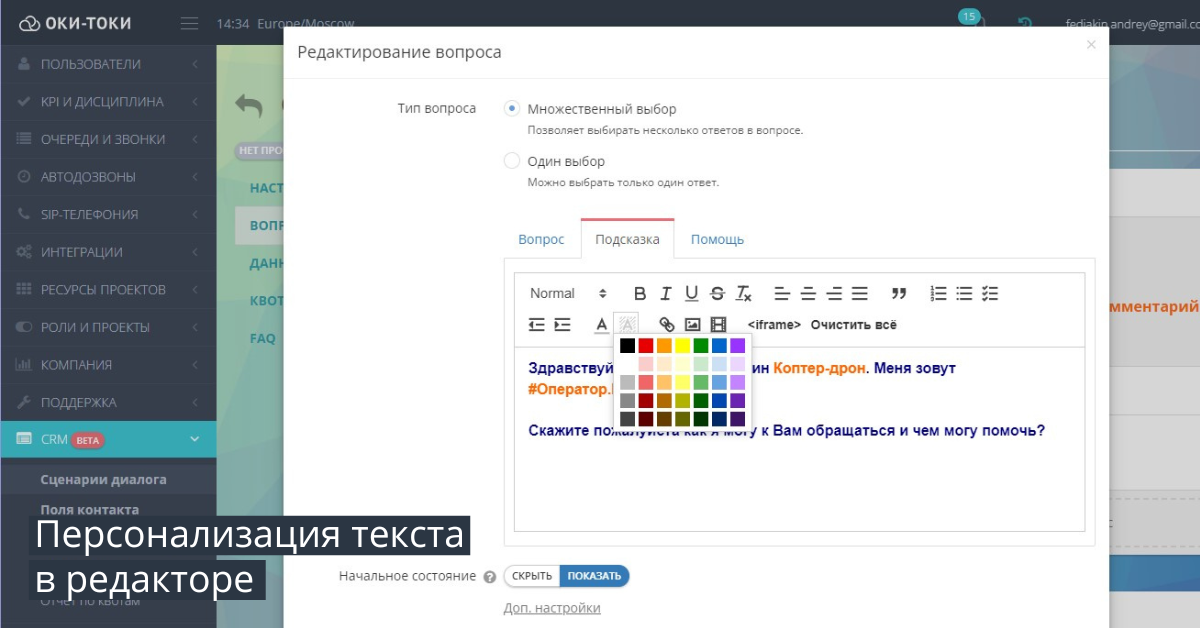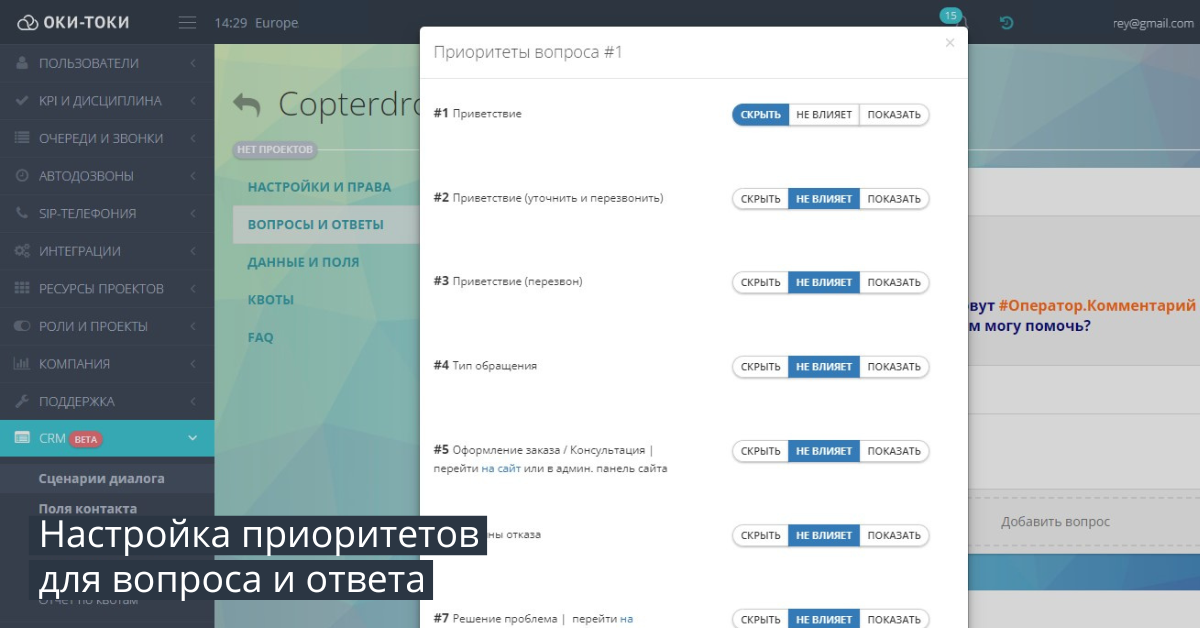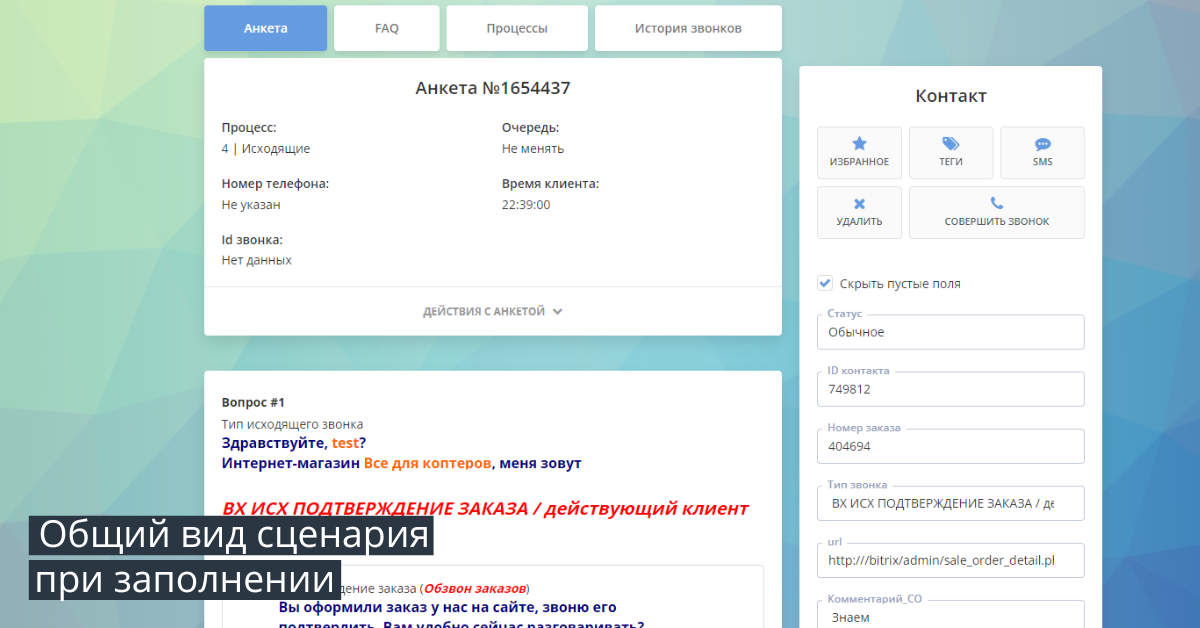 Frequently asked questions about the Conversation Scripts tool
Are there multiple levels of questions?
Yes. There are no depth restrictions.
Can scripts be imported/exported?
Yes. You can import from Google Documents.
Can I use your CRM with my PBX?
It is impossible to connect CRM separately without our PBX.
Can I connect my SIP number to CRM?
Is there a fee for using CRM?
Payment for the use of CRM is included in the subscription fee.
Is it possible to connect external storage to your service?
You can connect Google Drive, Dropbox, Yandex Disk.
Is it possible to listen to the operator's conversations in real time?
Yes, through the "Users" widget in the operator's place.
Can the operator receive calls to a personal phone if necessary?
Yes, for this you need to add another communication tool in the user settings.
Use additional tools as needed
Omnichannel
Dialer
Conversation scripts
Speech analytics
Reviews about Oki-Toki from other services
Conversation scripts - a professional tool for your call center
Did you know,
how to ensure timely completion of customer cards?
how to quickly train operators?
how to provide unified service?
who handled this client 2 or more calls back?
At what stage of the conversation is the client most likely to refuse?
who talks more, who calls, and who is absent? (Does it matter? The main thing is sales? Yes! But there are nuances)
Are you sure that the manager during a stressful conversation will not forget how to properly handle the objection? Only one tool helps to close five of the six questions above – Conversation Scripts!
5 tasks that conversation scripts solve
We at Oki-Toki offer improved tools for creating scripts and monitoring their usage.
Automation
Automation in Oki-Toki Conversation Scenarios is needed to simplify basic operations, for example, displaying the necessary questions, sending a CP to the client by mail, SMS with a template text, or transferring data to the customer's CRM. Poll quotas will help you stop the call process earlier if the data for the criteria has already reached the limit.
Unification and simplicity
Oki-Toki conversation scenarios simplify the work of experienced operators and help beginners quickly turn on by using a single interface, automatically opening the desired conversation scenario and prompts at each stage.
Data collection
The purpose of any conversation in a call center is to collect data. For example, this could be a comment on a call, identifying the purpose of the call, a survey, or completing a sale. Using Oki-Toki conversation scripts, you can eliminate the human factor like "forgetfulness" when entering required answers and unify data collection. Saving the filling history will help to understand the situations "I didn't enter this" or "It's not me".
Education
Starting a new project in an outsourced call center or hiring a new employee in a call center involves several steps, one of which is learning what to say during a call. Usually they give a printout or a document that you need to learn, conduct an exam and go to work. Oki-Toki scenarios can make this step easier by keeping the complexity to a minimum. A special "Sandbox" for beginners will help not to spoil the work statistics and at the same time the operator will be able to fully train. Consistent display of questions on the screen with hints will help, without memorizing to letters, to quickly get involved in the project for both beginners and experienced operators.
Reporting
Reporting is an important component of any campaign. Without reporting, there is no understanding whether the goals are being achieved, how the operators work, whether they have any difficulties when making calls, and what is happening with the project in general.