Conversation Scripts with Customers
A tool for systematization, monitoring, and automation of the communication process with clients.
How to Use Conversation Scripts?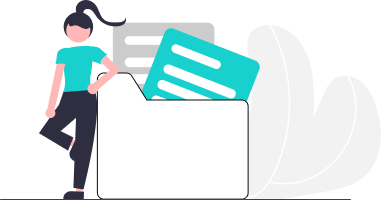 1
Sales Scripts
Create your own sales scripts for various projects, facilitating agents' work with objections and rejections.
Integrate Callback or Auto-dial into the script in Oki-Toki, and the agent will not forget about the call to the customer, the history of fillings will remind you about the last 'touch', and automatic notices will send a commercial proposal without the involvement of the agent.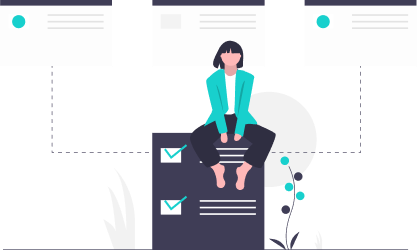 2
Surveys and Research Questionnaires
Leverage our intuitive visual builder to create survey forms. To kickstart your surveying process, you can take advantage of Oki-Toki's powerful features such as robust dialer with extensive customization options, phone and address validation, and API integration. Connect agents from anywhere in the world to your surveys. Track the time spent on each question and deliver detailed statistics to your client. These are the tools at your disposal to ensure superior service deliverance, while maximizing agent productivity and boosting your contact center's output.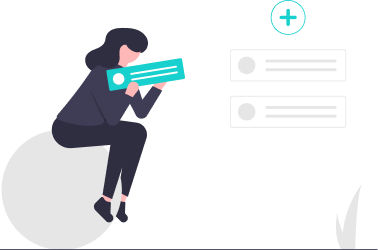 3
Conversation Scripts for the Inbound Line
Connect conversation scripts to your inbound line to streamline the process of handling inquiries. Conversation scripts in Oki-Toki are not only capable of assisting agents, but also facilitate in maintaining a history of interactions, scheduling calls, uploading lists or auto-sending messages, such as quotes or order information. Prioritize this process to maximize efficiency in your contact center!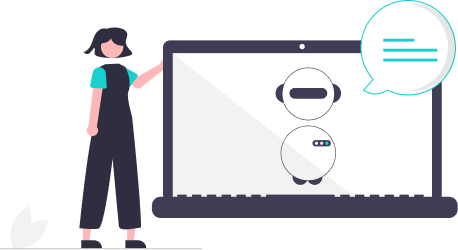 4
Conversation Scripts for Robots
Automate the processing of inquiries in your call center with the help of conversation scripts for robots.
Our robots need no training on your conversations – they are born with skills characteristic of good agents: pleasant voice, manners, literacy, and a sense of humor.
Where to Use Conversation Scripts

Cold Sales
Upload your sales scripts and track the effectiveness of your telemarketing agents' performance.

Surveys and Questionnaires
Utilize conversation scripts for conducting marketing research, social or political surveys. As an experienced marketing leader, I can assure you that the success of your research heavily relies on well-crafted scripts. By leveraging these scripts, each agent can make certain they cover key talking points thus driving consistency and quality in the data collected. Turbulent elements such as human error and varying conversation styles are widely mitigated. The term 'Oki-Toki' might not be widely recognized, but its role is pivotal and cannot be underestimated. So let's adopt the scripts, harness the power of Oki-Toki and let your drive to success be a smooth and efficient one!

Handling Customer Inquiries in an Online Store
Capture and process inquiries in the call center, on the hotline, or in the online store technical support.

Order Taking in CPA Networks and Commodity Trade
Handle inquiries and drive additional sales with Conversation Scripts.
5 Problems Solved by the "Conversation Scripts" Tool
Process Automation
Simplify basic operations by automating processes with Scripts. What you will be able to do:
Automatically send out messages to respondents via email or SMS.
Configure automatic notifications for responsible parties or clients, for example, about a purchase or a request.
Schedule your next call. Set up the system to remember the last response in the script with the ability to continue it.
Set quotas for surveys with the ability to automatically halt dialing upon reaching the quota.
Integrate with other CRMs for data gathering or sending during a dialog.
Boosting Efficiency
Oki-Toki conversation scripts simplify the work of experienced agents and help beginners quickly integrate. You will be able to:
Flexibly adjust the transitions between questions and answers.
Add explanations to the questions, descriptions of the requirements for the answers, and various details for training.
Use a unified interface for all your call center projects.
Create your own conversation script templates.
Data Collection
By using conversation scripts, you can eliminate the human factor such as 'forgetfulness' when entering mandatory responses, and standardize data collection.
Use the binding of responses to contact fields on the card.
Set quotas for surveys.
Store the history of changes in the card. Create drop-down lists to save responses in a unified format.
Set fields mandatory for filling.
Use automatic data correctness checking during filling (addresses, names, etc.).
Training Agents
Scripts for conversations in Oki-Toki greatly simplify the process of integrating new agents or launching new projects.
Use the "Sandbox" for training your staff without affecting the statistics of your working projects.
Easily onboard new agents into the project by providing a sequential display of questions with hints, instead of tedious memorization.
Test the "weak spots" of the script before commencing work.
Creating Reports
Optimize your call center's performance using Conversation Scripts. You will be able to track:
Individual KPIs for agents.
Engagement in work.
Overall company statistics.
Project statistics.
Aggregated data with various angles is already ready in our tool "Reports".
Additional Features of Conversation Scripts

Preserving the duration and authorship of each response.

Validation (verification) of entered values.

Enabling a list of potential values.

The History of Responses with the Option of UNDO.

The Ability to Duplicate Scripts.

The ability to import scripts from Google Docs and MS Word

Opportunity to manage scripts through API.
CAN'T FIND THE INFORMATION YOU NEED?
Submit your request and get even more information about our service!
What does the tool 'Conversation Scripts' look like in Oki-Toki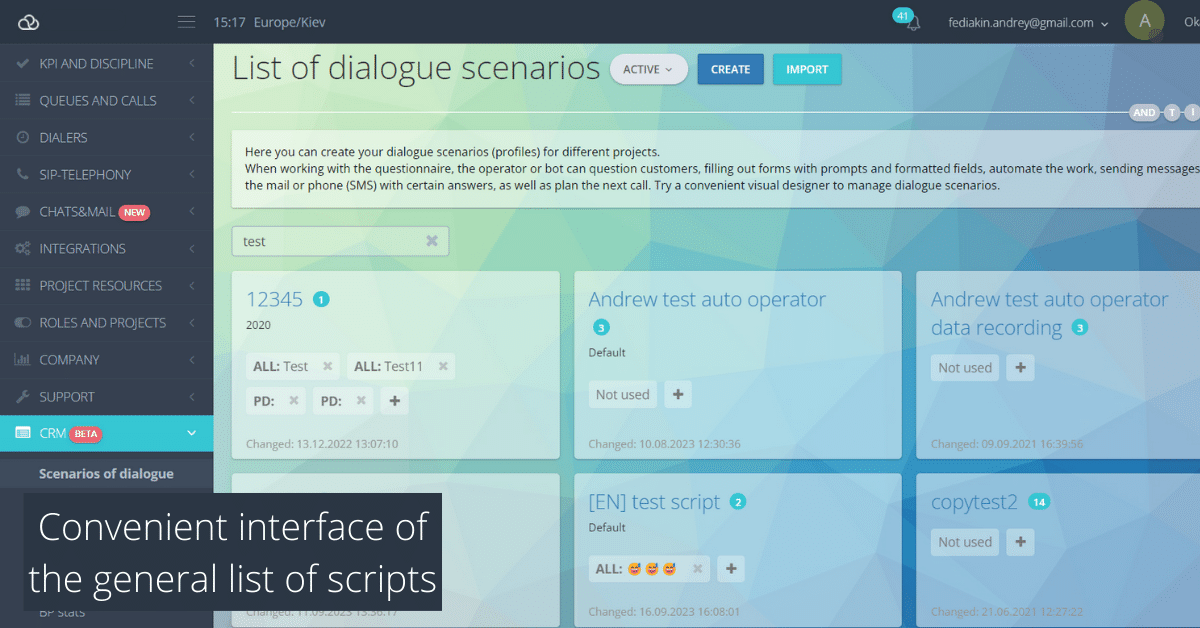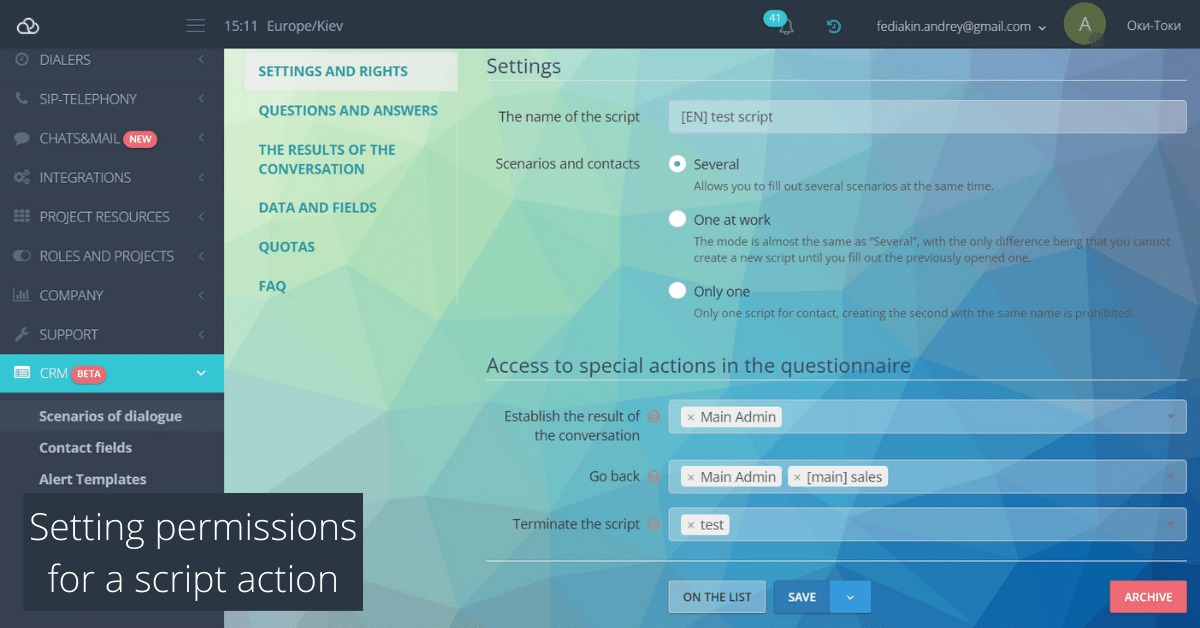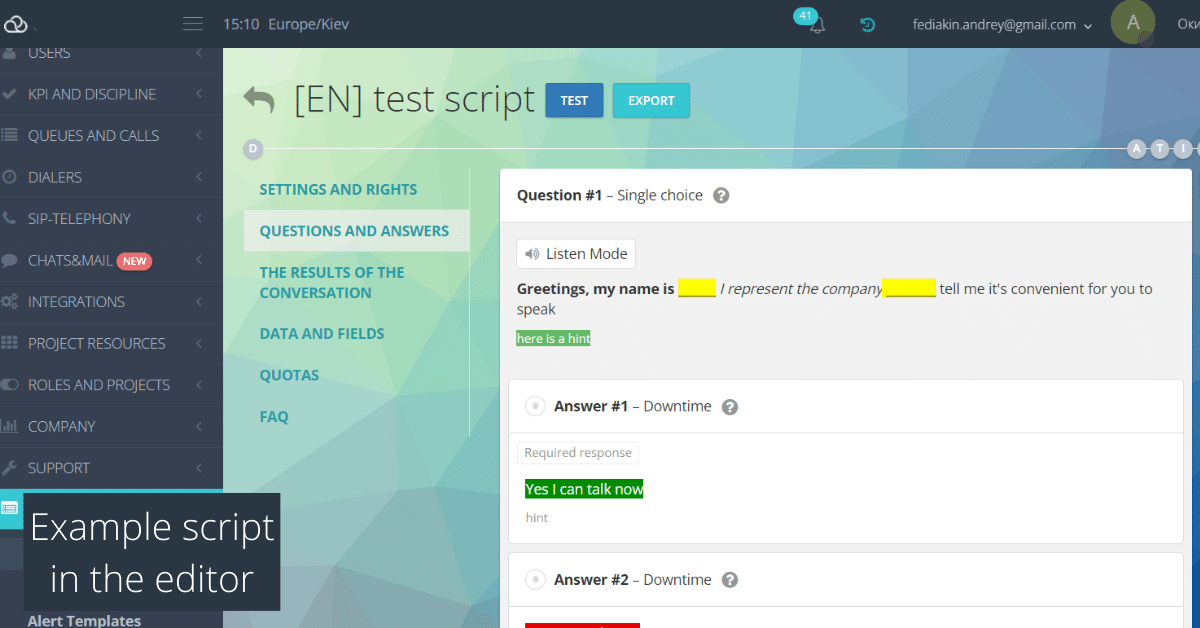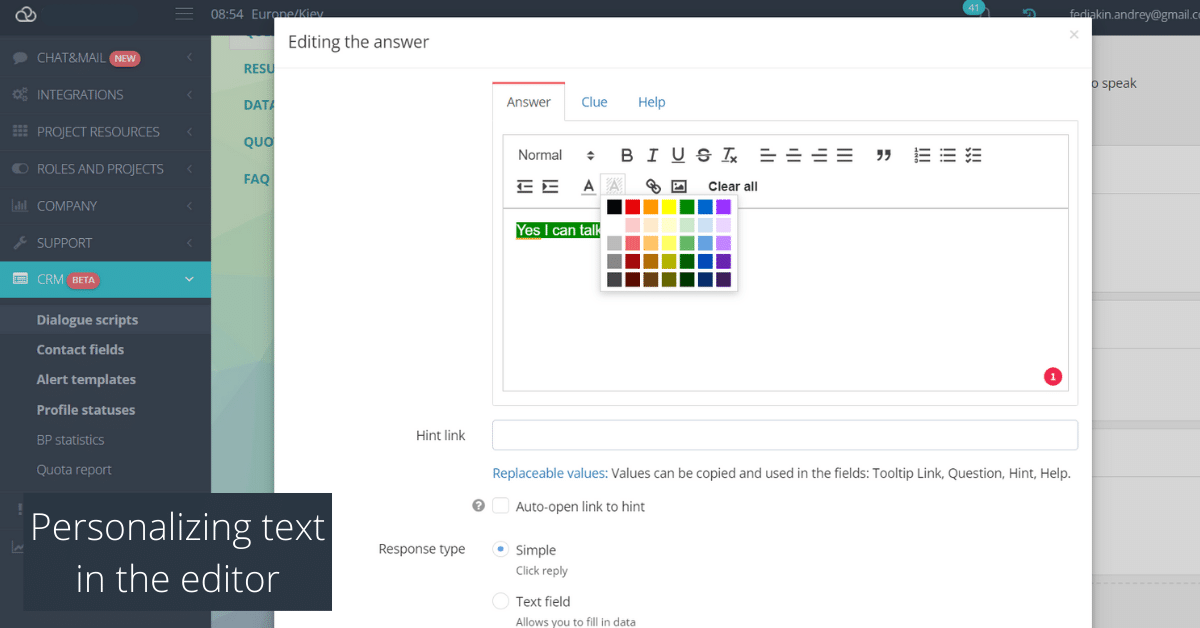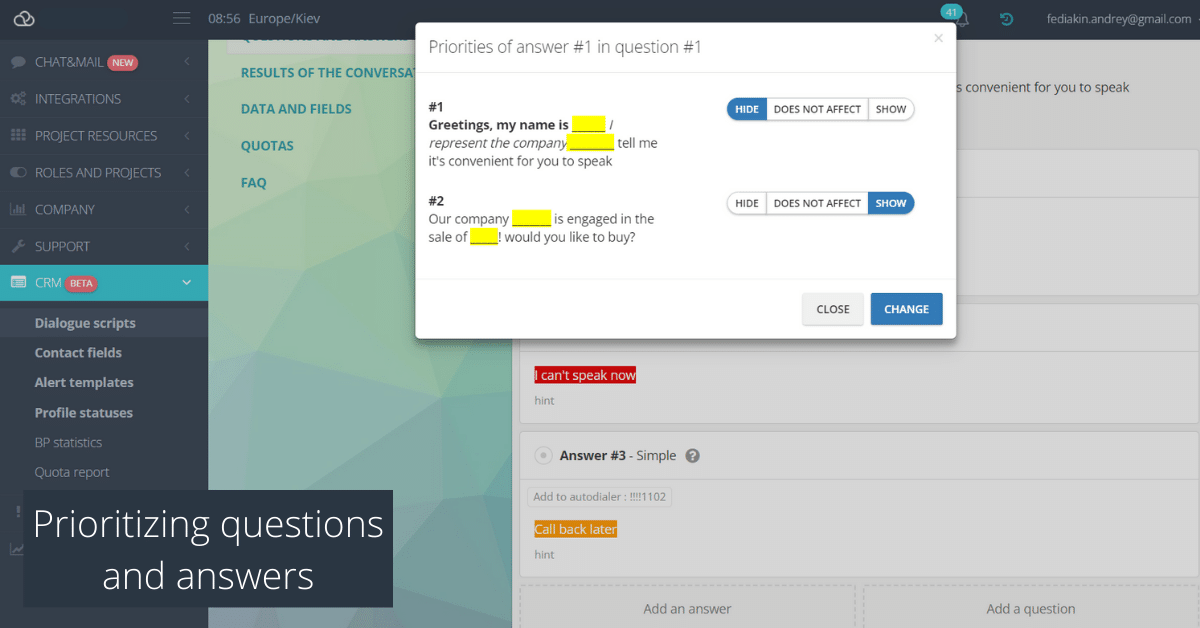 Frequently Asked Questions about the 'Conversation Scripts' Tool
Is there a multilevel nature of questions?
Yes. There are no limits to the 'depth'.
Is it possible to import/export scripts?
Yes. You can import from a Google document.
Can your CRM be used with our own PBX system?
It's impossible to separately connect the CRM without our PBX system.
Can I Connect My SIP Number to a CRM?
Is there a fee for using CRM?
The payment for the use of CRM is included in the subscription fee.
Is it possible to connect an external storage to your service?
You can integrate Google Drive, Dropbox, Yandex Disk.
Is it possible to listen to an agent's conversations in real time?
Yes, through the 'Users' widget at the agent's workstation.
Can an agent take calls on a personal phone if necessary?
Yes, for this, you need to add another communication tool in the user's settings.
Utilize additional tools as needed
Omnichannel
Auto-Dialing
Conversation Scripts
Speech Analytics
Reviews on Oki-Toki from Other Services
Oki-Toki
Google Chrome browser
Call Center Customer Interaction Script
Customer conversation scripts are an essential tool for any company that values service quality and efficiency. They help enhance customer interaction quality, standardize processes, and boost customer satisfaction. In our service, you can create ready-to-use sales scripts for free. Let's discuss what a customer conversation script is, how they work, and the benefits they can bring to your business.
How to Use Conversation Scenarios?
Creating sales scenarios in Oki-Toki is a simple and convenient process. Here are the main steps to follow:
Define the goal. Before starting the script creation, it's essential to understand the goal you want to achieve. It could be selling a specific product or service, enhancing service quality, or managing objections.
Research the market. Explore the market to understand what your customers are looking for and their needs. This will help you craft a script tailored to their requirements.
Create the script. Use the handy visual builder in Oki-Toki to create a sales script.
Identify key stages of the conversation. Whether it's an outgoing call script or an incoming one, identify possible objections and answers, as well as deal-closing strategies. Also, ensure that your script is straightforward and easily understandable for the operators.
Test the script. After creating the sales script, it's crucial to test it. Determine what needs to be corrected or added to enhance the script's efficiency.
Implement the script. After successful script testing, connect it to Oki-Toki so operators can utilize it in their work.
Using customer conversation scripts within the Oki-Toki company offers numerous benefits. Some of them are further detailed below:
Efficiency Improvement: Using conversation scripts helps operators work more efficiently since they can quickly find necessary information and manage customer conversations.
Service Quality Enhancement: Conversation scripts can assist operators in providing higher service quality as they can quickly fetch information and answer customer queries.
Better Interaction Management: Conversation scripts aid in maintaining interaction histories, planning calls, and tracking interaction results.
For Enhanced Automation, phone conversation scripts can be integrated with other functions in Oki-Toki, such as Callback or Auto-call, allowing many processes to be automated and enhancing efficiency.
Statistics Improvement: Conversation scripts can offer detailed statistics about interactions, helping better understand customer needs and optimizing service processes.
Where to Use Conversation Scenarios
Using Surveys and Research Questionnaires
You can also use scripts for conducting surveys and research through questionnaires. For this, you can utilize powerful auto-calling with extensive customization options, phone and address validation, as well as API integration. This will enable you to launch surveys and receive responses from operators from any part of the world, track the time spent on each question, and provide detailed statistics to the client.
Using Conversation Scripts for Inbound Lines
You can employ conversation scripts to optimize the process of handling inquiries on the inbound line. Conversation scripts in Oki-Toki will not only provide guidance to the operator but also maintain interaction histories, schedule calls, upload lists, or send automated messages, such as with quotations or order information.
Using Conversation Scripts for Robots
You can also automate the handling of inquiries in your call center using conversation scripts for robots. Robots possess qualities inherent to good operators, such as a pleasant voice, manners, literacy, and a sense of humor, and they don't need to be trained for your conversations.
Overall, conversation scripts in Oki-Toki can be employed for various purposes, including enhancing sales processes, conducting surveys and research, optimizing the process of handling inquiries, and automating call center operations with robots. They will assist operators in working more efficiently, automate numerous processes, and improve customer service quality. Utilizing conversation scripts in Oki-Toki can help you achieve these objectives and enhance your business operations.
Tasks Solved by the "Conversation Scenarios" Tool
Using dialogue scripts, clients can perform a wide range of actions to automate and enhance their communication with customers and partners, specifically:
Automatic message dispatch: clients can set up automatic messaging via email or SMS to respondents to notify them about current topics or offers.
Setting up automatic notifications: clients can specify notifications for the responsible parties or customers, for instance, about a sale or inquiry, ensuring they're always informed about the latest developments.
Scheduling the next call: clients can plan the next call with a respondent to maintain active contact and enhance relations with customers. Remembering the last answer: clients can configure the retention of the last answer in the conversation scenario, continuing the dialogue with the respondent in the future without losing previous information.
Setting quotas: clients can establish quotas for surveys to limit the number of calls per day or week, and automatically halt the calling process once the quota is reached.
Integration with CRM: clients can integrate conversation scripts with other CRMs to collect or send data during a dialogue, enhancing efficiency and improving customer management.
Conversation Scenario as an Efficiency Enhancement Tool
Using dialogue scenarios in Oki-Toki will make the job of experienced operators easier and will also help newcomers to quickly grasp the interaction process with respondents. Using this feature, you can:
Flexibly adjust transitions between questions and answers to ensure a more effective dialogue with respondents.
Add explanations to questions, descriptions of answer requirements, and various details to educate operators and enhance efficiency.
Use a unified interface for all projects and scripts for the call center, simplifying the work and improving effectiveness.
Clients can create their custom dialogue scenario templates to better reflect the specifics of their business task and enhance efficiency.
Conversation scenario as a tool for data collection.
Using dialogue scenarios enhances the effectiveness of interaction with respondents by eliminating human factors, such as forgetfulness when entering mandatory responses, and ensuring standardized data collection.
Use the linking of responses to contact fields in the card to help you store the change history in the card and improve its organization.
You can also set quotas for surveys to limit the number of respondents you can interact with. This will help you achieve desired results in shorter periods.
Store the history of changes in the card. Create drop-down lists to save responses in a unified format, ensuring all necessary data is collected.
Specify fields that are mandatory to fill out.
Use automatic data validation during entry, such as address, names checks, etc., to ensure the accuracy and completeness of the data you collect.
Compiling Reports Based on Dialogue Scenarios
With Conversation Scenarios, you can optimize the operation of your call center. This will allow you to track the following metrics:
Individual KPIs for each operator – this will help you assess the performance of each of them.
The level of operator engagement – this will help you evaluate how actively they participate in the call center's operations.
Overall company statistics – this will provide a general view of the incoming/outgoing call conversation scenario and the overall operation of the call center.
Incoming call handling scripts and the percentage of customer loss when handling calls without customers.
Statistics on projects – this will help you assess the performance of each project.
Using the "Reports" tool, you can access aggregated data with different slices, allowing you to analyze the results of your work. This will provide a complete picture and improve the efficiency of your call center.