Industry Solutions
Call Center for the Medical Center
Connect Oki-Toki for call center organization in your medical center! Call reception, CRM integration, call recordings, callback for missed calls.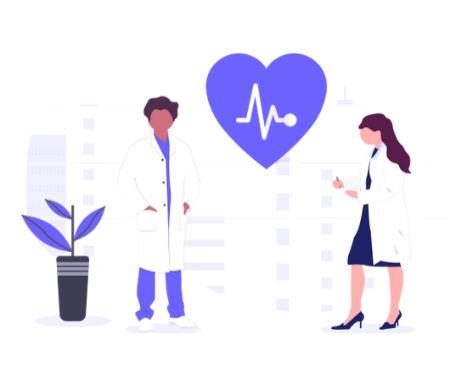 Functional Capabilities for Medical Centers
Choose the tools necessary for an effective medical center operation!
Reception and Processing of Incoming Calls
Handle all calls in one office. Connect your telephony and save on communication.
Callback for Lost Calls
Set up a callback for missed calls and handle customer inquiries who couldn't get through, in the shortest possible time.
Integration with CRM
Configure the integration with your CRM. Right during the call, the patient's card will open for more convenient further interaction.
Call Recordings
Utilize call recordings to elevate service quality and amplify customer loyalty.
Client Card
Don't have your own CRM? Use the contact management system provided by Oki-Toki. Our system offers the capability to create cards for each patient. The system will automatically find the card based on contact information with each interaction.
Need a consultation?
Submit your request, and we'll get in touch with you shortly!
Rates
Per Day

Subscription Fee

€ 0,75

Storage of conversation records for up to 1440 hours, agent activity tracking and project management, 25 call reports, PBX functionality, agent quality evaluation form, email reports, speech analytics, guest accounts, report mixing, conversation scripts, KPI and disciplinary control – 10 reports a day.
Additional Payment

Agent's Workspace

€ 1

For 1 agent per day
One-Time Payment

Activating and Setting up the Service

€ 75

One-time fee for service connection and setup
Paying for Oki-Toki is beneficial!

Pay for What You Use
In our service, you only pay for what you use! More work – you pay more, and a little less – your costs will be microscopic.

Loyalty Score
For using our service, we credit units to a special account. You can use these bonus funds to pay for any Oki-Toki tools.

Financing
If you're unable to top up your account in Oki-Toki, you can always take out a loan to cover a week's worth of work.

Convenience
Representations in the Russian Federation and Ukraine. Services are provided under the offer contract. Payment by non-cash transaction or using Visa/MasterCard. Document dispatch through electronic data interchange.
NEED A CONSULTATION?
Submit your request, and we'll get in touch with you shortly!
Industry Solutions
We have a ready toolset for setting up a contact center in every niche!
Reviews on Oki-Toki from Other Services
Oki-Toki
Google Chrome browser
Cloud-Based Call Center for Medical Centers and Clinics
The cloud service Oki-Toki will allow you to organize an efficient call center with minimal effort and expense. Our platform offers a ready-made solution, specially adapted to the peculiarities of working in the medical field. With Oki-Toki, you can launch your call center in just a few days or even hours, if you already have prepared employees ready to act as agents. There's no need to spend significant resources on acquiring pricey software, as your computers are already set for the job. Oki-Toki will help you connect to our cloud service and set up all the necessary tools for medical center automation.
Why do medical practitioners need a contact center?
Why do healthcare professionals need a contact center? The answer is straightforward: to enhance communication with patients and deliver high-quality service. Patients frequently call healthcare institutions, and the volume of calls can be substantial, so it can be difficult to get through, leading to significant waiting times. A contact center can solve this issue, allowing efficient management of call flow and faster patient service. Thanks to the call center, patients can receive the necessary information, make appointments, or seek advice without unnecessary time and wait in the phone queue.
A contact center in the medical field has numerous advantages:
Convenient Patient Communication:

Call center agents ensure convenient communication with patients, helping them gather information about doctors, services, and schedule appointments. They also promptly respond to client inquiries, enhancing service quality.

Managing Calls and Requests:

The contact center effectively regulates the flow of incoming calls and requests, directing them to suitable agents or providing self-service via voice menus or online services.

Smooth Workflow in the Clinic:

Utilization of the call center promotes harmonious interaction between different departments and physicians in the clinic. It ensures timely notification about new appointments, changes in schedules, and important alerts, assisting the medical staff to work effectively and cohesively.

Data Utilization:

Reporting tools can be used to manage and analyze data, enhancing the processes and quality of the call center's work. This will help identify issues and take action to resolve them.

Medical Consultations:

The contact center can also serve as a platform for providing medical consultations. Experienced agents can assist patients with health-related inquiries and treatment options, offering additional support and guidance on which professionals to consult.

Текст отсутствует для перевода. Вместо этого загружен символ "
".
Thanks to the contact center, medical institutions can significantly enhance their communication, improve service quality, and streamline processes within the clinic. Furthermore, the data collected will become a valuable resource for process improvements and the provision of high-quality medical consultations.
h3>Which medical institutions is Oki-Toki suitable for/h3>
Regardless of your medical organization type, Oki-Toki provides you with a set of tools designed to optimize your call center's performance.
The Oki-Toki service is suitable for call centers of paid clinics, where effective management of patient inquiries and timely provision of information are of significant importance. We also offer solutions for government medical institutions where ensuring the reception of a large volume of calls is necessary. And dental clinics can benefit from our solutions to simplify the appointment scheduling process and improve communication with patients.
Oki-Toki's functionality for medical service call centers
Oki-Toki provides many tools that are perfect for medical service call centers. Our service offers functionality that will enable you to manage calls, records and ensure high-quality communication with patients:
Virtual PBX:

With Oki-Toki, you can set up a virtual automatic telephone exchange without the need for expensive equipment. This ensures system flexibility and scalability, allowing for efficient management of customer calls.

Voice menu (IVR):

Create an interactive voice menu that allows customers to easily and conveniently find the right specialist or department. They will be able to select a specific option on the voice menu and quickly obtain the information they need.

Call recording and transcription:

Oki-Toki enables the storage of call recordings and the ability to view them in the form of transcriptions. This is beneficial for conversation analysis, improving the quality of agent dialogues and confirming terms with clients.

Reporting:

Generate detailed and consolidated reports on calls, conversation duration and other critical data. This will assist call center managers in analyzing agent performance, call center load, and making appropriate decisions.

Omnichannel

: With Oki-Toki, clients can engage with the call center through various communication channels such as calls, email, website chat, messengers, etc. This is super convenient for customers and ensures multi-channel interaction.

Voice Broadcasts:

Send voice messages to customers for appointment reminders, completed analyses, or other useful information. This will help to enhance the efficiency of communication with customers and provide them with significant notifications.

Callback

: Automatically call back your "lost" clients who couldn't get through. This will improve the image of the clinic and not a single client will "get lost".

CRM

: Leverage an integrated or an existing Customer Relationship Management (CRM) system for effective management of your customer base and interaction with clients. This will empower your agents to have full access to customer information, ensuring a more personalized service.

Reports

: Receive detailed reports on the work of the contact center to your email. This will allow managers to analyze the performance indicators of the contact center and the productivity of the agents.

Auto Dialing

: Automatically call your customers to remind them about their appointment or to complete other routine tasks, thus saving your call center's time and resources. This will help reduce the time taken to manually dial numbers and simplify the process for agents when calling customers.

SMS Messages and e-mail:

Send your clients important notifications via SMS, or physician schedules, test results via e-mail, ensuring fast and convenient communication. This allows agents to deliver crucial information to clients without delay.

Projects

: Organize your contact center's workflow into projects if there are specific tasks that not all agents should see. In other words, the contact center's projects will operate independently from each other and remain concealed from prying or irrelevant eyes. This will foster a more efficient and structured operation within the contact center.

Integrations

: Integrate Oki-Toki with other systems and applications you use in your healthcare center, for synchronizing data and optimizing business processes.

I'm sorry, but the text provided for translation ("
") doesn't contain any legible content to translate.
Don't miss the opportunity to improve the performance of your medical clinic call center with Oki-Toki. Using our cloud-based service, you can optimize your call center's operation and elevate the trust level of your patients.