Industry Solutions
law firms
The capabilities of Oki-Toki will allow you to organize an internal call center in 1-2 days without additional costs for equipment and software. Voice mailings, automatic call back on missed calls, integration with your CRM system and much more.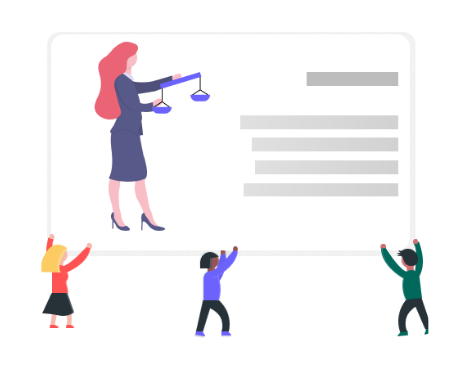 Functionality for law firms
Choose the tools you need for the work of law firms!
Voice mailings
Connect an autoinformer to notify customers about current promotions, new services or products. Use a speech synthesizer or pre-recorded messages.
Callback on lost calls
Set up a callback for missed calls and process requests from customers who did not get through as soon as possible.
Operator's workplace
Use the operator's personal account to organize work, as well as to view reports, ratings and statistics for each employee.
Integration with external CRM or use of internal
Connect your CRM and transfer all information in both directions. Or use our CRM to record the data of all clients.
Need advice?
Leave a request and we will contact you as soon as possible!
Rates
In a day

Subscription fee

€ 0,75

storage of conversation records up to 1440 hours, accounting for the busyness of operators and project management, 25 call reports, PBX functionality, a questionnaire for assessing the quality of operators , mail reports, speech analytics , guest accounts, mixing reports, conversation scripts, KPI and disciplinary control – 10 reports per day .
Additional payment

Operator's workplace

€ 1

For 1 operator per day
One time payment

Connection and service settings

€ 100

One-time fee for connecting and setting up the service
It is profitable to pay for Oki-Toki!

Pay for what you use
With our service, you only pay for what you use! More work – you pay more, and very little – your costs will be microscopic.

Loyalty account
For the use of our service, we credit c.u. to a special account. Bonus funds can be used to pay for any Oki-Toki instruments.

Lending
If you are unable to replenish your Oki-Toki account, you can always take out a loan that is enough for a week of work.

Convenience
Representations in the Russian Federation and Ukraine. Services are provided under an offer agreement. Payment by bank transfer or Visa/MasterCard. Sending documents via EDI.
NEED A CONSULTATION?
Leave a request and we will contact you as soon as possible!
Industry Solutions
We have a ready-made set of tools for organizing a contact center in every niche!
Reviews about Oki-Toki from other services
Oki-Toki — call center for lawyers
Oki-Toki is a cloud service that allows any law firm to organize its own contact center with minimal effort and cost. We will offer you a turnkey solution for lawyers , taking into account your needs and features of work. Of course, you can buy a contact center for your law firm , but using Oki-Toki, you can organize everything in two or three days (assuming you already have people ready to act as operators). At the same time, you do not need to spend significant funds on the purchase of software and equipment (after all, you probably already have computers) – we will connect you to our cloud and set up the tools necessary for the work of the call center for lawyers :
Voice mailings;

Automatic ringing of missed calls;

Data exchange with CRM used in your company.
Why do lawyers need a contact center?
A lawyer and even his assistants do not always have the opportunity to independently control all communications with principals. In this case, a properly organized call center will help the law firm maintain constant contact with clients and principals and promptly notify them of the situation. A missed call often equals a lost customer. And although a law firm is often selected using word of mouth, even then, the lack of a response or call back can make it difficult to initially establish a relationship. By ordering a call center for lawyers from us, you will be able to call back on missed calls as quickly as possible. And even if it is not possible to call back immediately, you can send a robotic call from Oki-Toki with a message about the importance of the call and the approximate time of the call back. This will allow your company to expand its client base, regardless of the busyness of your lawyers and secretaries. It is important for a law firm to maintain a sense of value and uniqueness in clients. Although in fact we are all people, and we may not immediately figure out with whom we are talking and at what stage the work is. Especially secretaries and call center operators, through which most calls and, accordingly, many people pass. The client card automatically opened in Oki-Toki will allow you to immediately understand which of the clients is calling, even if the last time you contacted was several years ago. And the customizable fields in the card will make the call center fit for a law firm as much as possible . Entering data on the key points of cooperation into the card will allow you to quickly give an answer about the status of issues, terms and planned consultations. If you use CRM (and most law firms do), then integrating the Oki-Toki service with it will further simplify the task and make the work as comfortable and predictable as possible in the legal field. Oki-Toki will allow you to order a contact center for lawyers with any number of operators. Today it can be one secretary, and tomorrow – an office day – all employees of your company can connect to the system and receive calls, consult, call with news, reminders and clarifications. Such an easy change in the number of "operators" is possible due to simple registration, support for any number of accounts and daily payment, which is used in Oki-Toki.
What does Oki-Toki have for a law firm call center?
Using Oki-Toki, you can adapt it as much as possible to the tasks of an all-center for lawyers . A wide range of tools, reporting and settings will make it effective for your needs. Oki-Toki allows you to use different tools as needed, connecting or disconnecting them, respectively, paying for use or not. Call centers of law firms most often use:
Voice mailings. An autoinformer for notifying customers about promotions, new services or products using messages recorded by an announcer or synthesized by a robot. The use of such mailing lists will help to simplify calling clients on issues that do not require contact with lawyers or attorneys, and automate routine communications. For example, a voice robot can inform a client about the status of a case or a change in a court date. Notify principals of new circumstances or new information.

callback. Allows you to automatically dial subscribers who could not get through. The program will dial the specified number of times in the specified time interval.

Personal account of the head. Allows you to view reports, the rating of operators and the number of calls made by them in a convenient format and online mode.

CRM. With Oki-Toki, you can use both the existing CRM using the data exchange system and the one built into our service.
You can order call centers for lawyers by leaving a request on our website. With Oki-Toki, the client pays only for what he actually uses! The subscription package provides the ability to store 10 GB of call records and statistical data. A one-time payment is made for connecting and setting up a cloud call center. After that, the client is left to pay for the current use of the system by the required number of operators. Start implementing a turnkey call center solution for lawyers today!