Cloud call center
A professional tool for organizing the work of the contact center!
Benefits of our service
Connect the Oki-Toki cloud call center from any device in a matter of hours. Easily scale jobs to fit your needs!
Submit your application
Easy call center automation with Oki-Toki!
Call scenarios
Build automatic call processing in our bot builder with speech recognition and synthesis. Connect API for data exchange during a call. Use the call script to implement ANY call logic. Don't believe? We'll prove it :)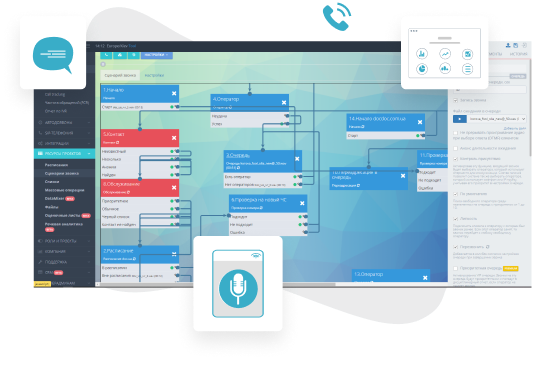 Script the conversation
Create your own sales scenarios for different projects, making it easier for operators to work with objections and rejections. Automate routine tasks: calling back, sending a quotation by mail, SMS, notifying a customer about a sale. All this is just one click for the operator.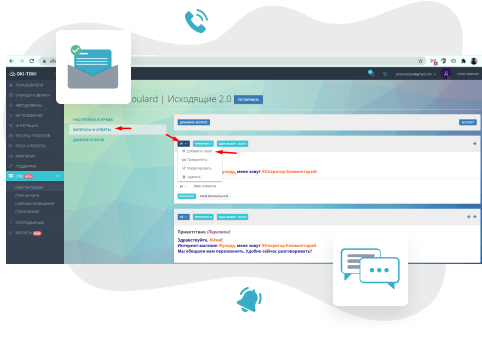 Automatic reports
Use the "Reports" tool to generate reports on all the slices you need. Turn off unnecessary metrics, combine important data into one report, and monitor the dynamics of changes using the "Historical data" function. Does each of your project have different reporting requirements? We are only for! There are no restrictions!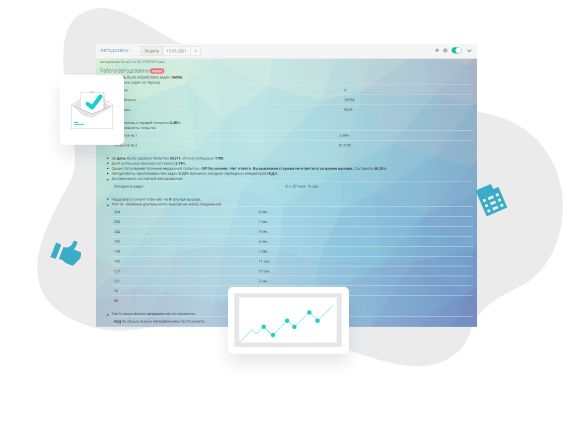 Integrations and Webhooks
Set up data exchange with popular services amoCRM, Bitrix24, RetailCRM, etc. If you didn't find the CRM you need in the ready-made integrations, create a ticket, and technical support will try to help you with the solution as soon as possible.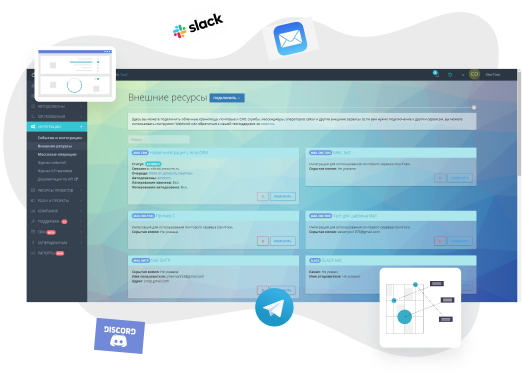 API for communicating with other services
Use our API and connect your CRM, ERP, PDF and ICQ :) We have not only an extended and convenient API, but also technical support that answers questions :)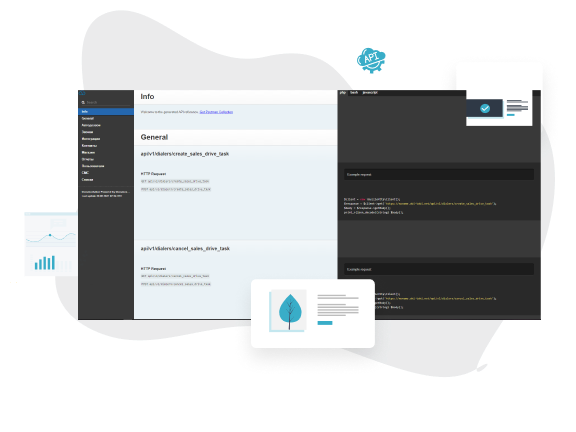 Complete set of management tools call center
Work with all types of calls
Management and control of operators
Data security and access control
Use additional tools as needed
Business Chat for website
Omnichannel
Auto call
Voice robot
Voice mailings
Conversation scripts
Speech analytics
Reviews about Oki-Toki from other services
Oki-Toki
Google Chrome browser
Questions and answers
Is the Oki-Toki service omnichannel?
Is there call quality control, call recording and speech analytics?
Is it possible to hide the number from the call center operator?
Yes, sure. Hiding a number is determined by access rights.
Possibility to save records on external storages (own server)?
The Oki-Toki service has tools for automatically exporting audio recordings to external storage and monitoring the quality of conversations.
Is it possible to make different scripts for different tasks for the operator inside the service?
Which SIP communication providers can be connected to the Oki-Toki service?
You can connect to the Oki-Toki service any SIP number or PBX using the SIP protocol.
What tools for supervisors does Oki-Toki have?
The Oki-Toki service has more than 25 supervisor tools. Reporting, dashboards, tools for wiretapping and monitoring the work of contact center operators. Learn more about supervisor tools .
Can we help with settings?
Certainly. During the trial period of 14 days, you will be assigned a technical support employee who will help and teach you how to work in the system.
How does tech. support, is it possible to call if necessary?
Oki-Toki technical support works every day from 10 am to 6 pm. The main communication takes place through the ticket system inside the personal account. If necessary, you can contact a technical support employee by voice using a convenient communication channel.
Cloud service for call center
A cloud call center, also known as \"cloud centre\", is an environment where you can perform many call center related tasks, from handling incoming and outgoing calls to attracting new customers and partners. The main tasks that a cloud call center solves include:
Reduced costs, as there is no need to buy expensive hardware and software;

Saving staff, as there is no need to hire new employees in the office;

Improved quality of service, as cloud service operators can be in touch 24/7.
A virtual call center helps businesses become more flexible and grow faster, regardless of economic conditions. The call center platform does not require investments in software or hardware upgrades, and operating costs are optimized by actually paying for services. The use of a cloud contact center is especially important during quarantine and remote work, since a new employee needs only a computer and a headset to connect.
Creation of a call center
Setting up a call center in Oki-Toki is very easy and fast. First, you leave a request to create a virtual call center, after which you will receive a demo access to get acquainted with the functionality of the system. Then, Oki-Toki specialists will help you create your own call center, which will provide comprehensive customer assistance, receiving and processing orders, delivery and inquiries. All this will take only one day. During this time, the service staff will hold a presentation tailored specifically to your business tasks, set up the system for project requests and train your staff to work with the Oki-Toki interface.
One of the main advantages of Oki-Toki is that it works through a browser, which allows you not to purchase additional equipment and not to hire tuning specialists. In addition, Oki-Toki has a user-friendly interface, widgets and high speed, which will speed up the understanding of the principles of the service.
Also, the Oki-Toki cloud service has a number of ready-made solutions for businesses in any niche. This allows you to use a virtual contact center to improve the quality of service, reduce costs and save staff. In addition, the use of a cloud contact center is especially important in quarantine and remote work, since a new employee needs only a computer and a headset to connect.
Work from the browser. Virtual call center – it's easy!
Oki-Toki offers its customers the opportunity to work with a virtual contact center directly from a browser without the need for additional hardware, software and setup specialists. With the help of a modern interface and updated widgets, customers get quick and convenient access to a large number of servers, which guarantees a high speed of the cloud service.
Scalability
Oki-Toki virtual call center offers flexible scaling options, which allows customers to buy a virtual contact center for several operators and lines and scale it at any time. The platform is designed for a capacity of up to 500 operators and 1000 lines, which is suitable for both small online stores and impressive corporations with automatic control.
Service reliability
Oki-Toki cloud service guarantees 99% fault tolerance. When an operator connects, the system automatically connects to the nearest server, and in case of failure, the system automatically switches to a backup server.
Working with external systems
Oki-Toki offers the ability to integrate with external systems and applications using webhooks and APIs. This service will be useful for CRM systems or end-to-end analytics.
Cost-Effective Platform
Oki-Toki offers customers to pay only for the services they use. This allows you to adjust the budget depending on the current needs of the business. The cost of services is calculated individually depending on the number of operators and their working hours, the need to use additional tools (auto-dialing, voice mailings, a robot, etc.). Setting up a cloud-based contact center will help reduce the costs of your business.
14 days free
Oki-Toki customers can take advantage of a free period of 14 days to evaluate the interface and functionality of the cloud service before making a purchase decision. During this period, you can test all the features of the platform, set up workflows, make a call, get acquainted with the integration options and evaluate the quality of service.
Oki-Toki Cloud Contact Center is a simple and effective way to improve customer experience. The company provides its customers with a high level of service, as well as round-the-clock technical support to solve any problems. Oki-Toki Virtual Contact Center provides excellent quality of work and ease of use of all tools, including modern software and analytics for your contact center. You'll get agent monitoring and reporting to help improve service quality and increase business efficiency.