Easy Automation of the Contact Center with Oki-Toki!
Call Scripts
Build an automated call handling in our bot builder with speech recognition and synthesis. Connect an API for data exchange during the call. Implement ANY call logic with our call scripts. Don't believe us? We'll prove it :)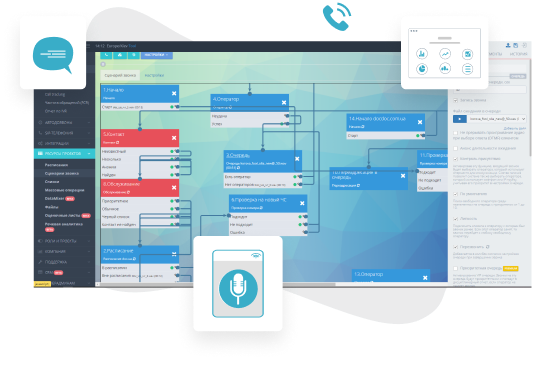 Conversation Scripts
Create your own sales scripts for various projects, easing agent's work with objections and rejections. Automate routine tasks: call backs, sending commercial proposals via email, SMS, notifying customers about the sale. All of this – just one click away for the agent.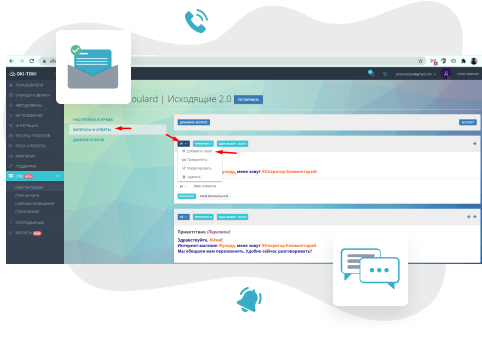 Automated Reports
Use the 'Reports' tool to generate all the necessary analysis. Disable irrelevant indicators, consolidate important data into one report, and observe the trend changes with the 'Historical Data' function. Does each of your projects have unique requirements for reports? We are all for it! There are no limitations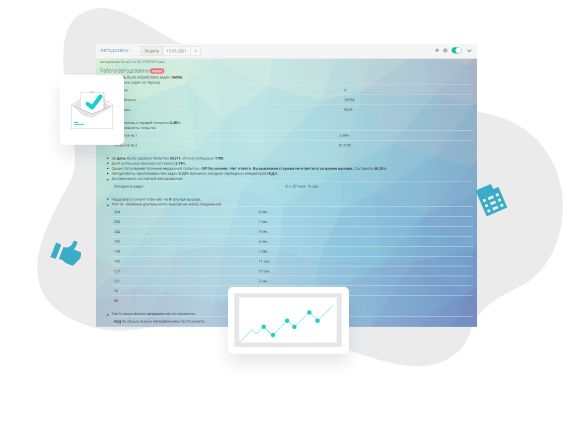 Integrations and Webhooks
Configure data exchange with popular services like amoCRM, Bitrix24, RetailCRM and others. If you can't find the CRM integration you need, create a ticket, and our technical support will strive to assist you with a solution as quickly as possible.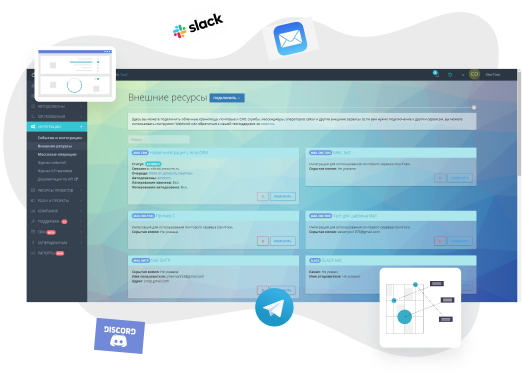 API for Communication with Other Services
Utilize our API and connect your CRM, ERP, PDF and ICQ :) We provide not only an advanced and user-friendly API, but also technical support that responds to your inquiries :)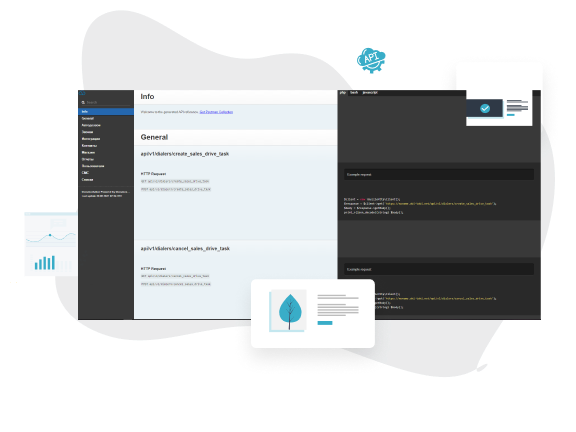 A Complete Suite of Call Center Management Tools
Managing All Types of Calls
Management and Control of Agents
Data Security and Access Management
Utilize additional tools as needed
Business Chat for Your Website
Omnichannel
Auto-Dialing
Voice Bot
Voice Broadcasts
Conversation Scripts
Speech Analytics
Reviews on Oki-Toki from Other Services
Oki-Toki
Google Chrome browser
Questions and Answers
Is the Oki-Toki service omnichannel?
Is there quality control for calls, conversation recording, and speech analytics?
Is there a possibility to hide the number from the call center agent?
Indeed, unquestionably. The concealment of the number is determined by access rights.
Potential for saving records on external storage (own server)?
Oki-Toki's service features tools for automatic audio recordings export to external storage and quality control of conversations. As a seasoned marketer with leadership experience in the contact center's sales department, I can't overstate the significant advantage an agent possesses when they have these tools at their disposal. The ability to export calls effortlessly frees up valuable time, enabling the agent to focus on the crux of their job – addressing customer needs. Moreover, the feature of conversation quality control is a game-changer. It ensures every interaction aligns with predefined scripts, keeping the performances at optimal levels consistently. Use Oki-Toki and step up your contact center game with advanced key features and popular terms at your fingertips!
Is it possible to create different scripts for different tasks for an agent within the service?
Which SIP communication providers can be connected to the Oki-Toki service?
Any SIP number or PBX can be connected to the Oki-Toki service via the SIP protocol.
What Tools are Available for Supervisors in Oki-Toki?
The Oki-Toki service boasts over 25 tools for supervisors. Reporting, dashboards, listening and monitoring tools for contact center agents' work. Learn more about supervisor tools.
Do we assist with configurations?
Absolutely. During the 14-day trial period, a dedicated support agent is assigned to you, who will assist and educate you on how to navigate the system.
How does the tech support function, and is it possible to make a call when needed?
The Oki-Toki technical support operates daily from 10 to 18 hours. Primary communication occurs through the ticketing system within the personal account. Should there be a need, you can verbally communicate with a technical support agent via the communication channel of your choice.
Call Center Software Solution
Capabilities of Call Center Software
Once upon a time, "telephone operators" picked up handsets, dialed numbers, and even switched cords in a switchboard. Now call center software does all of this work with a single mouse click or even without it. Call center software is a multitool for agents: it manages calls, sorts clients, and even solves connection issues. And this is just the beginning!
When correctly utilized, call center software acts like a conductor, managing the influx of incoming calls and ensuring a reliable connection with agents. The capabilities of call center software include automatic distribution of calls and chats, integration with CRM and other systems, automation bots, and deep analytics, all of which simplifies call center operations and makes it more efficient.
What is call center software and how can it help your business
Call center software is a suite of technical solutions that help organizations automate and manage customer communications. It's a tool that can curb the entire flow of customer inquiries and turn them from chaos into an organized system. This is like a quality mark for your business that ensures that every customer inquiry will be heard and processed in a timely manner with due attention.
Any software consists of 3 primary solutions and their derivatives:
Working with all types of calls and chats
Connecting any agent or communication provider;
Using API;
Accounting for the cost of calls, chats and agents;
Call automation, flexible queue management.
Oki-Toki agent management and work control
Agents' Working Time Tracking;
Agent Scoring;
Measurement of KPI Across Multiple Parameters;
Agents' Salary Calculations.
Data Security And Access Management
Option to Store Data on Your Own Servers;
Access Rights Distribution by Projects;
Action and Change Log;
Concealing Client Numbers and Data from Call Centre Agents.
As the famous businessman Robert Kiyosaki once said, "A business that reacts to nothing, dies".
Benefits of Using the Oki-Toki Call Centre Software
Oki-Toki is not just software, it's your reliable guide in customer service! With Oki-Toki, you get all the necessary tools for effective management of calls, chats, customer request automation, and comprehensive agent analytics in the contact center. It's like a robot, driven by AI, that never gets tired and is always in place.
Powerful functionality with 50+ tools;
Deep analytics of contact center work;
Modern design and convenient management;
Highly qualified technical support at all levels.
6 Key Features of Modern Call Center Software
Cloud-based call center software – it's your personal time machine that will transport your business to the future. Virtual call centers, possibilities of cloud software, and cutting-edge tools – this is the modern software for call centers. With it, you can easily track KPIs, analyze data, predict trends, and make crucial decisions. It's like owning a DeLorean, but without the need to find plutonium!
Cloud-based data storage;
Integration with social networks;
Artificial Intelligence and Machine Learning for customer request processing;
Real-time online analytics and reporting;
Process and task automation.
Multilingual.
How to choose the right call center solution for your business needs
How to choose the perfect "call center software"? It's like choosing a coat: it should be comfortable, beautiful and meet all your needs. First – start by identifying the problems and tasks you're facing, second – what additional functionalities are still needed. Our specialists are ready to consult and help you at any time.
After this, you will be able to make an informed decision and choose our software ?, which will become your loyal partner in the fight for market share!
14 days trial period
Time is our most valuable resource. That's why we offer you a 14-day trial period. See how our "call center software" Oki-Toki can transform your work. Indeed, as they say, the best way to understand whether something suits you or not is to try it. And who knows, this might just be the beginning of a great story in the world of customer service!
Are you ready to begin crafting a story with Oki-Toki?