Finding out how many agents you need in a call center is a difficult task, solving which is quite easy to make a mistake. Therefore, we have prepared a translation of the article with step-by-step instructions. Just 8 steps to accurately calculate how many agents you need in your call center! Also consider what you should NEVER do when doing this calculation.
Step 1. Determine the number of incoming calls
The first step in determining your staffing needs is to calculate how many calls the contact center actually receives. There are many ways to do this – choose the right one depending on what sources of information you have access to and how your call center works. Since there is a difference between handling incoming and outgoing calls, the needs of your call center will also differ, depending on whether you work for "in" or "out". The following are methods you can use to determine the number of operators you need. a) If your department is part of a larger contact center, then you should be able to get accurate daily call count data from Automated Call Distribution (ACD), the backbone of any contact center solution. b) If you do not have access to data from the ACD, your PBX and / or switchboard will help if it has the Call Detail Records (CDR) service enabled. c) If options A and B are not available, the telephone company report will help you with the relevant data. d) If you track the number of calls coming into the CRM system, this indicator also reflects the number of calls to your company. If none of the options is available, you need to make an assessment in the following way. First, specify the size of your client base, the number of working days per year, and estimate how many times a year each client will call you. Let's take the following numbers as an example:
client base: 30,000

calls per year per customer: 2

number of working days: 250
The process then looks like this:
30,000 x 2 = 60,000 calls every year

60,000 / 250 = 240 calls per day
Step 2: Determine the number of calls in 30 minutes or an hour
2.1 The easy way
This is easy to do if your call center uses ACD or CDR. ACD will be able to provide a lot of information, including the number of calls coming into the contact center for a certain period of time: month, day, hour, 10 minutes.
2.2 The hard way
If you do not have access to the above information, you can do an analysis using call arrival statistics similar to the one below.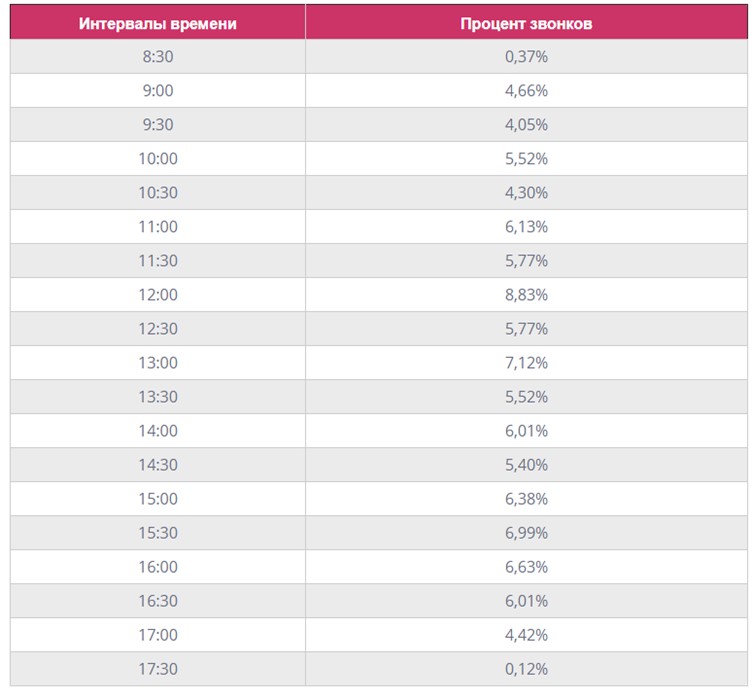 This table shows what proportion of calls expected during the day will be for every half hour of a workday. Plug in the average number of calls per day at your call center from Step 1 and you'll find out how many calls you get every half hour.
Step 3: Determine your Average Turnaround Time
Average Handling Time (AHT) is the time that a contact center agent spends on a call. Typically, AHT = call duration + average call completion time (post-processing). To calculate AHT manually, you need to find out the duration of interaction between clients and consultants, including hold (hold), total call time and call post-processing under various circumstances. Do this for each hit in the selected period, and then divide the result by the number of hits in that period. The resulting number will represent your AHT. It may vary depending on the industry your call center is in. From the Call Center Helper survey, 4.9 minutes (294 seconds) is the average AHT for contact centers. Thus, if for some reason you cannot calculate AHT, use this value in the next steps. Also note the results of the Cornell University study:

While AHT plays an important role, try not to rate your consultants on this alone. If operators strive to end calls as quickly as possible, this may cause a decrease in the level of service as a whole. And, at least, it can lead to repeated appeals.
Step 4: What should be the service level?
Historically, the service level industry standard has been to answer 80% of calls within 20 seconds. However, today's contact centers are moving towards 90% of calls being answered in 10 or 15 seconds. Remember: your call center will not be able to achieve the 100% service level target, as it would require an infinite number of agents. You should maintain the level of service that will ensure the competitiveness of your business and does not require an unnecessarily large staff of operators.
Step 5: The Maximum Employment Factor
Now that we have chosen a service level, we must admit that agents cannot spend 100% of their work time talking on the phone. At least they cannot do this for a long time. conversation for thirty minutes. The maximum occupancy factor is often ignored when calculating the required number of agents in a contact center. This makes no difference in a small call center, but is the main reason why so many large contact centers are understaffed. To see if you need to take this factor into account, start by setting an occupancy target, just like you would with a service level. Experience shows that the maximum occupancy rate is usually in the range from 85% (for in-house CC) to 90%. Those. no need to aim for 100%, occupancy should not exceed 85% or 90%, since 85-90% is the interval in which productivity is in balance with achievability. An occupancy rate above 90% is likely to result in agents exhibiting undesirable behavior during calls, burnout, or increased turnover in the contact center.
How do you know what level of employment you have?
Divide the load intensity (measured in erlangs; there are online calculators to calculate it for call center staff) by the number of agents per shift, and then multiply this number by 100 – you get the percentage of employment. Why is occupancy important for large contact centers, while small ones may be neglected? It's simple – in large call centers, the operator, on average, works with a much larger number of incoming and outgoing calls, the so-called. the employment rate naturally rises. If you do not limit the maximum employment, then it can reach 95%. But it is impossible to work at such a pace for a long time – the operator will either begin to perform his duties poorly or quit. Thus, as with the service level, we recommend setting the occupancy limit at 85-95%.
Step 6: Determine the proportion of unproductive but paid agent time
The information collected in the previous four steps will allow you to determine the total number of agents needed to answer calls in the call center. But our calculations do not yet take into account time costs – that part of the operators' working time that is paid, but not used productively by them. We call it "shrinkage". Shrinkage is the amount of billable time that an employee is unable to perform productive work, such as answering the phone, despite being scheduled to do so. It includes both time costs due to internal factors, when the agent is at work, but cannot answer the call, and due to external factors, when the agent did not come to work due to illness, holidays, emergencies, etc. . As a rule, shrinkage in a call center is 35% if there are no employees who answer calls at any time. However, this is just an industry standard and it is important to accurately calculate this for your call center as it affects the number of staff required . + c total time costs in hours due to internal factors / total number of paid hours for the analyzed period * 100.
Step 7: Insert the Numbers into the Erlang Calculator
Now you can enter all the received numbers into the online Erlang calculator. In the example below, we will show the number of operators calculated by the Erlang calculator for such parameters:
reporting period = 30 minutes

average number of calls for the reporting period = 1000

average processing time / average call duration = 180 seconds

shrinkage percentage = 35%

required service level = 80% (industry standard)

target response time = 20 seconds (industry standard)
In this example, the Erlang calculator determines that 165 operators should be hired.
Step 8: Flexible planning instead of rigid schedules
And although it is important that the number of operators receiving calls corresponds to the number of calls received by the CC, it is unrealistic to hire staff for 30 minutes every day. However, there are several ways to optimize the number of operators for the load level:
part-time work for some operators to cover peak periods;

"floating" breaks;

holding meetings, trainings, etc. during "quiet" periods.
With this flexible workday scheduling, you'll improve your schedules and better manage your agents' workload. If you do this, you will always have the optimal number of employees in the contact center, and the change in their number at the phones will correlate well with the change in the schedule for receiving calls.
How NOT to calculate headcount
Avoid the most common mistake when calculating headcount or you will be severely understaffed. This error consists in dividing the total number of minutes of calls by the number of hours in a working day. For this example, we used numbers:
5000 calls per day

3 minutes for Average Handling Time (AHT)

5 hours for a working day
The calculations then look like this:
5 x 60 = 450 minutes

450 / 3 = 150 calls per agent per day

5000 / 150 =

33 operators required
The resulting number will leave your call center understaffed as this method doesn't take into account such factors:
call volume fluctuates throughout the day

subscribers can wait a long time to get through to the consultant

holidays, illnesses, meetings, etc.
Therefore, please avoid this payment method at all costs. Follow our step by step instructions above.
Source: callcentre helper, translation: Oki-Toki
Testing our service is simple, follow the link and register on the site. You can calculate the cost of using in your CC on the page with a calculator or ask us a question on whatsapp