Batch Operations with Lists
We've added a simple, yet handy feature for bulk deletion and addition of numbers in lists. It's located inside the list under the 'Management' tab.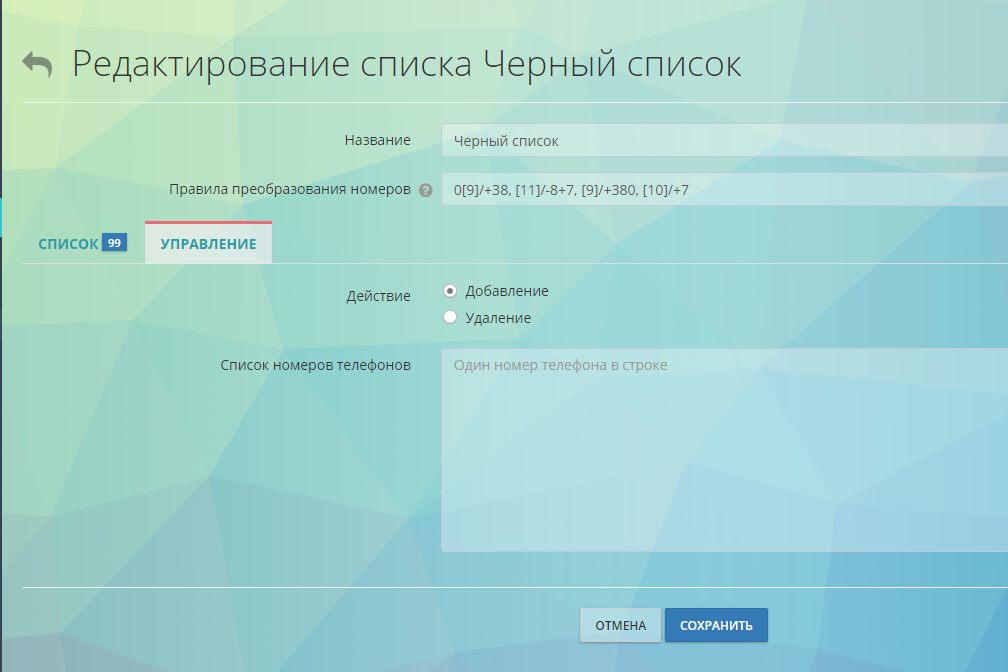 Filter by Import Number
Expanded the list of reports where it is possible to filter data by import number. The filter is now available in the following reports: Call Logs (Queues and Calls); Summary Report (Queues and Calls), Task Summary Report (Auto Dialing), Attempt Logs (Auto Dialing).
Optimization of ASD Sec and Routing Reports
We've completed another phase of overall service optimization. This time, the optimization has touched the reports in 'Users', 'Queues and Calls', and 'SIP-Telephony' sections. The reports load quicker and can handle a considerably larger quantity of data.
Improved Functionality with Scripts Cubes in Integrations
This is great news for anyone who regularly deals with setting up events triggered by a call passing through a call script cube. Previously, it was necessary to look for its unique ID in the source code of the script page. But we've tidied things up, and now you can find the required cube from a dropdown list within the event with a search feature.

Optimization of small base imports
A characteristic of mass imports is a pause before the data starts loading, which can last up to a minute. This is due to the global queue for loading imports into our database. As many clients use the import feature to load multiple small databases, we've created a separate queue for small imports (up to 200 tasks), which are imported almost instantly. These imports are marked with the "Manual" tag.