Oki-Toki is a cloud service that grew out of our desire to build our own call center. Now Oki-Toki is an ecosystem for professional contact centers. When we say professional, we primarily mean outsourced call centers. Read more here . These are our main clients, and this article will focus on the tools for which they choose us.
"Must have", Features, Values
Projects and accesses
Projects and roles – manage the capabilities and access of company employees. Use roles with a set of rights and create separate projects invisible to other members of the company;

Change log

– all changes by users within the company are logged, which means that no one will hide, provoking a fakap in the workflow;

Call filter – hiding test (or those that are better for no one to hear) calls. You can hide both a specific call and calls on a specific basis.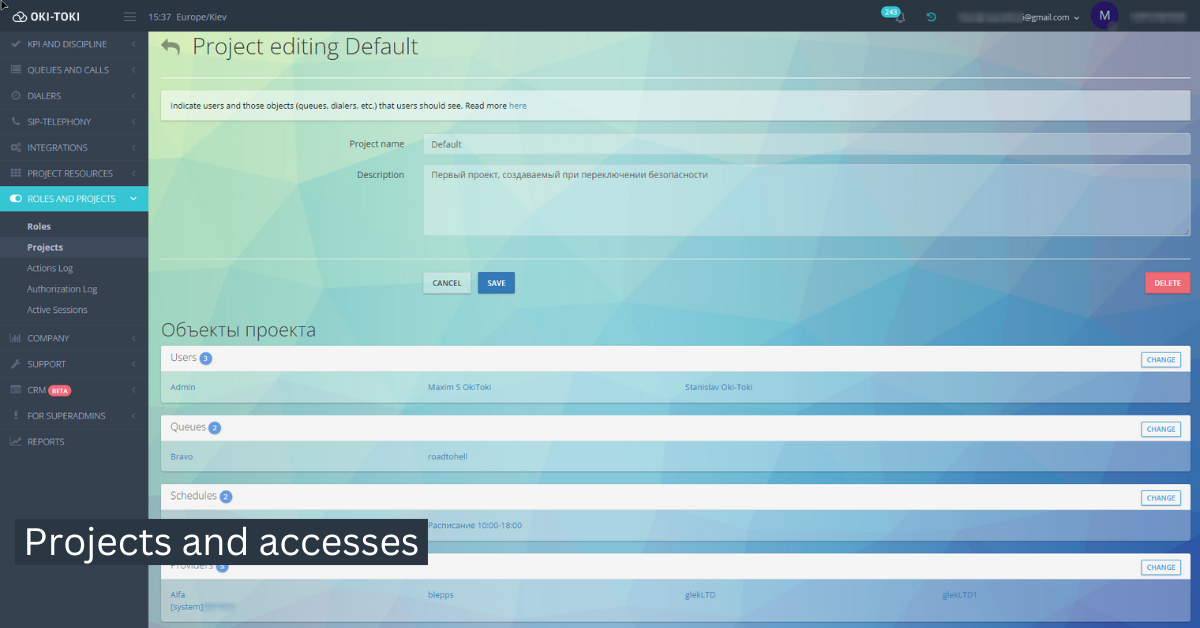 Quick project creation
When you first log in to the system, everything you need to quickly launch the CC is already created in it.

All main elements (scripts, queues, dialers and integrations) can be copied in two clicks. It may take several minutes to create a similar project.

We do not tolerate fixed charges. If on Saturday the operators did not work, and the dialer did not start, then we will not take money for them. That is only the daily count of used services!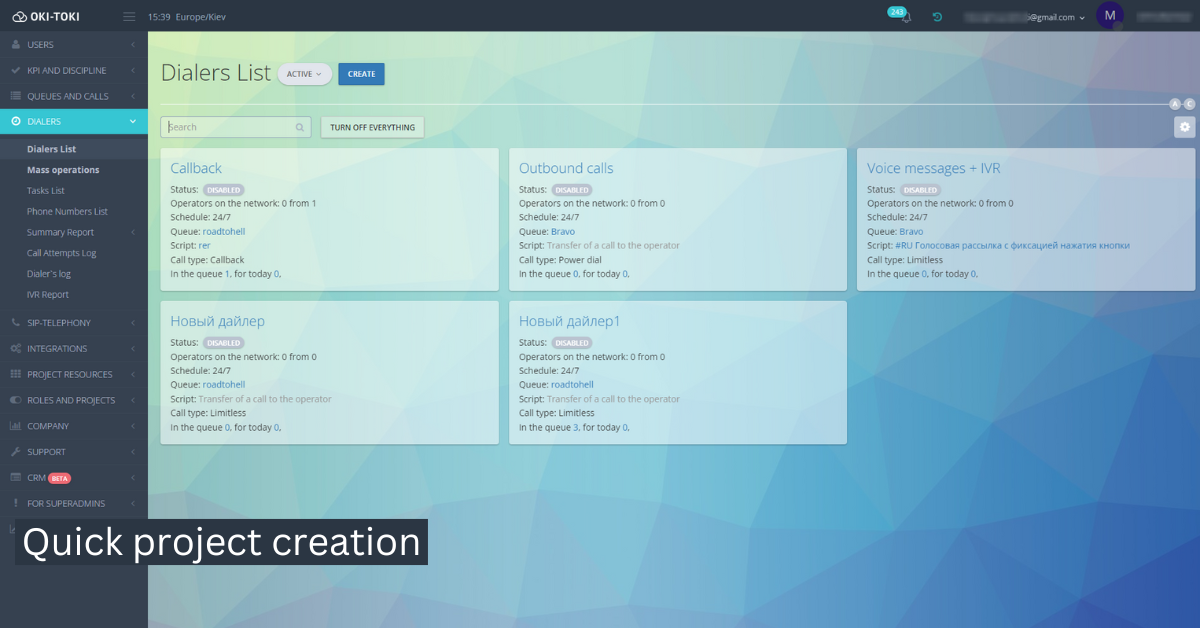 Features for telephony
You can connect your numbers, telecom operators and equipment to our cloud, as well as make accounts for softphones.

We calculate the cost of calls by destinations, as well as choose the cheapest telephony available for real-time calls.

We log all calls and all the seconds spent on a conversation, so our clients often use our data to check with billing from telephony providers!
Reports, reports and templates
We have 27 summary and detailed tabular reports for outsourcing call centers in 6 areas (data on agents, dialers, telephony, etc.) with many filtering options that will satisfy most of the needs of data analysis.

Also, for tabular reports, the option to save templates has been implemented, which saves the responsible person from the regular and routine selection of filters for complex data generation. Picked up, saved, use!

We have developed reports – automatic reports in text form (including by mail) that immediately answer the question, unlike tables that provide data for finding the answer. The data is laid out in A4 format, which can be simply printed out and put on the management's desk, we recommend it!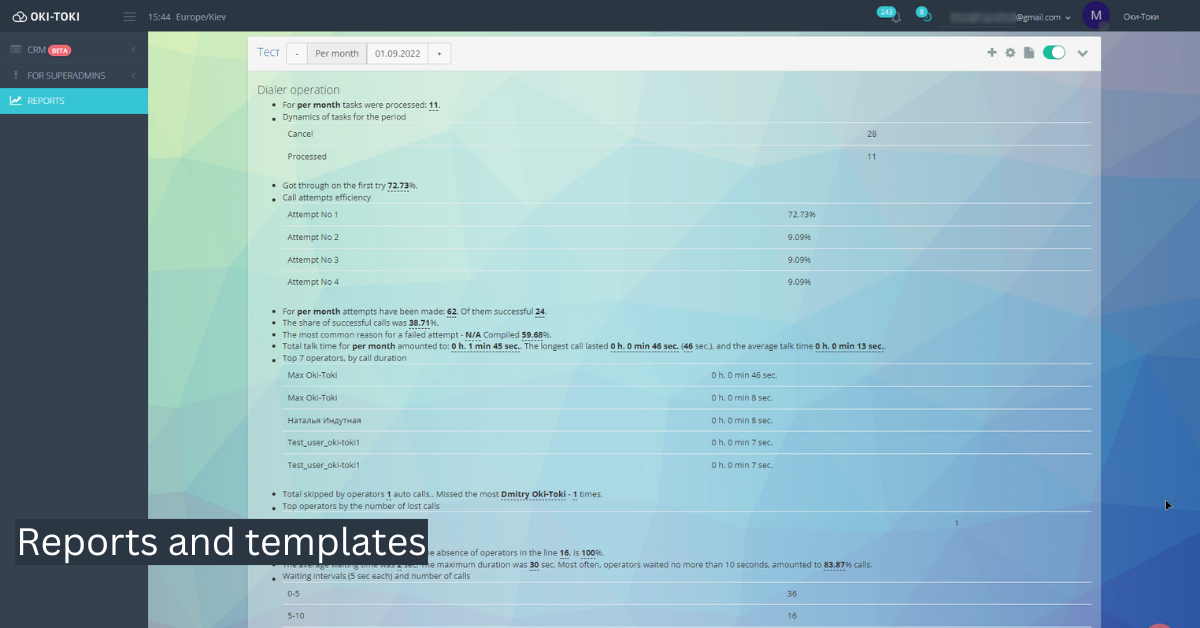 Call script constructor
Almost all corporate PBXs have incoming call scripts and scripts for robots. But when designing our scenario, we got very carried away by creating a flexible constructor. In it, with a call, you can do almost everything that SIP technologies allow today. True, there is no karaoke, but we will think 🙂

The scripts are also able to synthesize static and dynamic text (for example, based on the client's additional data, speak the details of his order to verify the order) and voice recognition, on the basis of which you can implement an info center on the incoming line, freeing live operators from the routine educational program of clients.
CRM system
It is 🙂 Simple, informative, with reports and smart contact filtering, which can be used for outsourcing call centers.

Setting up a client profile allows you to create complex tree-like conversations. Each of the responses can be associated with call features, contact fields, call tagging. As well as adding an dialer with a link to the person in charge, webhooks to an external resource, sending a template letter / SMS, etc.

Integration with other CRMs is supported out of the box and using webhooks & API.
Operator control
In the list of our reports there is a place to control the discipline of operators. That is, their employment and idle statuses in the system, as well as pre-configured triggers for disciplinary violations, are logged in reports.

In addition, widgets with information about operators, wiretapping, intercepting calls, forced disconnection of operators and a handful of other features are available for Supervisors 🙂

The transcript is a new direction in the development of Oki-Toki. However, now it's just converting the recording of the conversation into a text dialogue between the two parties. In the future, it is AI for monitoring the quality of customer service, working in real time.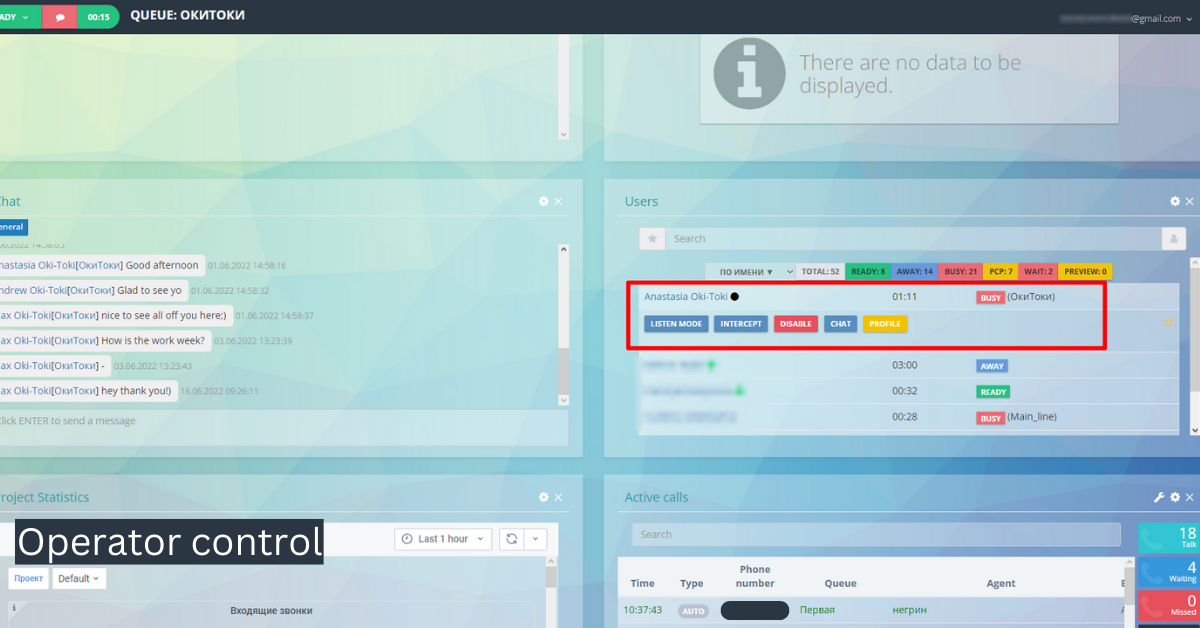 If you have read this text to the end, you may want to open a trial period in Oki-Toki . You can do it yourself or entrust our specialist. During the trial period, you will have the opportunity to contact our engineers and ask them questions or start a simple project together.