A conversation script is a prepared theses, questions and answers that a manager uses to achieve his goals. Scripts can contain blanks to attract the attention of the client, involve them in the sale, work with objections, confirm the agreement, and more. You can go to the settings by clicking on the link .
This article refers to the product " Conversation scenarios from Oki-Toki ".
Any sale, notification of a client or solution of his question is communication. The script helps to standardize and automate this process. In order for communication with the client to give the desired result, you should first structure the conversation as a sequence of the manager's suggestions and possible responses from the client.
The content of the script depends on the business process in which it will be used by 60% -80%. A separate script is written for each occasion of communication with the client! For cold and warm calls, order confirmation or objection handling, the conversation scheme will be different. But there will also be general parts – greetings and farewells, as well as upselling & cross-selling sections. The content of some sections is completely individual – for example \"Personal offer\". All this can be done using Oki-Toki sales scripts.
Assigning scripts to a call center
The conversation script for the operator allows you to:
Increase sales and average bill;
Control the conversation, leading the client to purchase;
Increase employee confidence – the script tells them the next step, so operators make fewer mistakes;
Get information from the client or answer their questions.
Also, scripts are used to train employees and improve their competence. Based on your experience, you can combine the best customer experience in scenarios. Using the script allows you to quickly teach new sales techniques and improve efficiency.
Phone call script aims to convey accurate information to customers. It will prompt the operator when to ask a question and how to present the product, describe its value and benefits.
The conversation script is used in the following areas:
Cold and hot sales;
Marketing research and surveys;
technical support.
Scripts are effective for corporate call centers that receive and distribute calls, and outsourcing companies where one operator serves projects of several clients.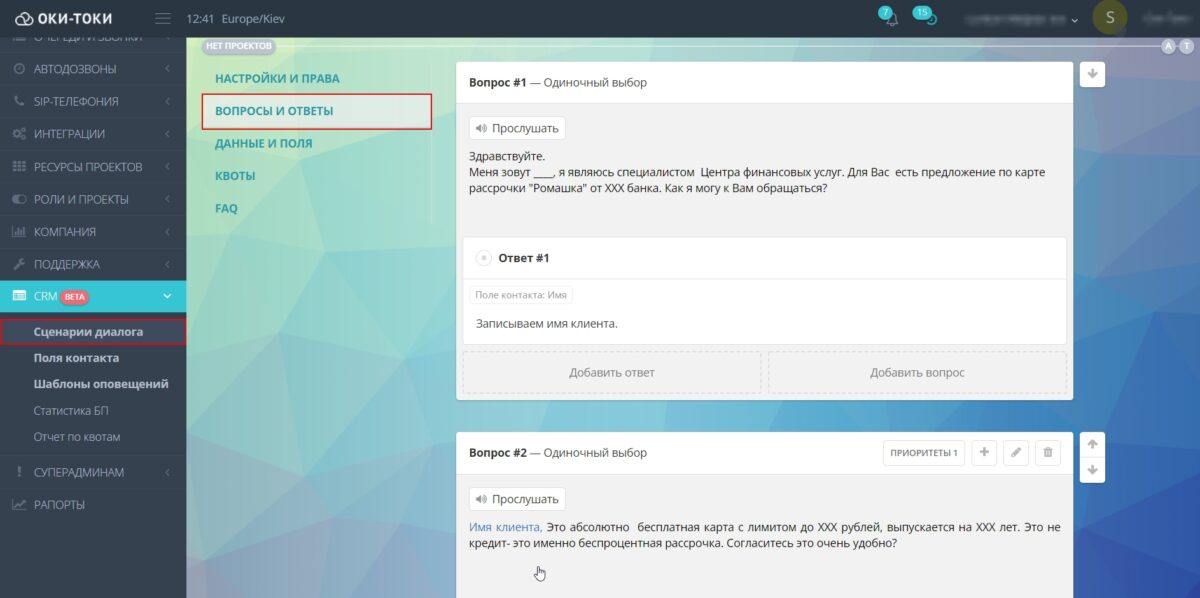 Creation of scripts for call center operators
Question 1: How to start a dialogue with a client?
Answer: Greet the customer, introduce yourself and the company, then be sure to specify the customer's name (and always refer to the customer's name in the future).
Greeting examples ready to use:
"Good afternoon, Company [company name], my name is [operator name]."

"Good afternoon! My name is [operator name], I am a specialist/manager of [company name]."

"Good afternoon! Thank you for contacting us. My name is [operator name], how can I contact you?"

"Hello, my name is [operator name], I am calling from the company / I am a specialist from [company name]. You have received an application, please specify what questions you have? / how can I help you? (Waiting for a response). Tell me, how can I contact you?"

"Hello, my name is [operator name], I am a representative of [company name]. For more comfortable communication, please specify how I can contact you?
Question 2: How to identify the needs of the client when talking?
Answer: After the greeting, proceed to clarify the customer's need. For example:
"Tell me what you want to use the product for?" (if applicable)

"Tell me, what do you use now?"

"What difficulties/problems do you have with the product you currently use?"

"What options have you considered yet? (waiting for an answer) What suits you and what doesn't after consideration?

After the answers to the questions, you usually need to put pressure on the "sore spots", showing the value of the product being sold.
Question 3: How to understand the client, his position and emotion?
Answer : Listen carefully to the client and try to feel the emotions they are expressing. Ask clarifying questions to better understand their needs and expectations. Pay attention to tone of voice, speed of speech, choice of words, and other non-verbal cues that may indicate a client's emotional state. Sometimes it is necessary to confirm the position and emotion, for example, by saying: "I understand that this is important to you" or "I can understand why you are outraged."
Question 4: How to determine if a customer has an interest in a product, product or service?
Answer : To understand whether the customer is interested in the product, you can ask the following questions:
What services are you most interested in?

"What product information do you need to know if it's right for you?"

"What interested you in our product?"

"Did you have any doubts about our product before this conversation? If so, which ones?

"How are you currently addressing this problem or need?"

"What alternatives have you considered before?"

It is important to follow the reaction of the client and adjust to his needs.
Question 5: How to proceed to the benefits of your offer?
Answer : To proceed to list the benefits of the offer, you need to ask the client about his needs and the tasks that he wants to solve. You can then list the benefits that best fit those needs and challenges.
For example, you could say, "Given that you want to solve [name the problem], our product/service offers the following benefits: [list benefits]." It is also important to highlight how these benefits can help the client achieve their goals.
Sample questions:
"What is the most important thing for you when choosing a product/service?"

"What functionality should be in the product to make it suitable for you?"

"Do you know that our product/service has a number of advantages over similar products in the market?"

"What features and functionality of the product are important to you?"

"What is your experience with similar products?"

"What problems have you experienced with previous products?"

"What results do you expect from using the product?"
Then you can move on to describe the benefits of products, highlighting the uniqueness, quality and competitiveness.
Question 6: How to deal with customer objections?
Answer : Listen to the client and try to understand his point of view, and then offer a solution to his problem. It is important to show that you (and the company) are interested in this client and can offer better conditions than the existing ones.
Examples of responses to customer objections:
Generally, if a customer says "expensive", it means they don't see enough value in the product. It is necessary to work out such an objection individually for each product and taking into account the specifics of the client himself.
"I understand that the price is important, but our product is durable and reliable. You will get a unique user experience that you will not find in cheap analogues.

"The high price is justified by innovative technologies and a high level of service to provide our customers with reliability and support.

"We are committed to providing customers with the best products and services. Our company invests in the quality of production and provides an impeccable service."

"Our price reflects the durability and reliability of our products. We are confident that our product is worth every dollar invested in it and you will be satisfied with the result of your purchase."

"Yes, it may be expensive, but this is without discounts / bonuses, let's calculate together with you? Comparing with the best-selling product…"
"I'm not sure I need it":
"We understand that it is difficult to make a decision regarding a new product or service, what stops you from making a decision / what information did you lack to make a decision?"
If this is a cold sale, then you can find out if it is not necessary for him personally, but, for example, for family members.
"I don't know enough about your company":
"We will advise on any questions you have about our company. Tell me what exactly interests you?
"I'm not ready to make a decision yet":
"Tell me honestly, what is your doubt? Did you lack information or are you stopped by the price?"
Question 7: How to achieve checkout?
Answer : To place an order, offer the customer clear and attractive terms and make the ordering process convenient and fast. Show that the company values its customers and is ready to provide them with the best possible service.
Sample questions:
"Let's place an order, will you pay by card or by bank account?"

"Is it convenient to checkout today or tomorrow in the morning?"

"Pay by card or bank account?"

"Do you have any additional questions/requests to consider when placing an order?"

"Would you rather call or email?"
Question 8: How to thank for the time spent, to compliment the client?

Answer : Thank the customer for their time and compliment the customer, express appreciation for the customer's choice of your company and show that their time was used to the maximum benefit and efficiency. You can also give a compliment, noting, for example, the ability of the client to ask good questions and show interest in the company's products.
Ending conversation examples:
"Thank you for taking the time to talk to us."

"Your opinion is very important to us, we appreciate your help in improving our work."

"Thank you for choosing our company. We are always ready to help you in resolving issues for fruitful cooperation."

"Thank you for your trust, and we promise to do our best to meet your needs."

"Have a nice day, thank you for your time."
Question 9: How to sum up a conversation in a script?
A typical call center script should include three options for completing a dialogue: customer consent and order confirmation, callback offer, and refusal with an option to specify a reason. When developing scripts, use a directory of common reasons for refusal: too high a price, a long delivery time, you need to consult family members, etc.
Working with scripts in Oki-Toki
Oki-Toki cloud service provides ample opportunities to work with call center scripts:
Binding for each project of your own conversation script (an indispensable feature for outsourcers);
Displaying the conversation script as soon as the need arises. In some contact centers, agents still use scripts printed on sheets of paper. But this approach is inefficient, because the manager has to spend time searching for the right scenario;
Sending automatic notifications to the client: for example, an SMS message with an order number or a full-fledged email with a commercial offer;
Storing the history of communication and fixing the status of the conversation. If the conversation with the client ended ahead of schedule, for example, he asked to call back later, the operator will be able to note which script items were completed. When you call again, the manager will start the conversation from the place where the previous one ended;
Using webhooks in CRM for integration with external systems;
The system of motivation in the form of points. Each time an agent reaches a step you define in a conversation script, they receive points. They can be taken into account, for example, for bonuses.
Oki-Toki call center agent sample script is based on graphs, but for simple scripts, tree diagrams are used. The operator starts the conversation and selects the customer's response (consent to buy, question, objection). Based on the entered data, the system issues the appropriate script block to the call center operator.
Watch our video series on setting up a conversation script on Youtube .
It is convenient to use conversation scripts in our Oki-Toki cloud service. So you can offload agents and make their work more efficient.
Does your call center need convenient reporting for the manager? Start using Reports !
Contact us and test the program for free for 14 days!
It's easy to test our service, follow the link and register on the site.
You can calculate the cost of using your CC on the calculator page.