Scripts are pre-prepared scenarios that assist agents in conducting conversations with clients more professionally and efficiently. They indeed simplify the communication process, ensuring consistency in questions and answers.
Creating sales scripts is a painstaking task, especially when dealing with a large amount of information. In this article, we've explained how easy it is to import a sales script from Google Docs into the Oki-Toki system. By using imports of questionnaires, a significant amount of time can be saved from manual entry of questions and answers.
Creating a questionnaire in Google Docs: choice of header formats
What can be extracted from a ready-made script:
Questions and Answers of the questionnaire;

Hints for the agent;

Text for the help pop-up window.
If you already have a pre-prepared script, you will have to slightly adjust the format: for Questions you will need to use the H2 header (ctrl+alt+2), and for Answers H3 (ctrl+alt+3). This is necessary for the system to understand which part of the text are questions and which are answers. 
For Hints For questions and answers, use the H4 header (ctrl+alt+4), and for the Help text, which will appear upon click, use H5 (ctrl+alt+5).
To indicate whether there will be multiple answers to the question (multiple choice) or just one, you need to incorporate the parameters "(Choice=M)" and "(Choice=1)" into the question text.
Question and answer numbers will be assigned from top to bottom after import.
Example with necessary header styles: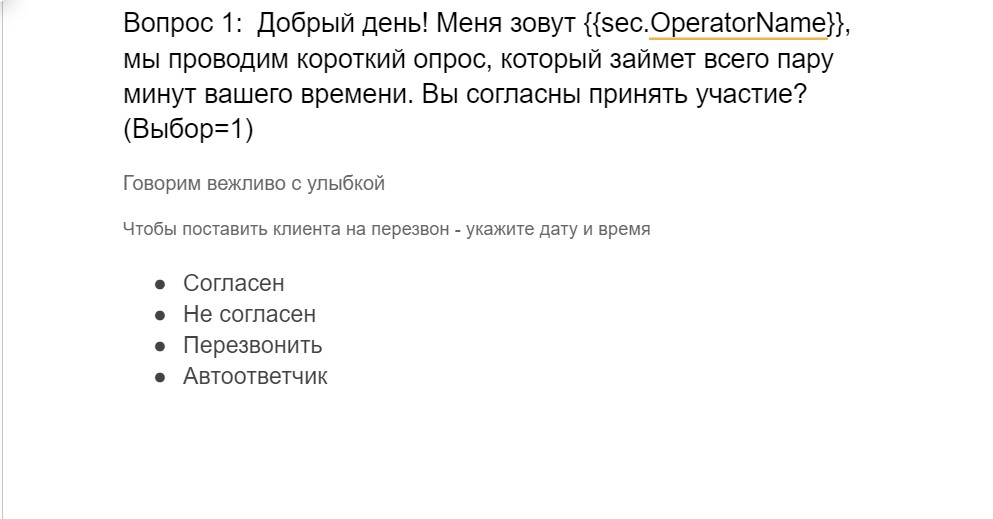 Example after import into Oki-Toki: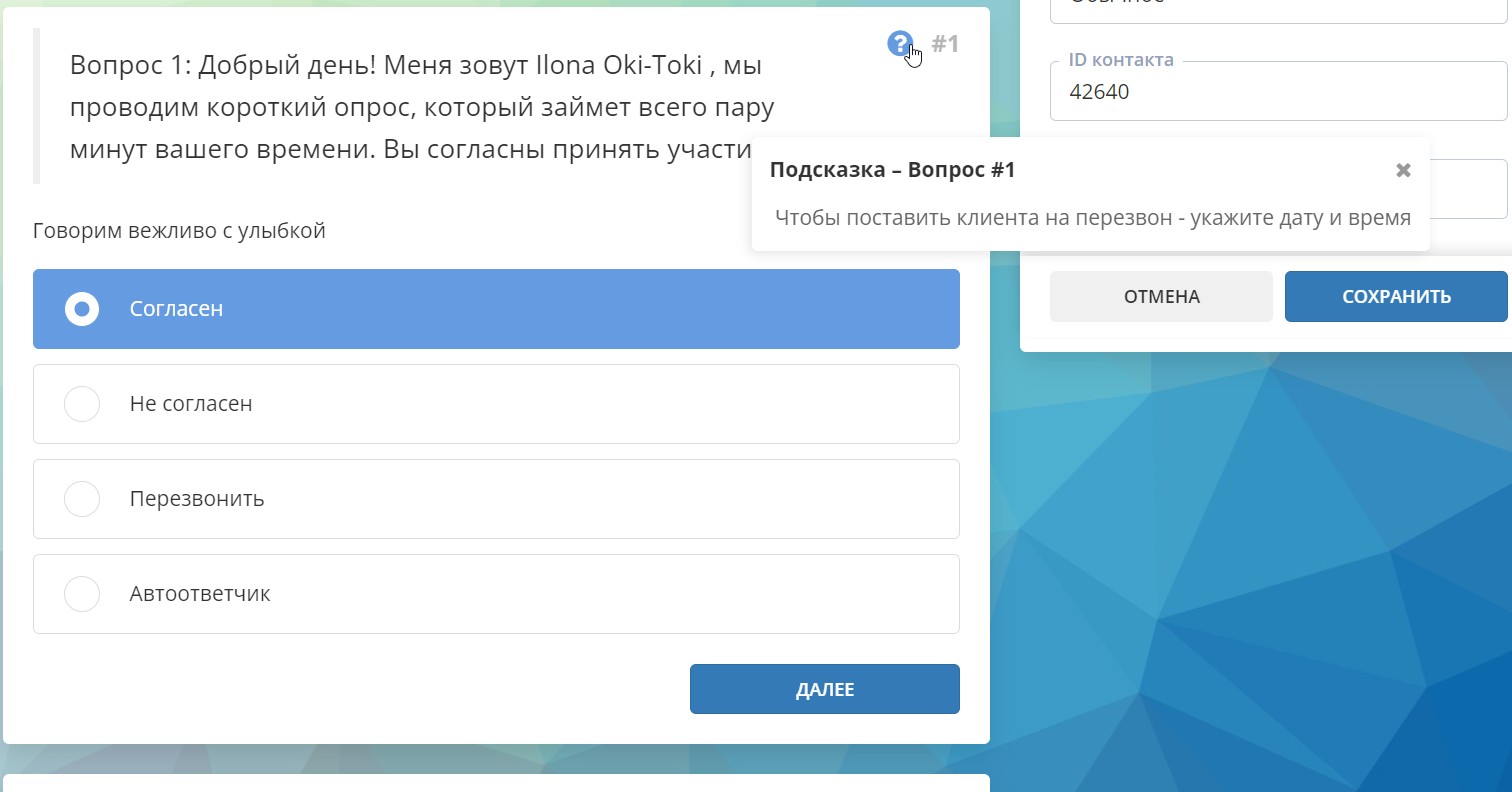 Contact fields: if you need the agent's answer to be duplicated in the contact field, indicate (Field=*) after setting the answer. For example, in the questionnaire there is an answer "Client's name", the agent asks the client's name and enters it into the text field. During the next call to this client, the agents will already know their name. 
For answers with the client's name or phone number in the questionnaire document, you need to indicate the following:
Client's name (Field=Name)
Mobile phone (Field=MP)
Important! After the import of the questionnaire, for answers with contact fields, you need to specify the response type – text field, so the agent can record information in the questionnaire.
How to import a document into Oki-Toki CRM
To load a questionnaire from Google Docs into Oki-Toki, go to the CRM section, press "Import" and "Select document".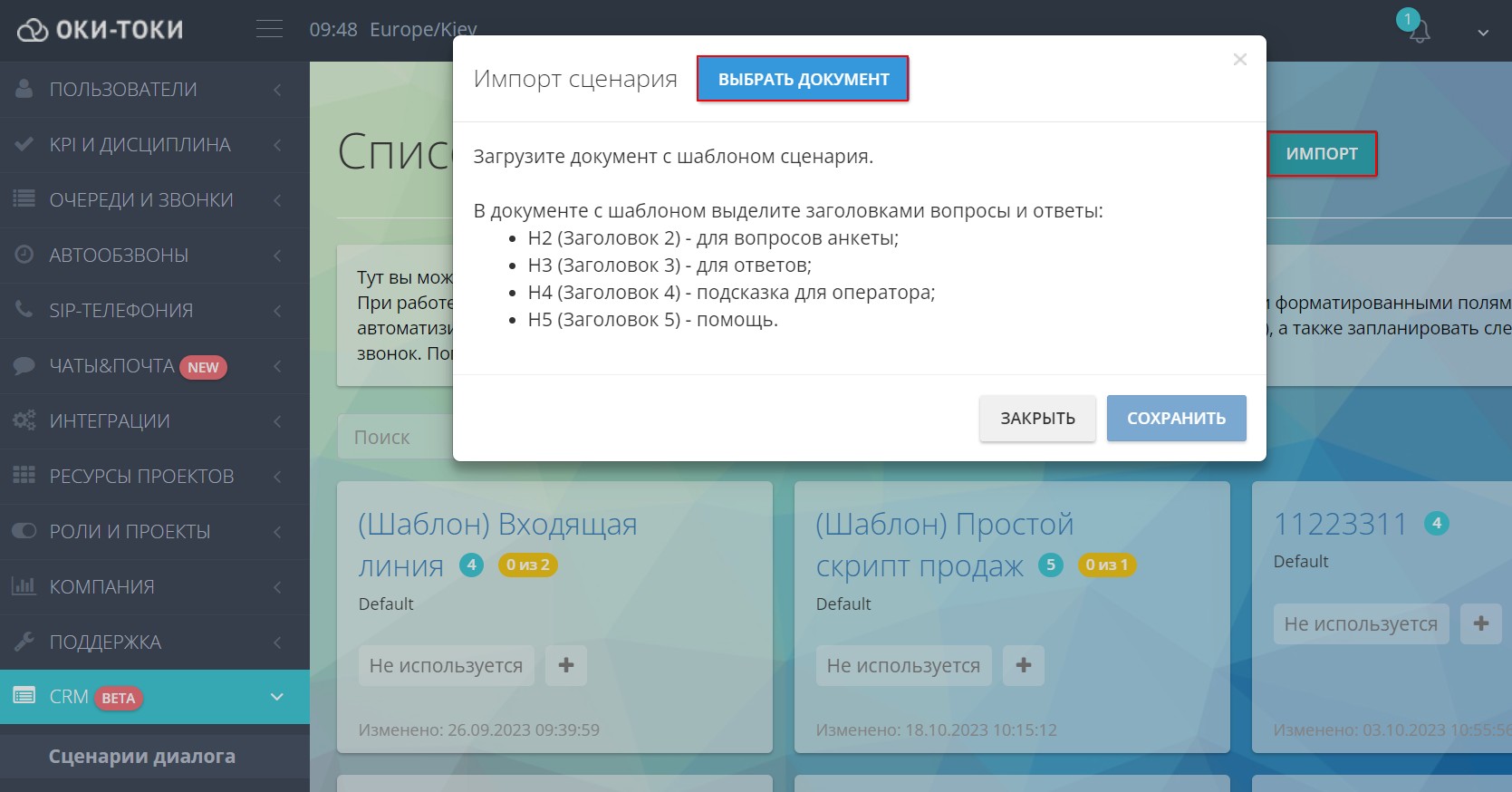 Then, a window will open providing access to your Google account. Select the appropriate account and grant access.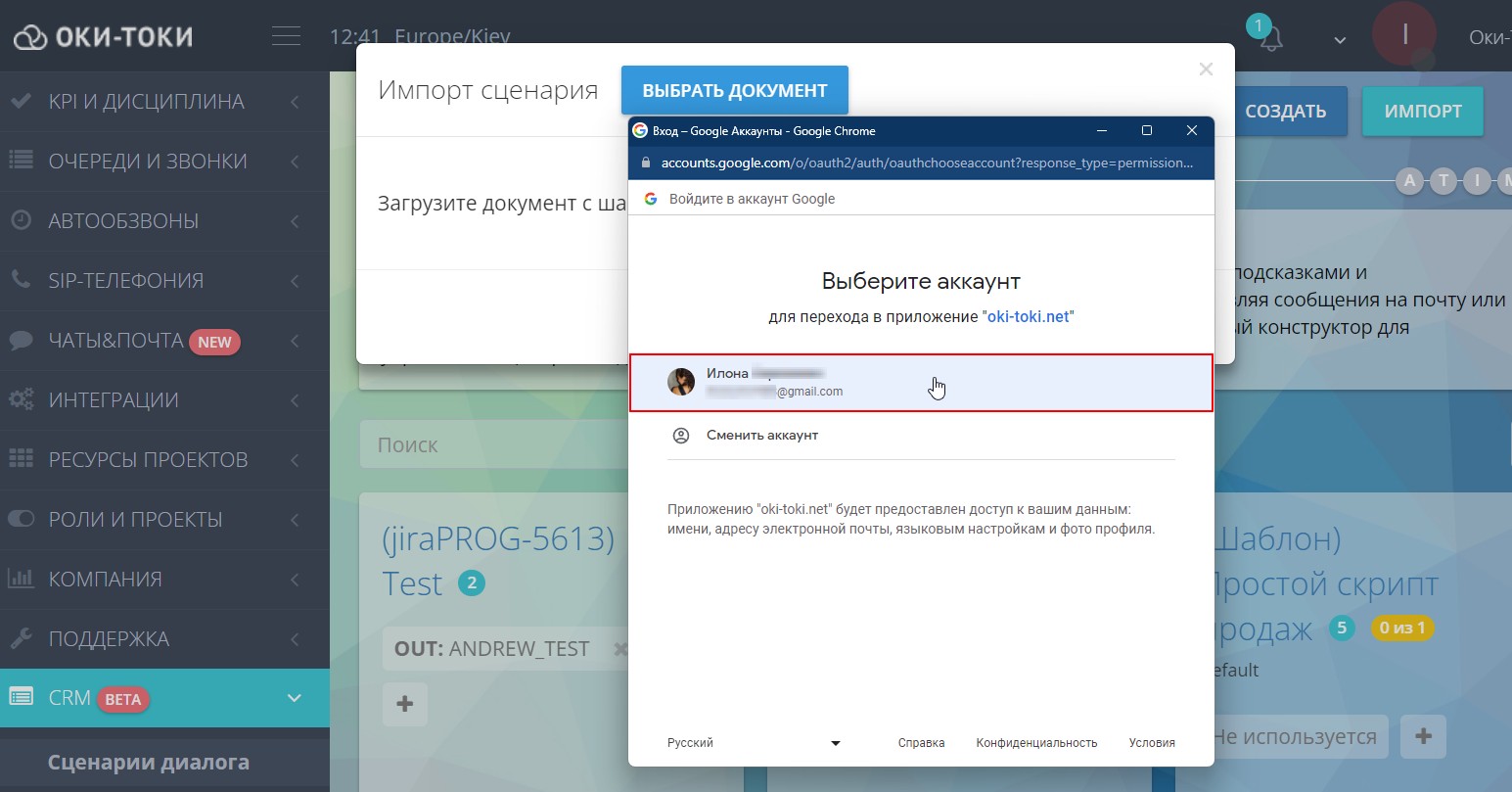 Select the document that contains the dialogue scripts and press "Select" to add it.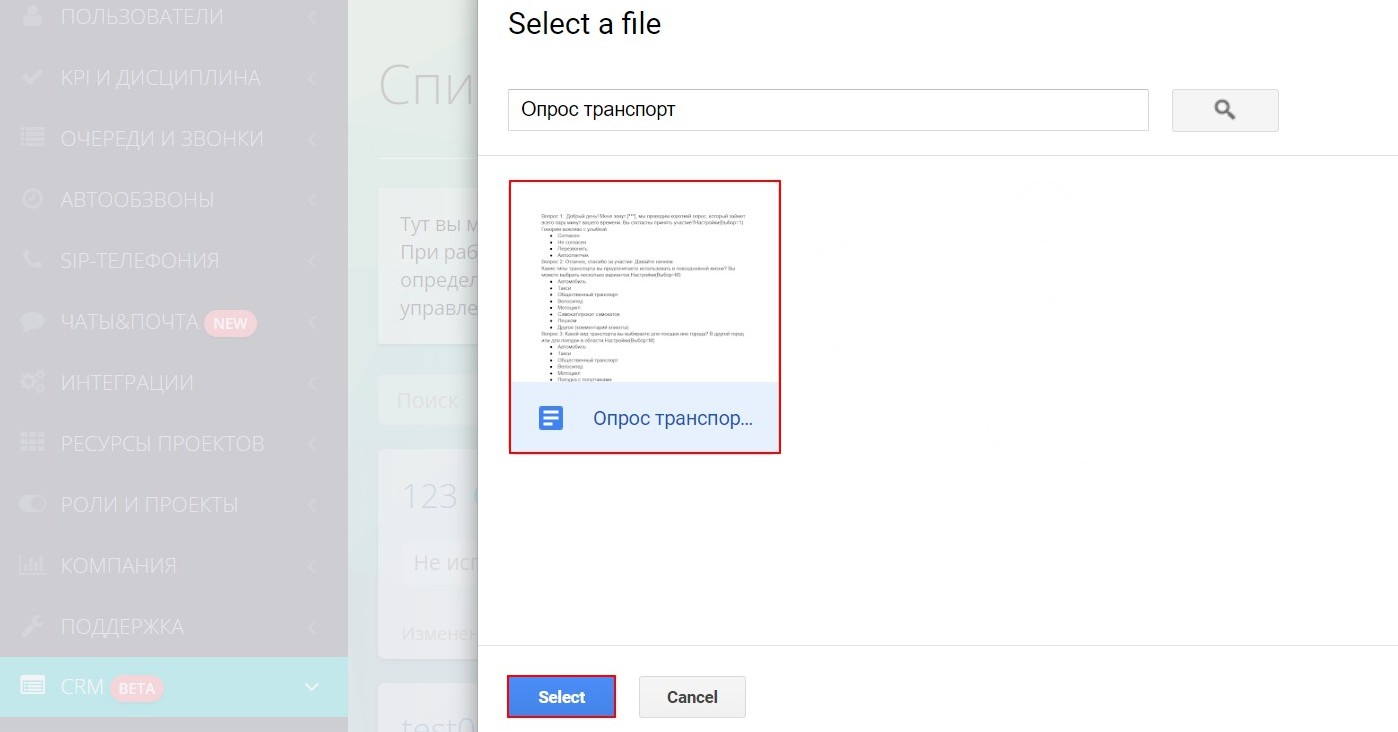 After selecting a document, a window will appear where you can check that all questions and answers have been added. If an error with the text "Invalid format" appears – it means the header styles are indicated incorrectly and the questionnaire text is not loaded into Oki-Toki.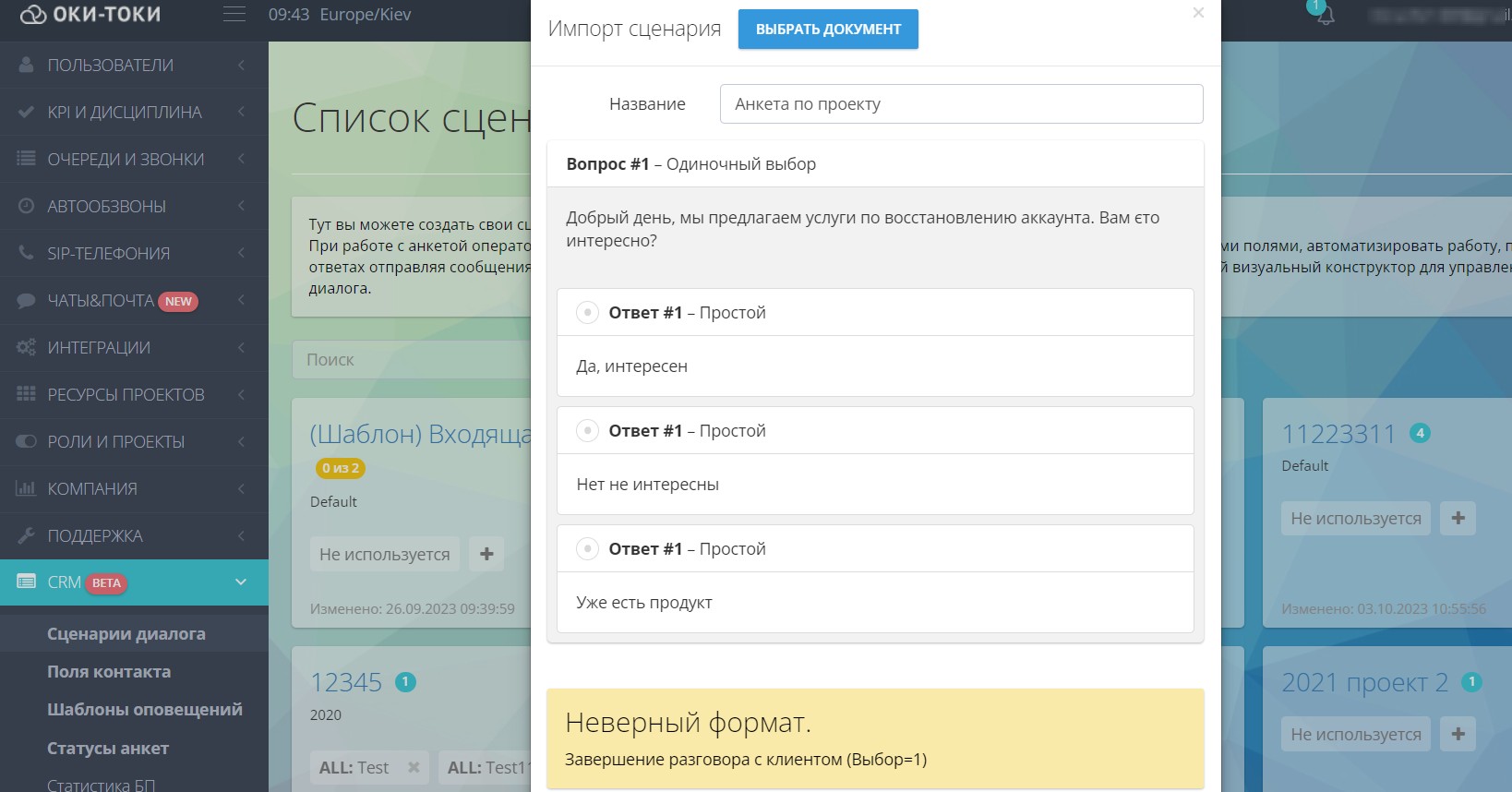 What needs to be finalized after import?
After importing the document, fill out the basic settings of the questionnaire: how many scripts will be available for a single customer, special activities for agents, and additional sections.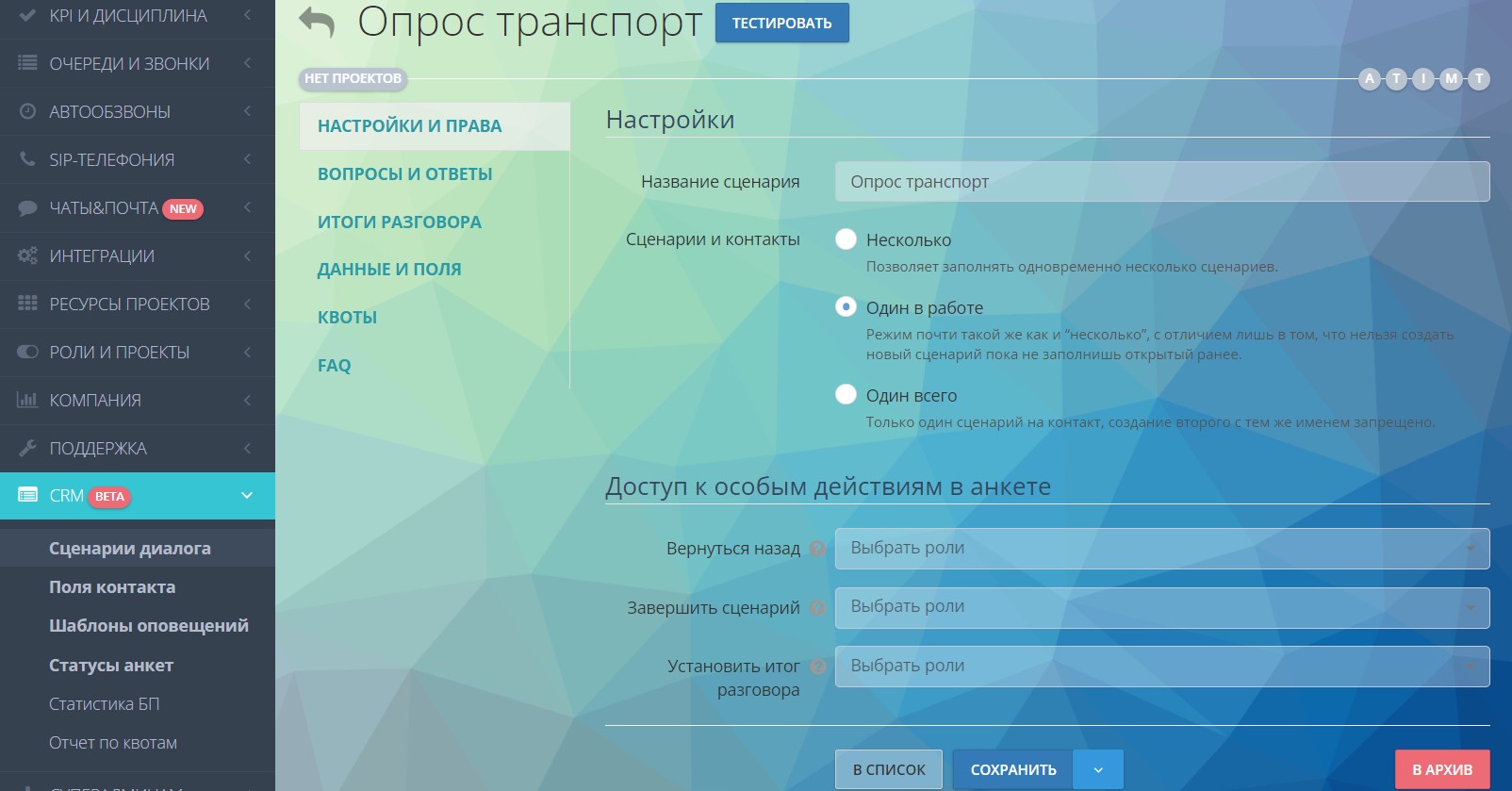 A detailed description of the questionnaire sections is available in the article "How to create a dialogue script with a client".
h3>Additional settings for questions/h3>
The "Questions and Answers" section contains the imported questionnaire, with questions, answers, prompts, and help buttons for the agent. By clicking the "Test" button, you can preview how the questionnaire will be displayed for the agent.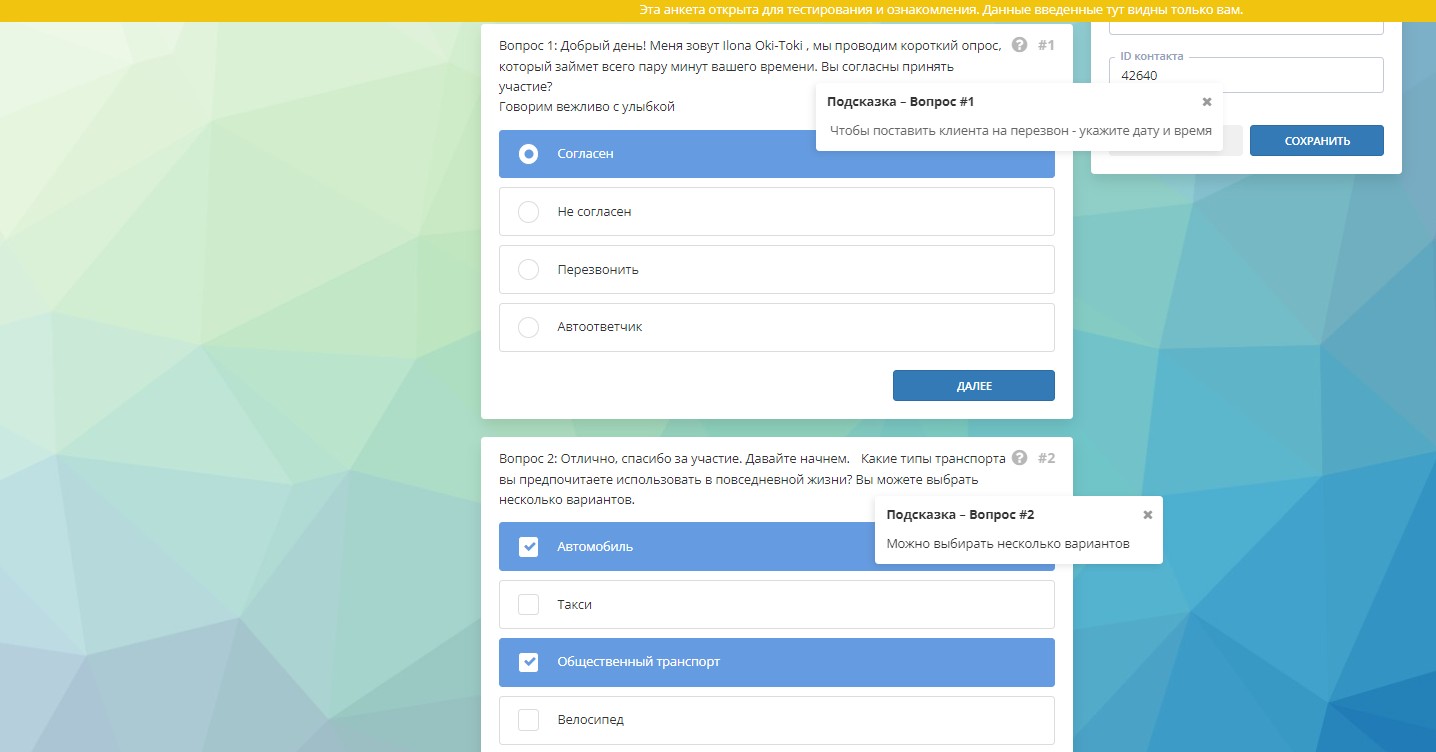 Now the agent will be able to see all the questions and the type of answers will be "simple", but if you need the questions to appear as you fill out the form, this can also be configured. If instead of an answer option you need a text field or a drop-down list – this is configured in the answer settings. Also, you can change the color of the text, the font, add necessary links and configure other parameters at your discretion.
h3>Additional settings for answers/h3>
After importing the form to Oki-Toki, you can set up additional functions for customer responses:
Linking contact fields; 

Settings for adding/removing autodialog tasks; 

Assigning hashtags; 

Sending notifications, etc.
That is, importing allows you to create the "skeleton" of the future script. The main advantage of this option is the opportunity to reduce time for manually filling out all the questions and answers without "ctrl+c ctrl+v, if there is already a ready-made "script" in the form of a text document.
About Customer interaction scripts can be reviewed on the Oki-Toki website.
The table of script formatting and a full questionnaire example is available at this link.
How to create your own sales script
Creating a dialogue script for an agent is a crucial part of sales strategy. We've prepared key steps and essential components for successful sales script creation.
Understanding Goals and Target Audience:

Before embarking on the creation of sales scripts, you need to clearly define your goals and understand who your target audience is. This will help you accurately structure the script that meets the needs and interests of your audience.

Product or Service Analysis:

To sell convincingly, it's crucial to understand your product or service, its features, and advantages. This knowledge allows you to include relevant arguments into your sales scripts.

Structure and Logic:

Your sales script must have a clear structure and logical order. It usually starts with a greeting, then transitions to identifying the client's problems or needs, provides a solution, and concludes with closing the deal. This sequence helps the customer to more easily absorb the information.

Responses to Objections

: An essential part of the sales scripts are compelling arguments and prepared responses to potential client objections. Gear up in advance to confidently and professionally dispel any potential doubts.

Practice and Testing:

Prior to implementing the script in actual scenarios, conduct trainings and testing. This will allow you to identify weak points and enhance the effectiveness of the scripts.

Automation and Monitoring:

If necessary, utilize tools for automating sales scripts. It's also crucial to continually monitor results and make adjustments to enhance the efficiency of your strategy.
Crafting a sales script is a creative and dynamic process that calls for continual refinement. With the previously mentioned considerations in mind, you will be able to create an effective sales script that aids in achieving your business objectives. Oki-Toki will offer you technical support and assistance in interface configuration.
P.S. If you encounter any issues with creating or uploading a form from a Google Docs document, please raise a ticket and our technical support staff will aid you in finding a solution to the problem.