Periodically, each operator is faced with a situation where the browser does not see microphone on the computer. This is the reason for the restriction of entry to the Oki-Toki operator's place . In this article, I will describe how to solve the three most common causes.
The article refers to the For Operators tool.
If the browser has selected a non-existent or non-working microphone as the main microphone (Google Chrome):
1. Enter the link in the address bar of the Chrome browser: chrome://settings/content/microphone
2. Microphone – press the tab, change the Default value to something else. If the built-in microphone, then set it accordingly.
3. Below is the condition Ask permission to access (recommended) – the switch must be active.

If Windows has restricted applications from accessing the microphone (Windows 10):
1. Go to Windows Settings (press Win+i).
2. Type Microphone into the search bar.
3. Select the item from the drop-down list: Select applications that can access the microphone.
4. In the page that opens, click on the change condition under the test Access to the microphone for this device is enabled – check that the switch is on the option is enabled.
5. Below in the condition paragraph Allow applications to access the microphone – there must be a switch on the option is on.

If another application has obtained a monopoly on access to the microphone:
1. Go to Windows Settings (press Win + i) Select: Devices, in the right menu related options, select: Sound Settings, in the right menu go to Sound Control Panel.
2. In the Sound window that opens, go to the Recording tab.
3. Select the microphone you need from the list of devices. Right click on it and select properties menu.
4. In the Properties window, go to the Advanced tab, in the Exclusivity section, uncheck Use Exclusivity mode.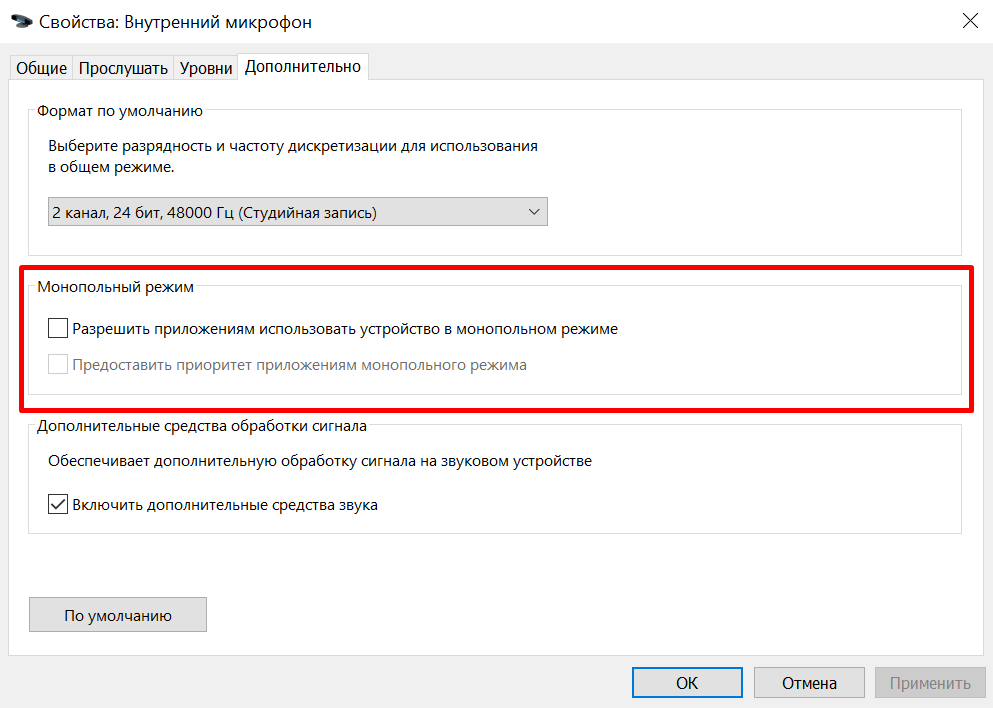 What to do if the problem is still not solved?
In this case, there is a high possibility of a hardware failure: there may be a problem with the cable and / or microphone plug, or there may be a problem with the computer's microphone jack. Here, the easiest way to identify the root of the problem is by elimination: for example, connect your microphone to another device and check its operation, and then connect another microphone to your computer and check its operation. contact us, technical support will be happy to help!
Andrey Fedyakin