In order not to tire you with lengthy promises and wishes – our readers are real, possible and impossible customers, we remembered the good things that we managed to do this year and tried to put it on the shelves, providing this catalog with detailed links. The purpose of this Magnum Opus is not so much to revive memories, but to act on your faith and confidence, and to reassure you that we are working Mon-Fri from 10 to 18 to fulfill your sometimes strange desires.
Articles and notes
Published 26 articles, tutorials and notes on the blog , as well as a number of short training videos. I won't talk about them, follow the link and get acquainted with the materials, we tried 🙂
operator place
We released this module last spring. In several integrated approaches, they improved and cleaned it of flaws. Main activities in the past year:
Performance has been tweaked a lot for large call centers (more than 200 agents). We think this is not the final solution yet, but already quite stable;

Added tips and notifications (tips for solving problems with the headset, pop-up windows, as well as a notification about connection problems) in order to increase the independence of your operators when getting acquainted with the system and working in it;

We improved the information content of the call history by adding all the call data necessary for the operator and removing unnecessary ones;

Added operator statistics on calls and statuses in the operator position for the session;

Redesigned hold and conference management.

Added the installation of a personal ringtone and a volume control for signals in the operator's station.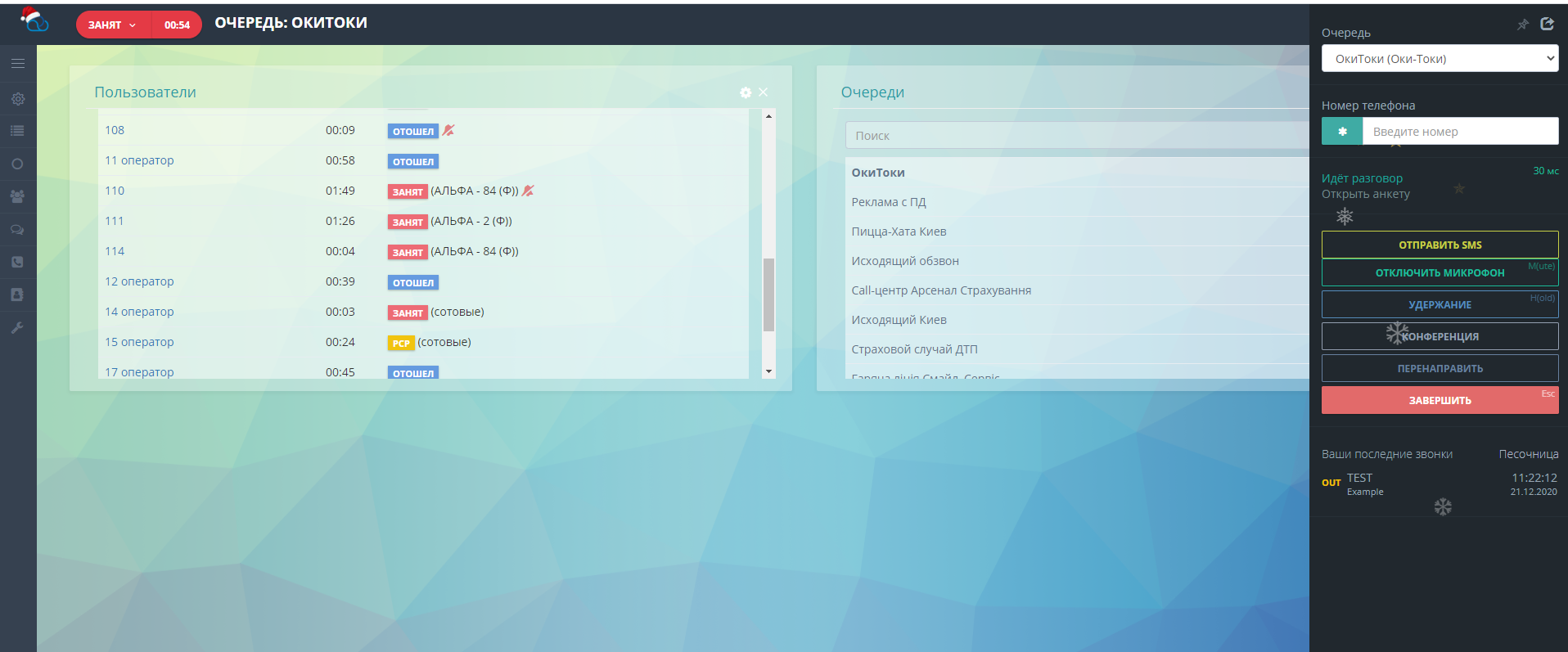 CRM
In 2020, we started transferring the last, but perhaps the most complex module in terms of the number of mechanics – CRM to the new interface:
We have developed a new conversation script, which is available upon application for participation in the BETA test. We moved all the important functionality, abolished obsolete ones, added new features and features, and also prepared a "bridgehead" for new cool developments. They are just around the corner, stay tuned for next year!;

Moved bulk import to a new interface and expanded it by adding bulk import to lists and manual bulk upload of audio recordings to the cloud;

We moved the setting of conversation scenarios (questionnaires), this section has been tested and is working, access to it will appear in the near future;

During January-February, we really hope to complete the transfer of the entire module and gradually send the "green interface" to a well-deserved rest 🙂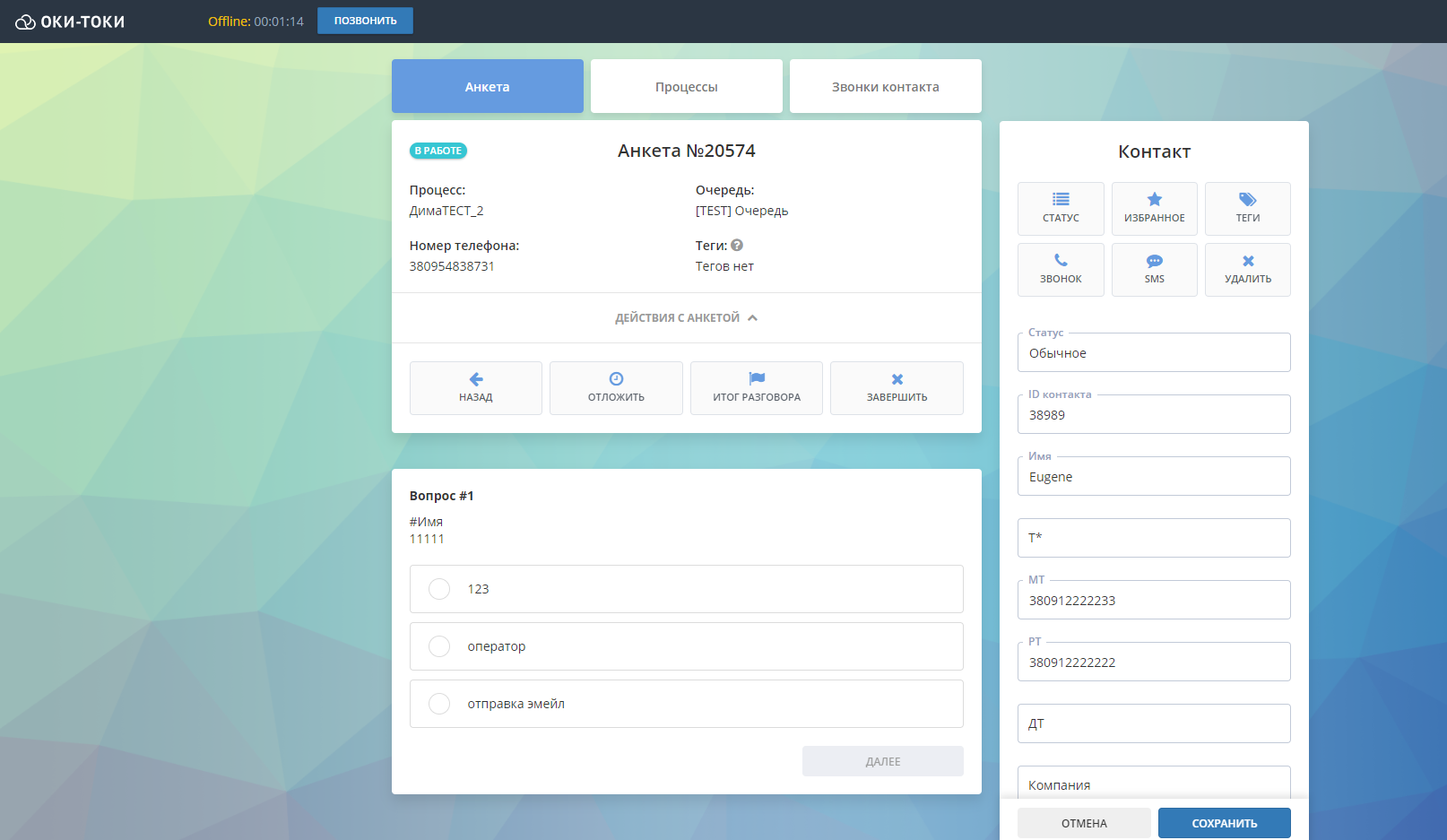 Reports
This year's goal was to increase the information content of reports and stability for exporting volumetric data, as well as new tools – "Reports" and "Evaluation of the quality of the conversation."
Operator Performance Evaluation is currently in beta, but will be released at the end of January. Already now you can participate in testing;

Created a new reporting for managers and customers – "Reports". We nurtured this idea for a long time, prepared the site and developed the concept even longer. This is a new approach to statistical reporting with huge potential (how huge it can be in terms of reporting). You can talk about the reports for a long time (honestly), but I recommend that you feel them yourself by clicking

on this link

;

We added useful filters to various reports that we have been dreaming about for a long time and that our clients have asked for, for example: a filter by events in the integration events report; filter by import number where it will be useful; added sorting from old to new / from new to old in the call log.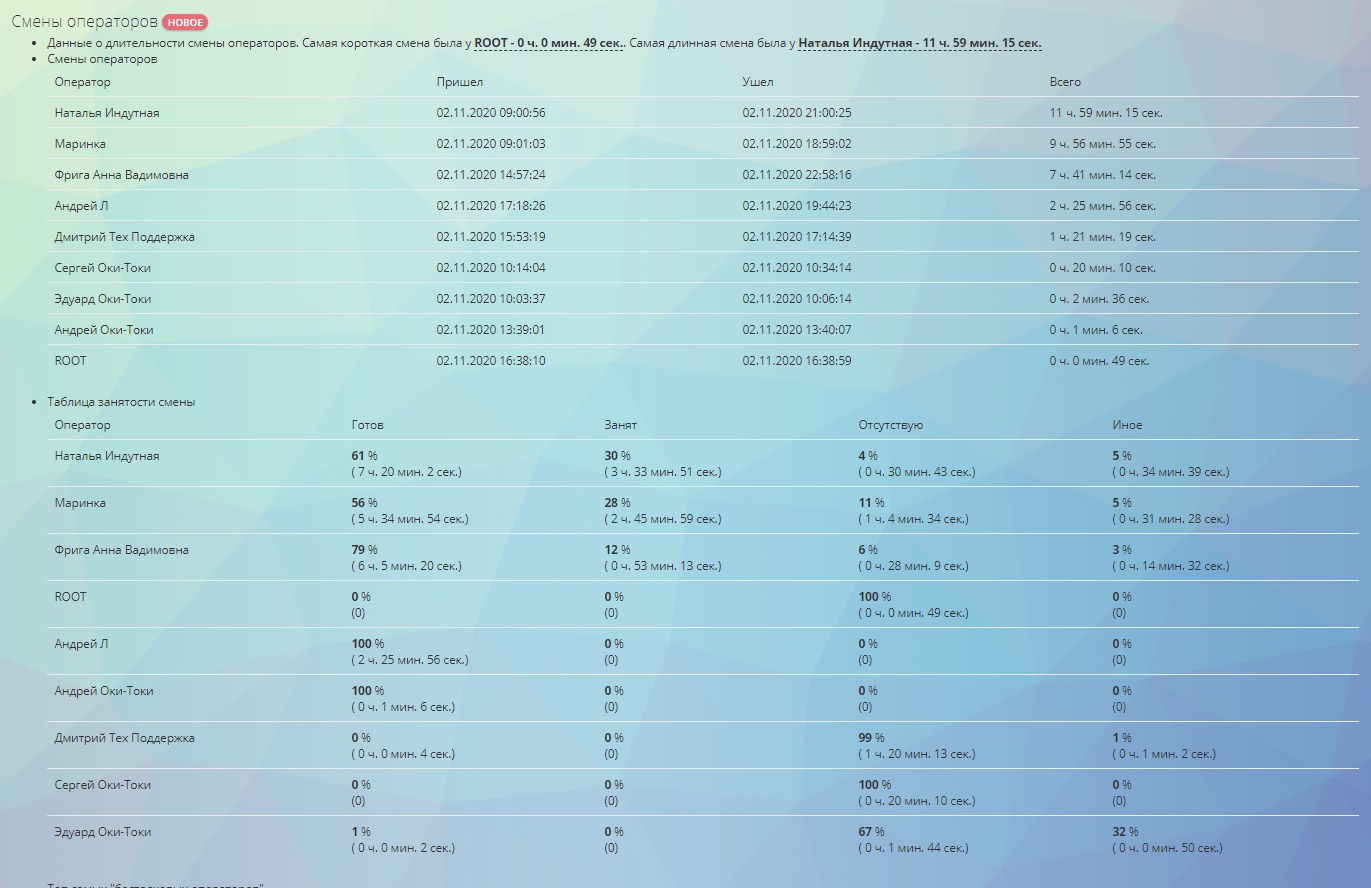 Integrations
Simplified work with other services – which greatly reduced the number of steps when creating projects and simplified the development of new integrations.
Integration with AMO CRM – we have implemented popular Wishlist in full integration with AMO. In just a couple of minutes, you can set up a full-fledged bundle between our systems!;

Integration with Bitrix24 – we finally got around to this integration, which is important for many clients. At the moment, it is being tested, but in the very near future it will be released and will quickly begin to acquire opportunities;

Integration with SalesDrive – another CRM system. The integration is not as flexible as with previous systems, but it implements almost everything that SalesDrive allows you to do using the API;

API – cleaned up their documentation and

moved it to the

.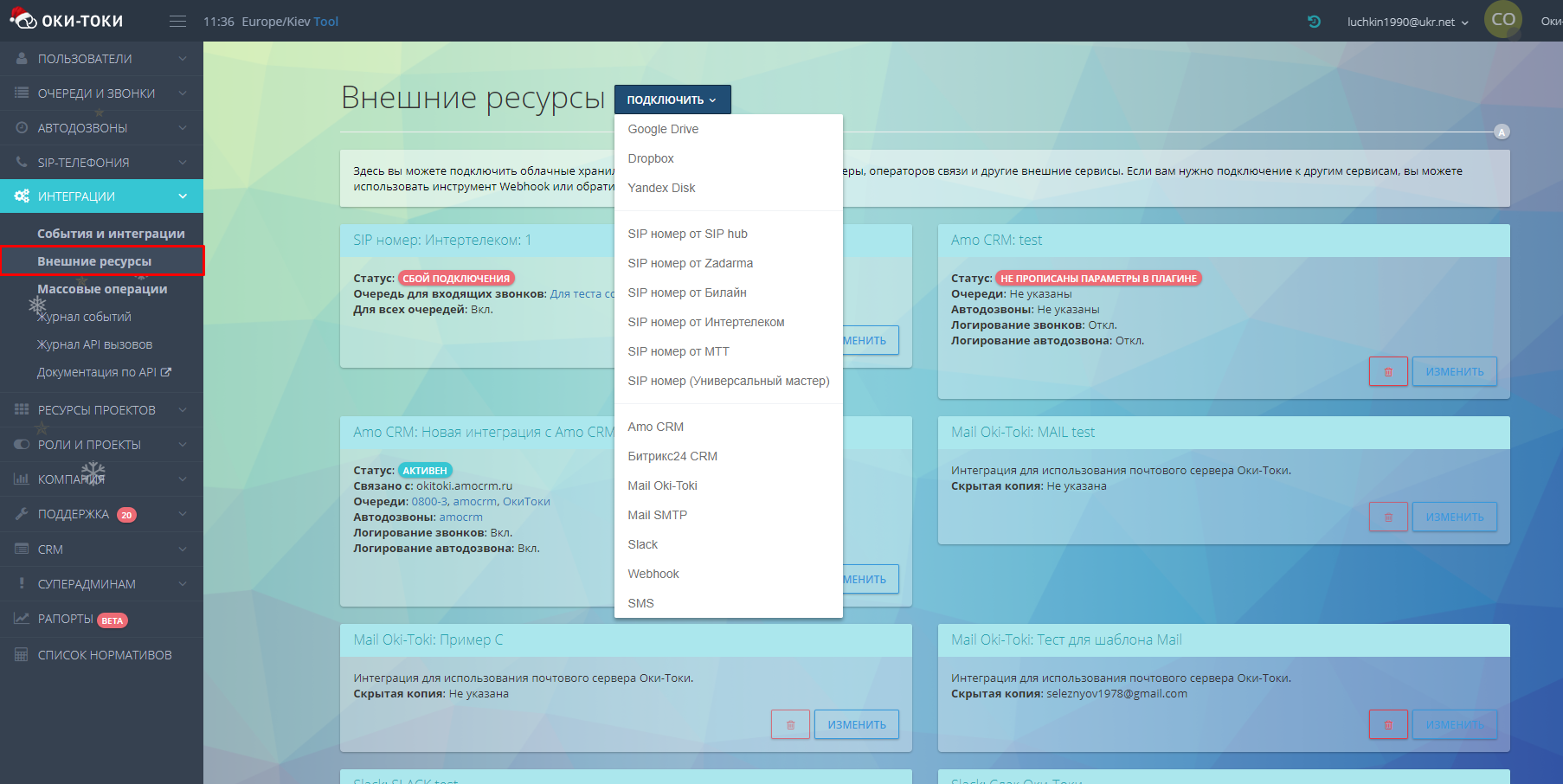 Ticket system
This year we have put a lot of effort into the ticket system to bring it to the form that we have been fantasizing about for a long time.
Conferences – calling a client with a technical support employee right in the ticket, with or without screen sharing;

The introduction of KPI for our employees, which includes disciplinary responsibility for "forgotten" tickets, automatic distribution of tickets to employees, and clear status management. Technical support is almost used to all this;

Creating a screenshot with a button from a ticket;

A global message from Oki-Toki in the ticket system about a breakdown, implementation or planned work.
We are making not just a convenient tool for contacting our technical support. We are preparing a ticketing system as a full-fledged product for other companies interested in a full-fledged ticket system out of the box. I will talk about this in detail in the article that will be released after this one, stay tuned for updates on the blog and in the Oki-Toki news 🙂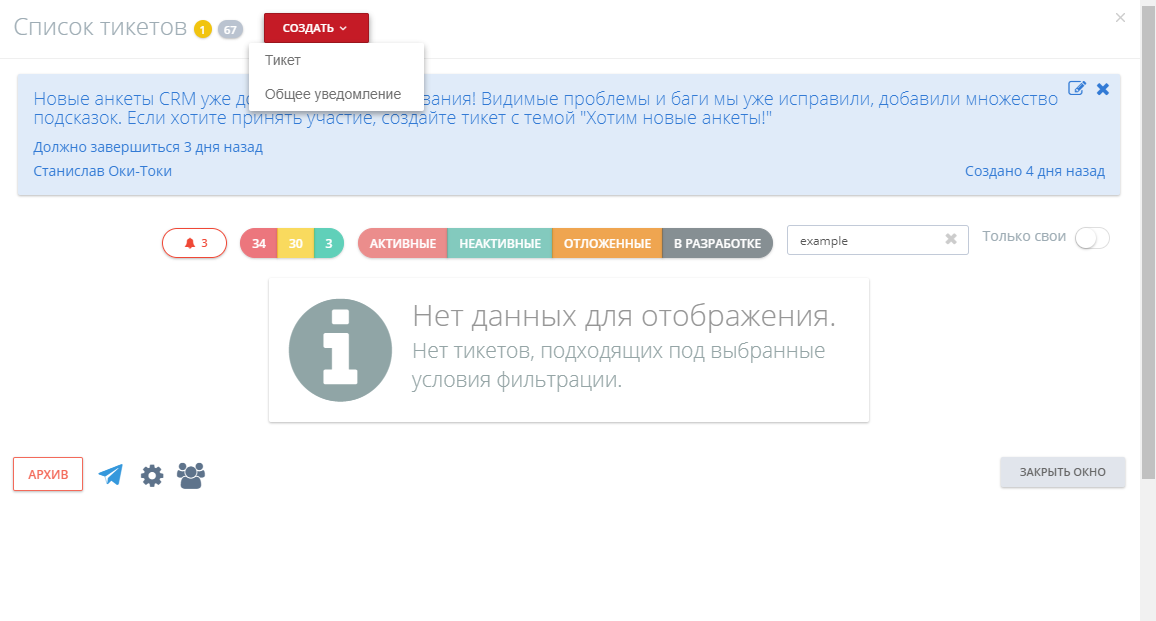 Optimizations and improvements
The telephony module (ACD) has been redesigned. This allowed us to reduce the load on our servers by 20-30%, which increased the number of calls per minute that one server can stably keep on itself (now it is about 5-6 thousand calls per minute).

In several stages, we cleaned bugs and sorted out the code, thus reducing the load on the operator's computer and reducing the requirements for the computer to work in the system;
About plans
Next year there will be even more developments, implementations and improvements, as there are more and more of us, ideas become bolder, and we are always haunted by the idea that we are developing the product too slowly, although we are doing more than we plan. From what has already been planned:
Entering the European market (technically, we are already there);

Farewell to the old interface;

Evaluating the performance of operators using KPIs will soon replace disciplinary standards and a disciplinary report.

Widget "Business process" in the new operator's place (for those who did not work in the old operator's place, this is a window with the history of the last questionnaires that the operator worked with, the ability to interact with them, as well as searching through the entire system for the necessary questionnaire through dozens of filtering options )

The release of a full-fledged CRM-system on a new engine, as well as the development of a number of important and useful reports for it;

"Knowledge Base" is a useful update that will allow you to find out the answers to your questions without the participation of a technical support employee. Answers to questions will lie exactly where you feel the need for them;

New dashboard for operational monitoring of CC work.
On behalf of Oki-Toki , please accept my congratulations on the upcoming New Year! I wish you all more perseverance, motivation and good health. Everything else will follow 🙂
Stas Luchkin