Voice Broadcasting Service
The Oki-Toki Cloud Service is the best solution for voice broadcasts and automatic customer dialing for your company. The robot will handle order confirmations and inform customers about the range and promotions.
Why are Voice Broadcasts Gaining Popularity?
The voice broadcasting software frees up agents
For more complex tasks, it works brilliantly. It's perfect for order confirmations and cold sales.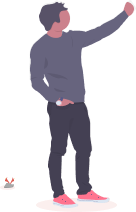 The Auto-informer Instantly Changes Size
Tailored to your capabilities. Unlike agents, it doesn't take lunch breaks, and it requires no recruitment or training – it already possesses everything necessary.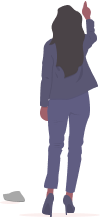 The auto-informer doesn't make mistakes
Whether it's 5 attempts or 10 – voice broadcasting of messages will work exactly as you indicate.
The Auto-informer is Ingenious
– he can speak numbers and dates, streets and names, and read surnames. Moreover, he has the ability to understand responses.
Where to Use Voice Broadcasts:
Advertising and Engagement
Message distribution is a fantastic tool for efficient, personalized, and, if needed, anonymized engagement with clients.
Notification
Voice broadcasting of delivery notifications, debt reminders or changes in work schedule - that's the task the Auto-informant handles best.
Sales
You can automate cold calls or repeat orders, entrusting the dial-up and the initial offer to a voice message distribution program.
Exploration and Surveys
These tasks are solved by using voice recognition. Both Ukrainian and Russian languages, in any time zone. The answer base will be uploaded in popular formats.
Advantages of the Service
The Opportunity to Integrate Your Own Telephony
Choose and connect your communication provider and reduce your communication costs by THREE TIMES!
Opportunities for Integration
Integrate external services using Webhook and Http-requests. You can retrieve conversation records, request debtor names, or conduct a lottery.
Engaging Live Agents
Our service includes conversation scripts for agents, CRM, discipline control, and agent work time tracking.
Tools for Professionals
You can manage multiple projects for various clients: rights, a changelog, and a personal domain - all included.
Potential of Voice Broadcasting from Oki-Toki
Recording Standard Messages
Record voice messages yourself or with the help of Yandex TTS and Amazon robots.
IVR Dialogue Builder
Program the IVR dialogue with the subscriber, as a result of which a connection can be established with a specific department or agent.
Voice Recognition IVR
Set up your voice IVR to recognize specific keywords and synonyms, which will guide the robot in determining further actions in the conversation.
Automated Voice Broadcasting
Create voice alerts using a speech synthesizer. The distribution can inform the customer about the amount of debt, order, account balance, and more."
Defining the Subscriber's Time Zone
Automatic timezone detection based on phone number prefixes allows you to configure automated voice message delivery in line with your subscribers' working hours.
Integration with CRM
Connect Oki-Toki to your CRM and use these data when creating a voice mailing list (addressing the customer by name and pronouncing any data from the CRM).
Detailed Statistics for Each Call
Receive detailed statistics on specific key presses and voice responses, the percentage of listened messages and other subscriber actions.
Summary Statistics
Analyze the results of voice message distribution: how many calls were made by the robot, daily statistics on clicks and transitions, quality of the database based on the results of the calls.
Parallel Dialing
Launch mass distribution of voice messages across multiple databases with varying content.
Schedule of Mailouts
Set any schedule for each voice broadcast message, right down to specific periods throughout the day.
Setting up Action Algorithms
Determine the actions the robot should take if a connection failure occurs, the number is busy, or there is no answer.
Activating the 'Call-Drop' Feature
Set up the 'call-drop' feature to save on communication costs.
Enabling the Blacklist
Add numbers that the robot should never call. Adjust a general blacklist or separate for each flow.
HAVEN'T FOUND THE FEATURE YOU NEED?
Submit your request and get even more information about our service!
Primary Functions
Per Day

Subscription Fee

€ 0,75

Storage of conversation records for up to 1440 hours, agent activity tracking and project management, 25 call reports, PBX functionality, agent quality evaluation form, email reports, speech analytics, guest accounts, report mixing, conversation scripts, KPI and disciplinary control – 10 reports a day.
Additional Payment

Agent's Workspace

€ 1

For 1 agent per day
One-Time Payment

Activating and Setting up the Service

€ 75

One-time fee for service connection and setup
Additional Features
For 1 port

Ports in the GSM Gateway

€ 0,75
Per Day

SMS Dispatch Module

€ 1.5
Per Day

Additional Storage for Conversation Records

€ 0,15

For every additional 10 GB, beyond the 10 GB included in the subscription fee.
Additional Tariffing for the Number of Attempts at Auto-Dialing
Per day

from 0 up to 500 pieces.

Included in the subscription

Included in the subscription
Per day

from 500 to 30,000 units.

€ 4,5
Per day

from 30,000 to 60,000 units.

€ 7.5
for every 10,000 attempts

from 60,000 units.

€ 1,2
Premium Features
Per Day

Determining a Customer's Time Zone

€ 1.5
Per Day

Priority Queue for VIP Customers

€ 1.5
Per Day

Personal Domain

€ 1.5
Per Day

Cloud Backup

€ 1.5
Per Day

Dedicated Server

€ 12

For a single server. It can be used for multiple modules or functions simultaneously (for instance, for CRM and Dialer).
Per Day

Daily Rules for Auto-Dialling

€ 1.5
Unlimited reports up to 10 pcs

Included in the subscription

Included in the subscription
for every 100 reports

Unlimited Reports from 10 Units

€ 1.5
Speech Recognition (for individual segments ranging from 1 to 15 seconds)
per day

from 0 to 50 units.

Included in the subscription
per day

from 51 pcs.

0,02
Speech Synthesis (Behind the Symbols of Printed Text)
Per Day

from 0 to 1000 units.

Included in the subscription

Included in the subscription
Per Day

from 1,000 to 5,000 units.

€ 1.5
Per Day

from 5,000 to 10,000 units.

€ 3
Per Day

from 10,000 to 20,000 pieces.

€ 4.5
Per Day

from 20,000 to 30,000 pieces.

€ 6
Per Day

from 30,000 to 60,000 units.

€ 10
For every 10,000 characters

from 60,000 units.

€ 1.5
API Requests
Per Day

up to 1,000 pcs.

Included in the subscription

Included in the subscription
Per Day

From 1,000 to 10,000 units.

€ 0,75
Per Day

from 10,000 to 50,000 units.

€ 1.5
Per Day

from 50,000 to 100,000 pieces.

€ 3
for every 10,000 inquiries

from 100,000 pcs.

€ 0,3
Utilize additional tools as needed
Cloud-Based Contact Center
Business Chat for Your Website
Omnichannel
Speech Analytics
Industry Solutions
We have a ready toolset for setting up a contact center in every niche!
Reviews on Oki-Toki from Other Services
Oki-Toki
Google Chrome browser
Automated Voice Broadcasting
Oki-Toki is an innovative service that provides the capability for automated voice broadcasting to your clients. One of the primary advantages of Oki-Toki is its ability to automate routine tasks, such as order status notifications, alerts about new services and products, reminders of upcoming events, and many more. This allows companies to maintain contact with their clients without spending a lot of time on manual labour.
Regardless of the type of business you run, Oki-Toki will help you improve customer service quality, reduce costs for manual labour, and enhance the efficiency of your communication. Dive into the world of automation and start using the Oki-Toki service today.
What is the voice broadcasting service?
Voice messaging service is a kind of technology that allows sending voice messages to multiple recipients simultaneously. They are used for distributing notifications, reminders, informational messages and so forth. Typically, voice broadcasting services offer the ability to record and send audio messages via a web interface or mobile application. This allows the information to be conveyed quickly and efficiently to many people at the same time, which is one of the key advantages of voice broadcasting services.
The main functions of voice broadcasting
Audio message distribution services provide the following main functions:
Voice Message Creation

: Users can record messages that will be used in the distribution.

Voice Message Broadcasting to Phone

: The service sends voice messages to designated phone numbers or contact groups.

Automatic Redial

: The service can use an automatic redial function to deliver a voice message until the recipient answers the call.

Reporting

: The service provides reports on voice message delivery, delivery status reports, and other statistics that can help users optimize their audio distribution campaigns.
Integration with Other Services: Some voice messaging programs can integrate with services such as CRM systems to help users manage their contacts and companies more effectively.
Why can you use the voice mailing service?
Voice message broadcasting is a powerful business tool. They are used for both cold and hot calling, to grab attention and reach a widely-spanning audience.
The topic of voice message broadcasting over the phone is customizable by you, hence, this tool can be used by companies of various orientations. Special attention to this type of notification should be given by startup owners who aim to quickly develop their project and make it popular. Voice broadcasts over the phone can lay the foundation for an advertising campaign distributing information about the product or service.
h3>Why use voice message broadcasts?/h3>
h4>Time Saving/h4>
Voice broadcasts allow you to reach a multitude of people quickly and efficiently, which significantly saves the time needed for manual message dispatching or calling.
h4>Convenience/h4>
Audio messages can be set up and automated, which simplifies the broadcasting process and makes it more convenient.
h4>Better Audience Coverage/h4>
Voice broadcasts can reach a larger audience than other forms of marketing, such as emails or social networks, as they can be played at any time and in any place.
h4>Personalization/h4>
A voice broadcast to a database of numbers can be personalized to cater to the individual preferences and needs of the audience, which enhances the company's efficiency.
Popular cases for voice broadcasts
Notification about discounts and promotions

: Voice messages by a robot can be used to notify customers about upcoming discounts, promotions, and special offers to boost sales.

Surveys and Research

: Voice broadcasts can be utilized to conduct surveys and research among customers to enhance the services and products offered.

Event Notifications

: The audio message service can be leveraged to notify customers about upcoming events such as product releases or special happenings.

Advertising and Sales

: This tool is perfect for making calls and informing potential company clients about products and services;

Alert for urgent important notifications: Voice broadcasting on phones can be used to notify clients about urgent and important notifications, such as changes in schedule or unforeseen delays. This can help to maintain customer trust and enhance their experience.

Alerts on new products and services

: The voice message delivery service can be used to introduce new products and services offered by your business, to grab the attention of customers.
Voice broadcast over the phone can be utilized for a variety of business tasks, from sales increases to customer experience enhancement. It's crucial to pick the appropriate service and draft an effective audio-distribution strategy to reach the desired outcomes.
Main benefits of a voice messaging service
Robot voice broadcasts are among the efficient ways of reaching a larger audience and promoting your business. They offer the opportunity to deliver your message to permanent and potential customers at a convenient time. A significant advantage is that audio messages can provoke emotional responses from listeners, which can build trust and capture attention. 
Main advantages of Oki-Toki:
Ease of Use

: Pay attention to the simplicity and intuitiveness of the platform. Choose a service that is easy to use and does not require additional technical skills.

Personalization opportunity

: Opt for a service that allows you to customize and personalize mailings, ensuring they are optimally suited for your target audience.

Reliability and Dependability

: Choose a service that guarantees high message delivery and ensures the reliability and security of your information.

Price and Value

: Compare the prices and features of different services and choose the one that offers the best value for its price.

Technical Support

: Pay attention to the availability of technical support and the quality of its services. Oki-Toki offers high-quality technical support that can help you solve any arising issues and ensure the stable operation of the service.

Voice Synthesis

: The ability to independently record voice messages or synthesize voice using Google and Yandex TTS robots;

Messages

: Sending SMS messages in case of missed calls or when simple client notification is necessary;

Statistics and Reports

: Gathering of statistics and recording each conversation, on the basis of which the call center management can track the result of using automated voice broadcasts;

Automatic Dialing

: Setting up dialer based on the client's time zone;

Integrations

: Sending Webhooks to notify third-party services about call results and user actions. 

CRM

: Oki-Toki can be used with any modern CRM, allowing you to access customer data, such as their name, outstanding balance, delivery date of the order, and so forth.
The Oki-Toki service offers easy setup and efficient use of audio-broadcasts, personalization, reliability, added value, not to mention the accessibility of tech support. All in all, the use of voice broadcasts can be a vital instrument in the marketing and advertising strategy for your business.
If you want to try out the voice broadcast service – fill out the form to get access to all of Oki-Toki's features. You will be able to test the voice message service for free for 14 days before deciding to purchase the program.