Customer dialer is often used in contact centers with large databases of numbers or for cold calls, and such projects require multiple "runs". Sometimes (for example, in MFIs), you need to call clients according to a special, daily scheme with a gradual decrease in intensity. In the Oki-Toki dialer for such projects, you can create dial-up rules by calendar (Mon-Sun) or ordinal days (days are counted from the moment a task for dialing a client is created). The combination of the number of attempts with the intensity depending on the day makes the process of working through the base the most effective.
The article is related to the product: Auto Dialer .
Opportunities in OKI-TOKI
Go to dialer , tab "Statuses" and turn on "Daily dialer rules".

Select the desired condition and click on the "+" (plus).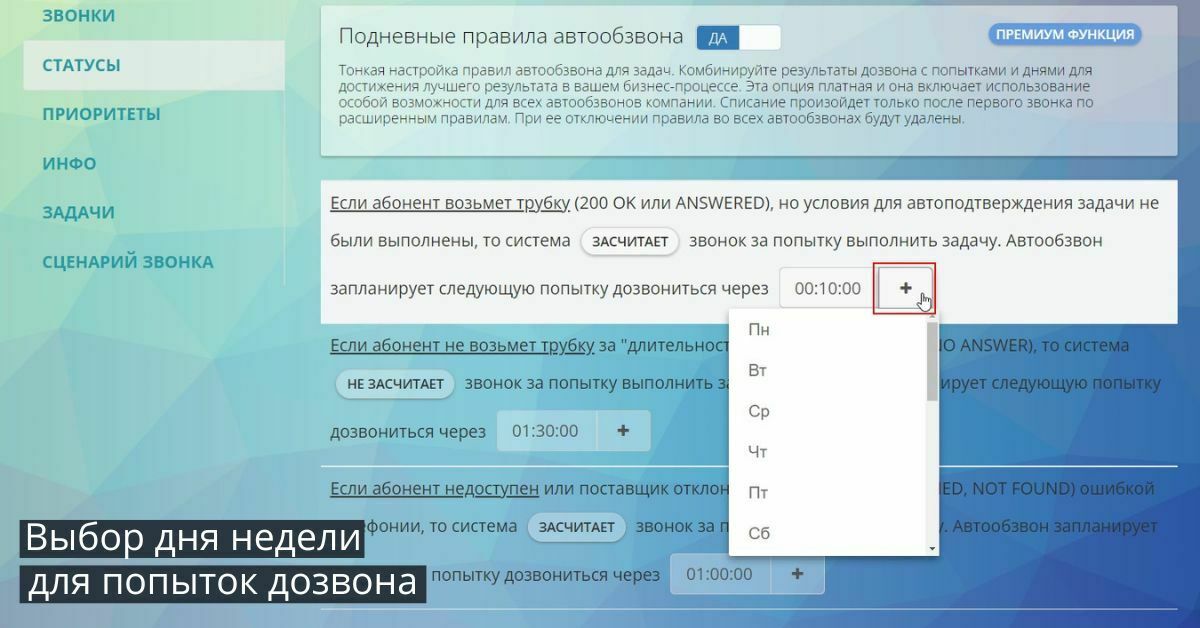 In the list that opens, you can select a rule for a specific day of the week or the "age" of the task ("first day", "second day", etc.)

After selecting the appropriate one, indicate the intensity of the call (every 10 minutes, every hour, etc.). All rules for this status will be displayed sequentially when added.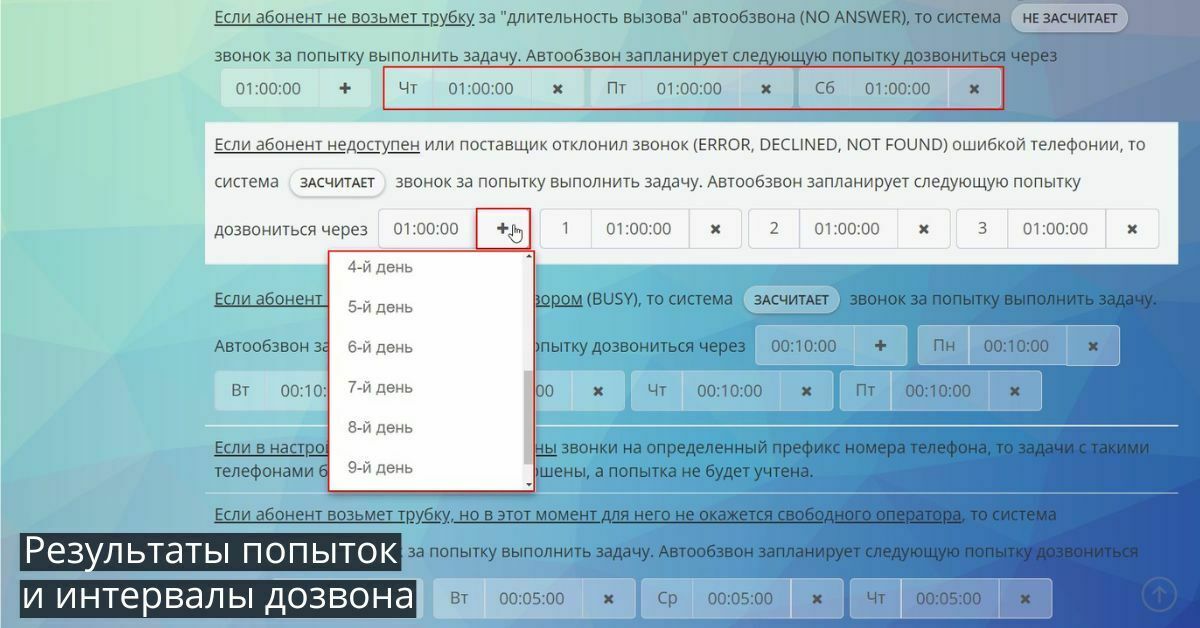 Do not forget to indicate whether the system will "count" or "do not count" the call for an attempt. The required number of dialer attempts can be set in the main settings.
Important! The rule for the day of the week takes precedence over "age". For example, in the Sun there is a rule on the second day. If both rules apply, then it works on the day of the week. The default dialer rule works for all other "unselected" days.
Examples of using
If you need

more attempts on Monday and normal mode on other days

, select by "+" Mon and the desired interval between attempts, and on other days, dialer will work according to the default time.

When

dialering should call less intensively on weekends

– select Sat and Sun, set a longer callback interval, the rest of the days will be called by default.

If you need to call more intensively during the first three days of the task

– select the 1st, 2nd and 3rd day and specify a "faster" interval of attempts, on the other days it will work by default.
Additionally:
This option is paid and it includes the use of a special feature for all company dialers. Write-off will occur after the first call according to advanced rules. If it is disabled, the rules in all dialers will be deleted.

There

is a video tutorial on

YouTube

about daily dialing rules.

You can read

more about how

to set up dialer

on the blog.

There

is also a separate article

about

dialer modes

.
Ilona Chernyakova