KPI monitoring is an indispensable element in organizing the work of a call center. Call center KPIs reflect the effectiveness of each employee, project, department, and company as a whole. By analyzing the indicators, you can determine the required number of agents (and supervisors), predict and optimize the cost of maintaining the contact center. the number of calls received and other indicators of the call center. All information is stored in the cloud, which means that it cannot be intentionally lost or distorted.
Reports are a collection of ready-made KPIs for a call center sent by email. The data is "packed" into sections, and you yourself choose how and when to receive data for each direction. The history of indicators is stored. Reports are a source of "raw" data. We talked about reports in more detail here.
Tip: use reports when you need organized data; use reports if you need "point" or detailed information on one of the areas of work.
For more information about reports, see our previous article.
International call center indicators – KPI
International call center indicators – general information about its work. These metrics will help you see the big picture and identify areas for improvement: hire additional agents, start using a smart answering machine or auto dialer, change the script, etc.
Our "package" of international indicators is listed below. If you think it is incomplete, please let us know and we will probably add to this list.
Average Handling Time;
Average talk time of operators with subscribers (Average Talk Time);
N/A by hold time;
Average call post-processing time (Average PCP);
Percentage of lost calls (Abandonment Rate);
Calls received by the operator (Average Handled Calls);
The number of calls received on the queue (Total Contact Volume);
Average waiting time for a subscriber to answer (Average Speed to Answer);
Average time spent in the queue (Average Speed to Answer);
Average call time of the operator (Average Ring Time);
Load of operators (Occupancy);
Average idle time of agents in the "ready" status (Average Available Time);
N/A on operator efficiency;
The time that the agent processed or waited for calls in the "ready" status (Productive Time);
N/A for paid time.
In Oki-Toki, it is convenient to observe all these indicators using reports.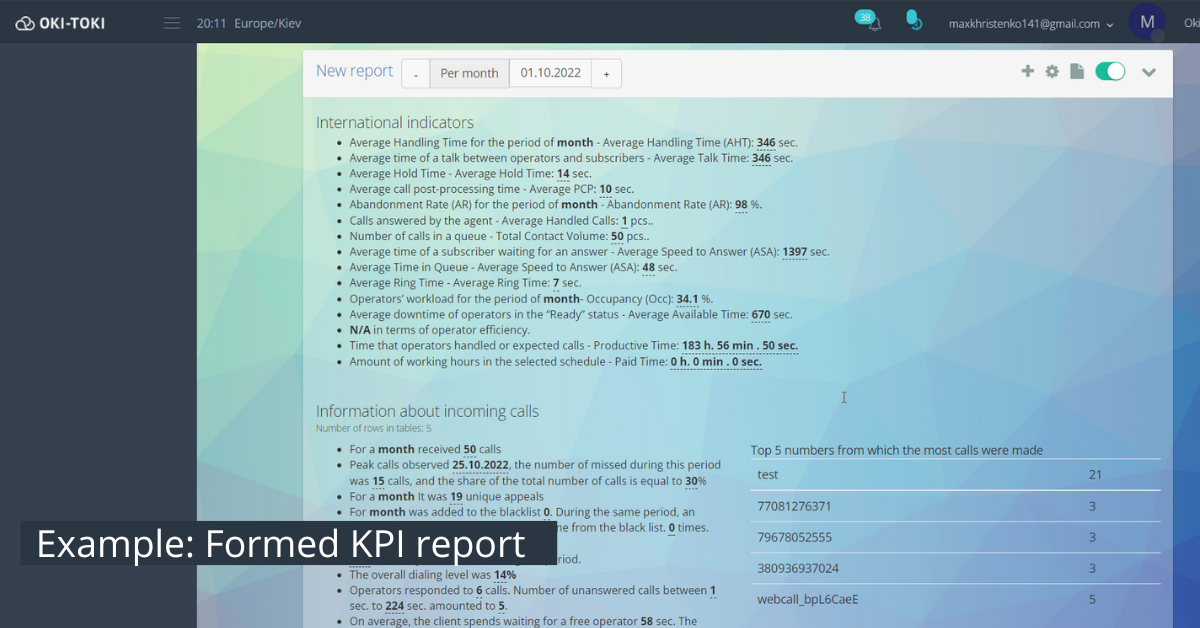 KPI of call centers in the Oki-Toki system
To keep monitoring KPIs from taking up a lot of your time, use reports . These are sections that combine information from Oki-Toki reports. In addition to international indicators, there are such reports:
Information about incoming calls;
Information about outgoing calls;
Waiting time for incoming queues;
Reasons for ending calls;
About the status of operators;
Queue activity data;
About callbacks.
KPI helps to assess whether there are enough employees in the call center to handle the existing flow of calls. If you see customers dropping a call while in queue or on hold, consider increasing the number of agents. The issue can be solved in another way: use the Oki-Toki answering machine robot. A smart bot recognizes the client's speech, answers his question, and, if necessary, connects him to the right department. Although, if you are conservative, then you can get by with a simple callback that will process lost calls.
Why analyze operator statuses?
This metric shows you how much time the agent spent in Ready status. The report also helps to evaluate the share of operators' employment and the time they are in the "Absent" status.
In addition to general statuses, you can assign your own. Oki-Toki adapts to your tasks, simplifies their implementation. So, to the standard status "Absent" you can add "Absence for lunch" or for another reason.
By analyzing the statuses, you can determine which of the operators responsibly approaches the performance of their tasks, and who spends most of their working time in the status "Absence" .
Without KPI, it is impossible to build an effective call center
It is worth setting long-term and short-term goals only after analyzing key indicators. They will give you an idea of the current state of affairs, help you understand where the "bottlenecks" of your call center are and how to develop your business further.
Using the Oki-Toki cloud service, you can query all important call center performance indicators with a single mouse click. Data is stored in the cloud, so it is available no matter where you are.
Always keep your finger on the pulse – monitor KPIs with reports and convenient reports! Fill out the form to get a free trial access to all the features of Oki-Toka for 14 days.
Testing our service is easy: follow the link and register on the site.
You can calculate the cost of using your CC on the calculator page or ask us a question through the form on the site