Omnichannel: Handling chats and mail in the contact center
In order for the store to visit more visitors, you need to open your doors wider. To this end, progressive services are developing means of communication and feedback services. But how to distribute the load among the operators? Divide messengers into groups? Or give operators n-windows to process all communication channels at once? These questions are answered by various solutions that are called "Omnichannel Chat". And now I'll talk about the customer support chat – our solution, which we announced in the final article at the end of last year.
Capabilities
Integrations
Connect to Oki-Toki not only telephony, but mail and accounts of your messengers. Together they form an omnichannel system for processing all means of communication in a single window. At the time of writing this note, integration with Viber and Telegram is available; Whatsapp, Facebook/Instagram is on the way.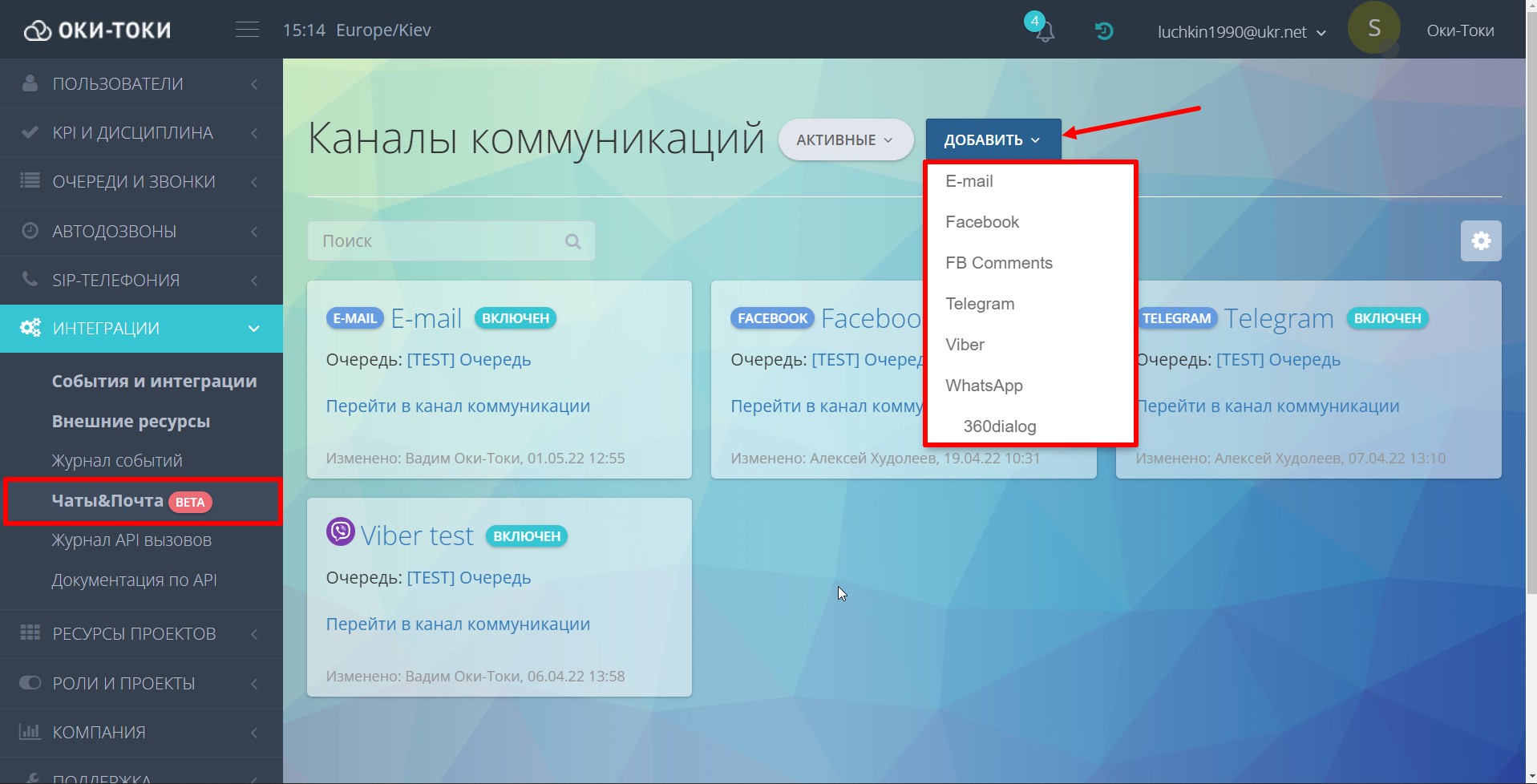 Operator work
The operator's workplace is located at this link . Both a computer and a mobile device are suitable for working in chats – this, by the way, greatly simplifies the recruitment of new operators. The interface is available in day and night color schemes. The Viber call chat is located next to the Telegram call, but this will not cause inconvenience, because the dialogue procedure is unified by a single interface. Calls are distributed to operators in the form of a list of chats. Each request is assigned a responsible person who leads the ticket through the funnel of states to its solution.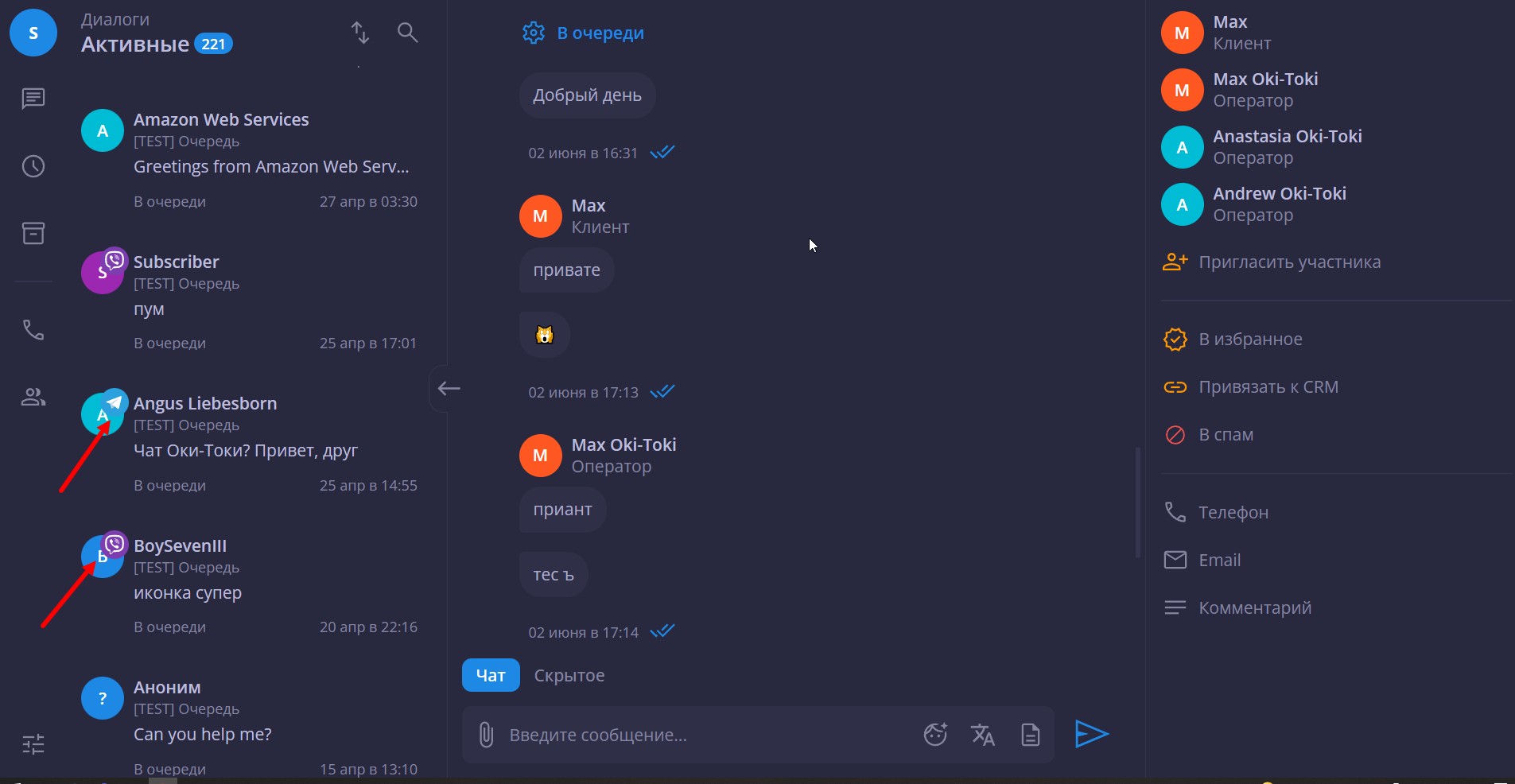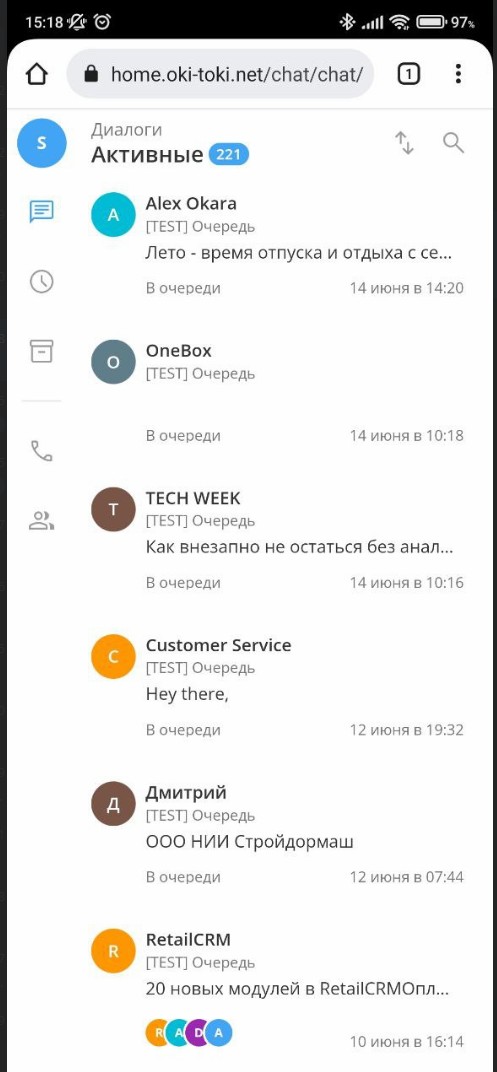 Operator control
A detailed and summary report on the status of the operator is already ready. There will be others, because they are easy to make. Not only that, your company can compile a custom report based on our metrics using the simple Grafana service. Put all chat events into charts, use formulas – there is room for an analytics fan to turn around. Of course, control will appear in KPI Counter and Reports 😉
Interface
Navigation
All available dialogs are divided by their global states: "Active", "Pending" or "Completed (Archived)". For ease of interaction, the list of dialogs has sorting and a field for entering a search query.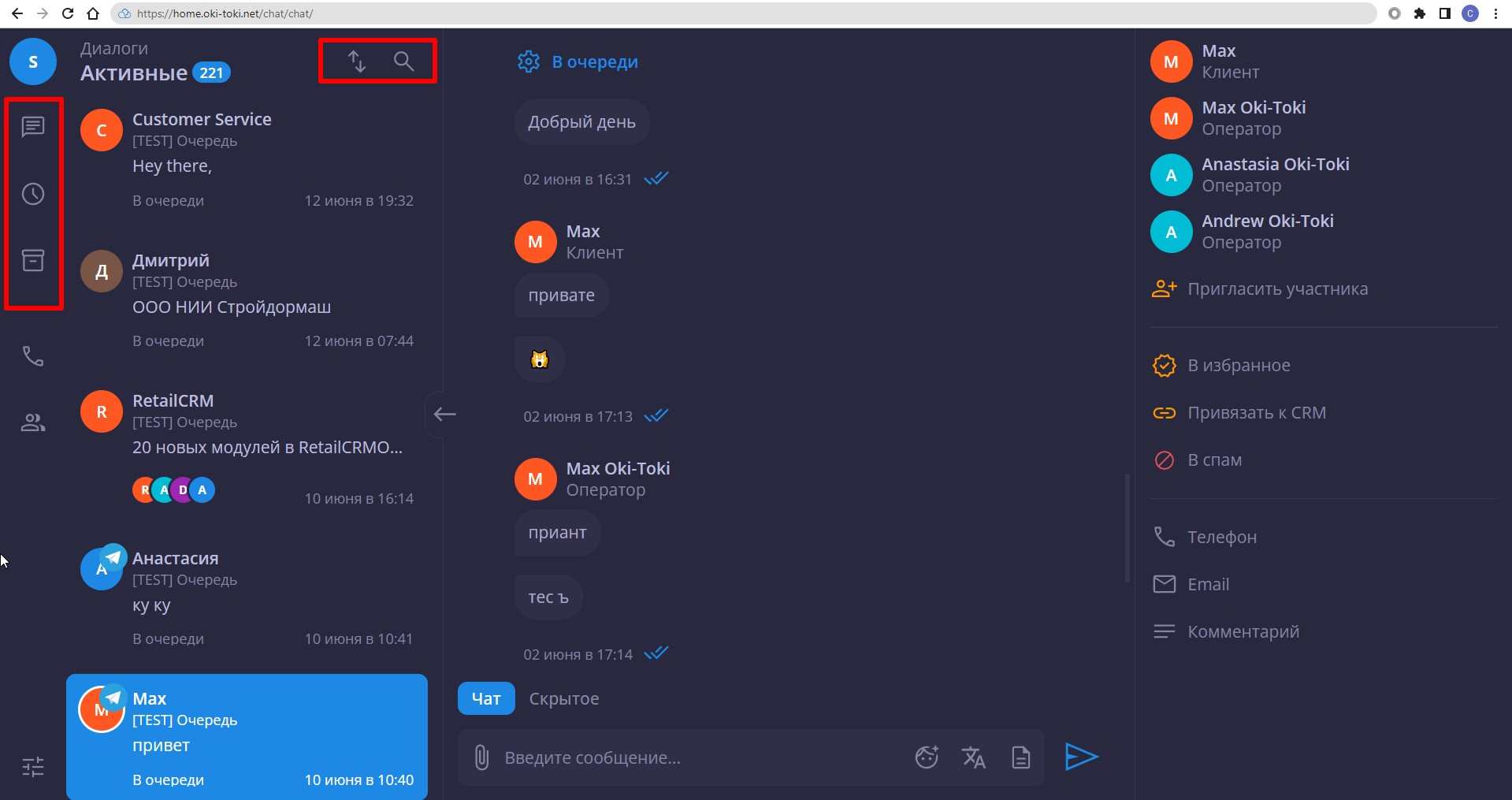 Chat
Working in current version:
Joining other people's chats (if you have the right);
Treatment status management;
Invitation of other operators and change of the responsible person (according to the availability of the right);
Changes in the list of participants are logged by technical messages right in the dialog;
Hidden messages for employees (prompter);
Support for exchanging files with the client (if supported by the communication channel itself).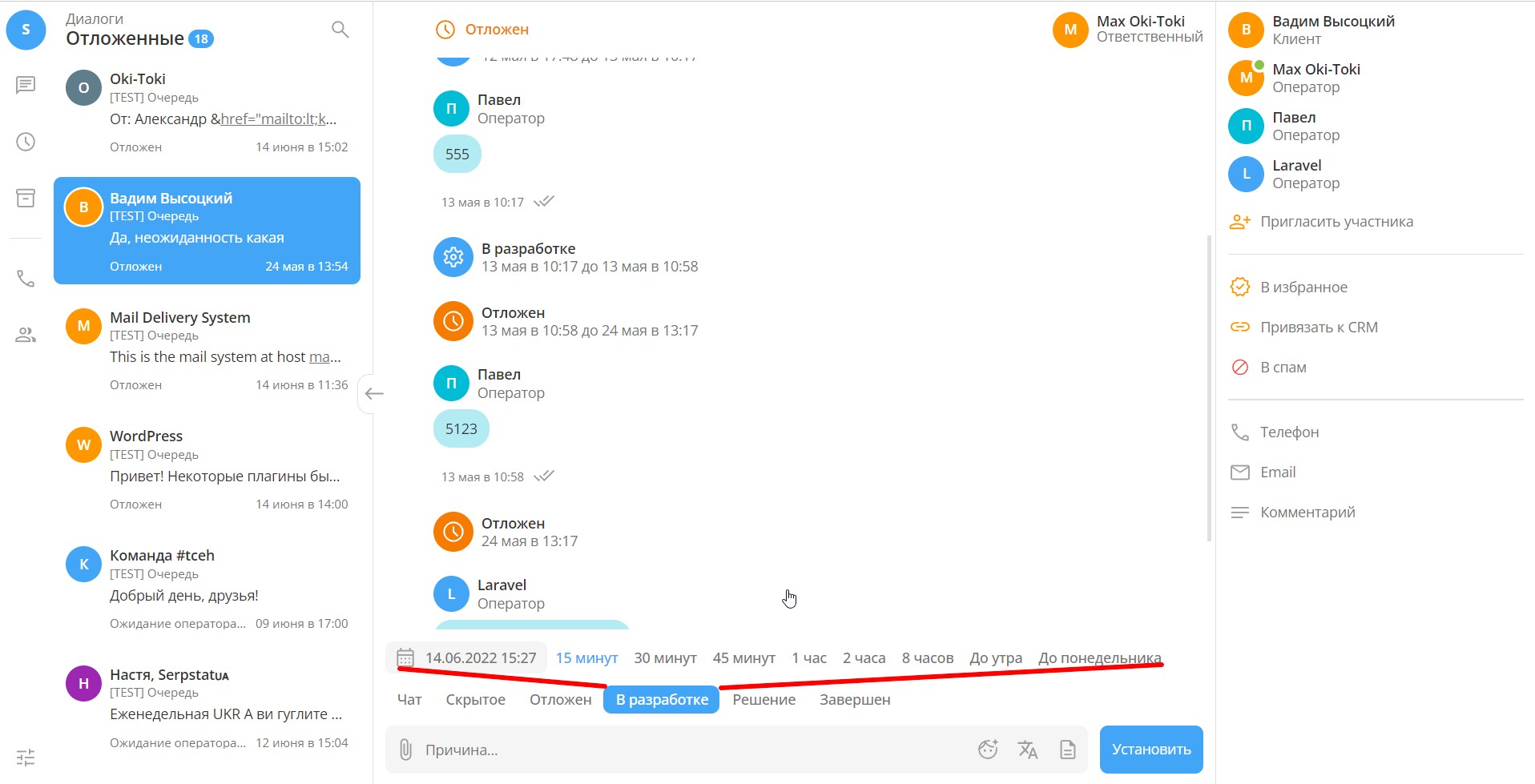 Contact
Companies using our solution will have a convenient way to supplement their sources of communication with the client so that they never lose it. This block is still modest, but it will also acquire functions 🙂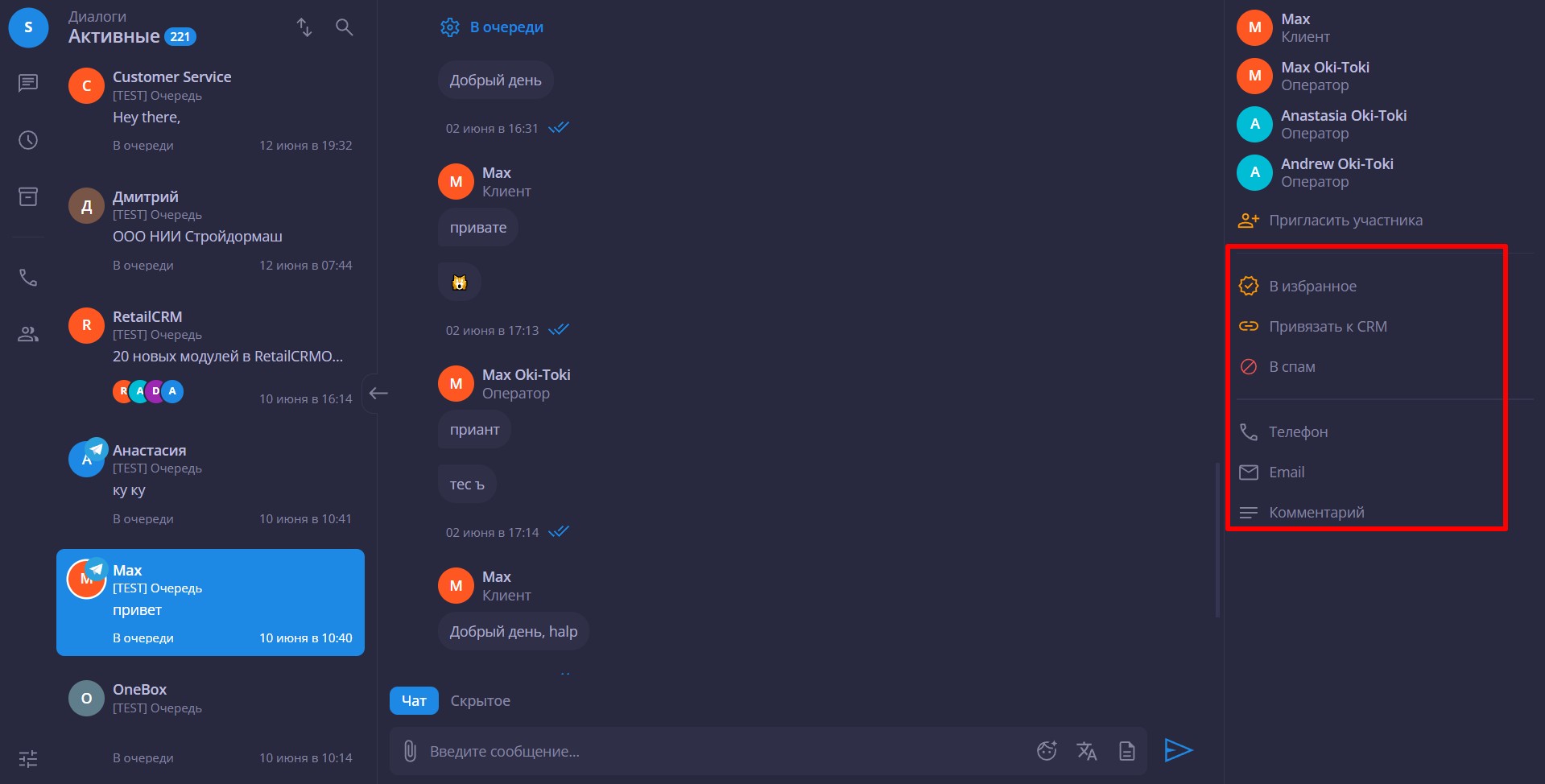 Connecting accounts
Account management is located in the Mail&Chats section (access is limited by the right in the system). Connection settings are minimal, and complex steps, such as "Where to get a token for Telegram?", are described in detailed guides, just follow the link provided there.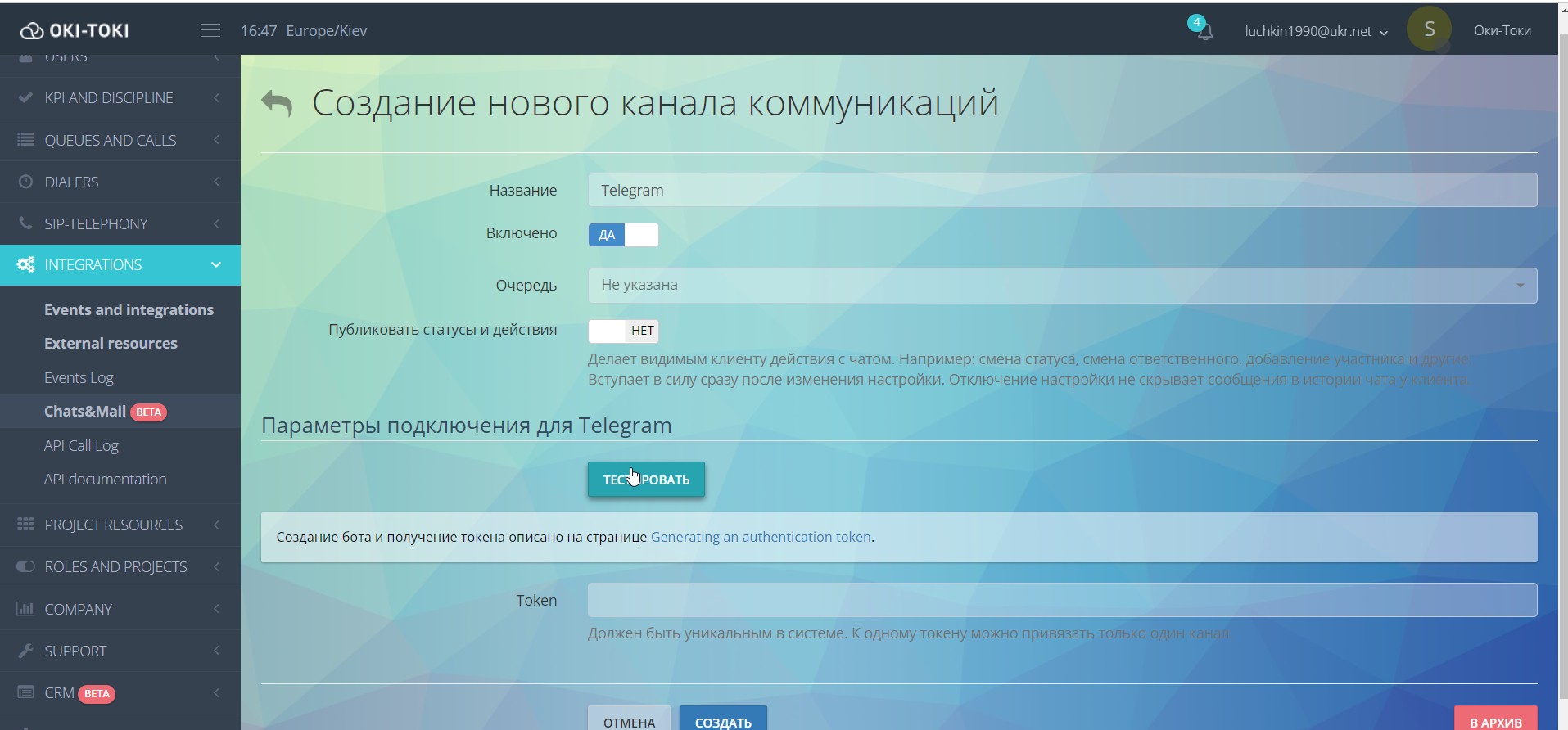 The chats are currently in beta, but they are already stable and can benefit your business (free for now 🙂 We are currently working on automating and botizing our chats – we know you will be interested in it – so we recommend trying them first!
PS Every day, or almost daily, we publish updates in our telegram channel .