Each user in the Oki-Toki virtual call center can be assigned several phones: work, including internal (virtual IP-PBX extensions) and personal (mobile and home). It can be done? by clicking on the user name in the "Users" tab of the Sec module (if, of course, the access rights allow you to change this information). This will open a window with user data, in which you can see the following designations for phone numbers:
INT – mobile or landline phone numbers owned by the company, i.e. work phones;
EXT – personal mobile or landline phone numbers. They remain with the employee even after the termination of work in this company. Can only be changed from the company where the user "lives";
SIP&MFC — PBX extensions assigned to the user within the system;
VM is the employee's voicemail.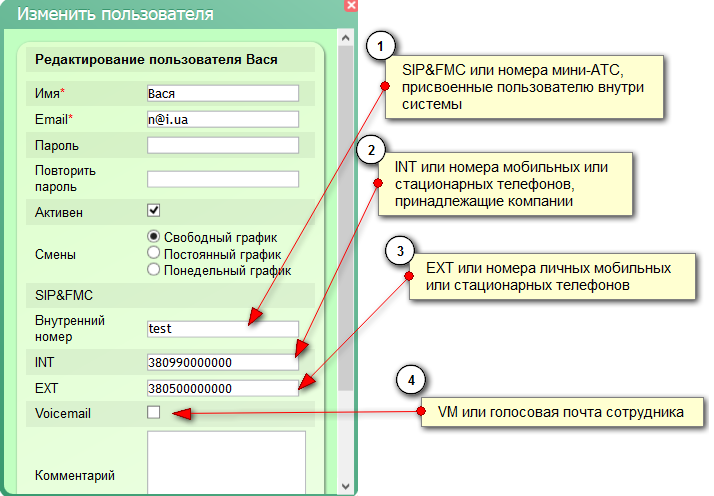 How to disable (enable) calls to a mobile phone
Sometimes it is required to disable calls to the employee's personal number so that incoming calls do not go to his mobile phone. To do this, go to the user management module of the Sec call center and click the "Users" menu item. A table of users registered in the system will appear. We find the "Communication" column and click on "EXT" so that it turns gray.
Similarly, you can disable and enable other methods of communication with the user: calls to the operator's place (OP), to internal numbers of mini-PBX (SIP & FMC), voice mail (VM).
What will be displayed in the call center call report (ACD)
The main report of any call center – "Report on calls" (in the ACD module) – will show us exactly how the user received the call. Below are two examples, which show the reception of a call to the operator position (OP) and to the internal number of the mini-PBX (SIP&MFC).