Many types of reports have been created in the Oki-Toki cloud service – with their help you can navigate the number and duration of incoming and outgoing calls, operator statuses, statistics of incoming calls and operator actions. In this article, you will learn more about reports in the Oki-Toki cloud service.
Call Center Reports
Call center reports help you make informed decisions and monitor employee performance. Many types of reports have been created in the Oki-Toki cloud service – with their help you can navigate the number and duration of incoming and outgoing calls, operator statuses, statistics of incoming calls and operator actions. All statistical data is stored on the cloud, which makes it available at any time and eliminates data loss.
Types of Oki-Toki reports
Reports in the "Users" section
Using the reports in this section, you can find out how long the operator was in the Oki-Toki system and what he did during the working day. User statuses Busy, Away, Ready, PCP (Wrap up time), Preview, Waiting, Offline, N/A are used as indicators. Fixed:
Beginning and end of the operator's work;
Current status;
Additional information (queue, comment, process, etc.).
In Oki-Toki, you do not have to use standard statuses – create your own! Adapt the statuses to suit your tasks in order to be able to assess whether the employees' working time is correctly distributed. For example, Oki-Toki users often add clarifying information to standard statuses, such as "Absent for lunch" or "Absence due to reports." Operators need to change the status on their own: went to lunch – chose the status "Absent". The call center has a lot of work rules (labor discipline) and it is difficult to control them, especially for remote workers. so we added disciplinary reports. These reports capture violations of regulations such as:
Did not receive a call;
Forgot a call on hold;
Too short or long conversation with the client.
too long wrap-up, lunch, etc.
You can make your own list of disciplinary violations that should be displayed in the report. Any information can be obtained in the form of Journal of work or statistics Summary reports.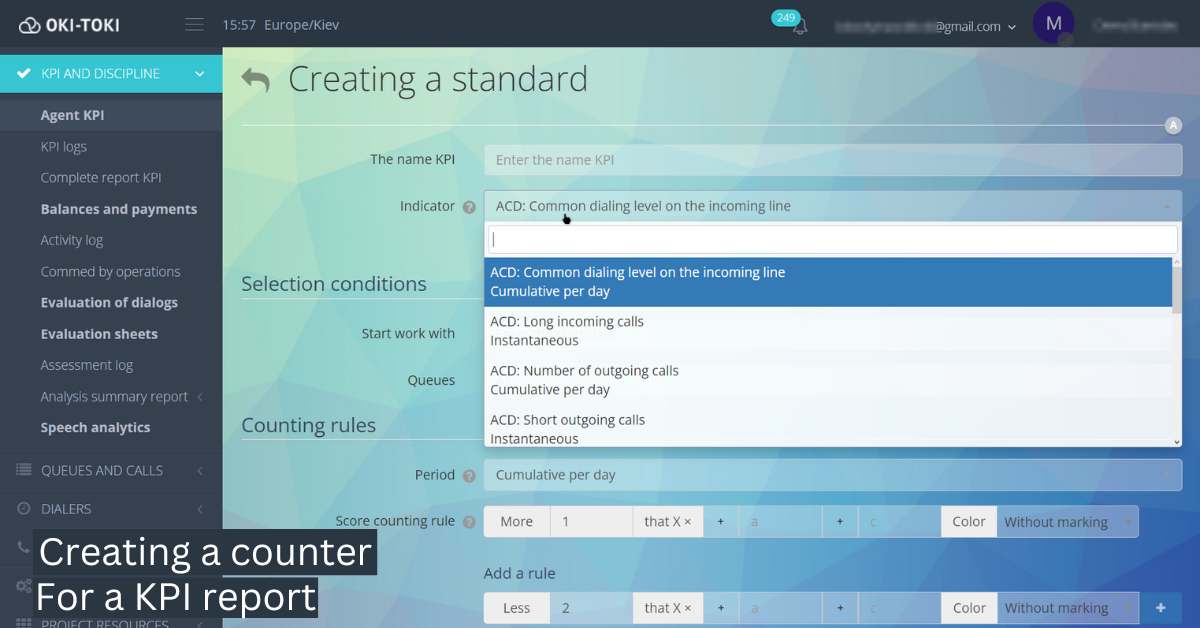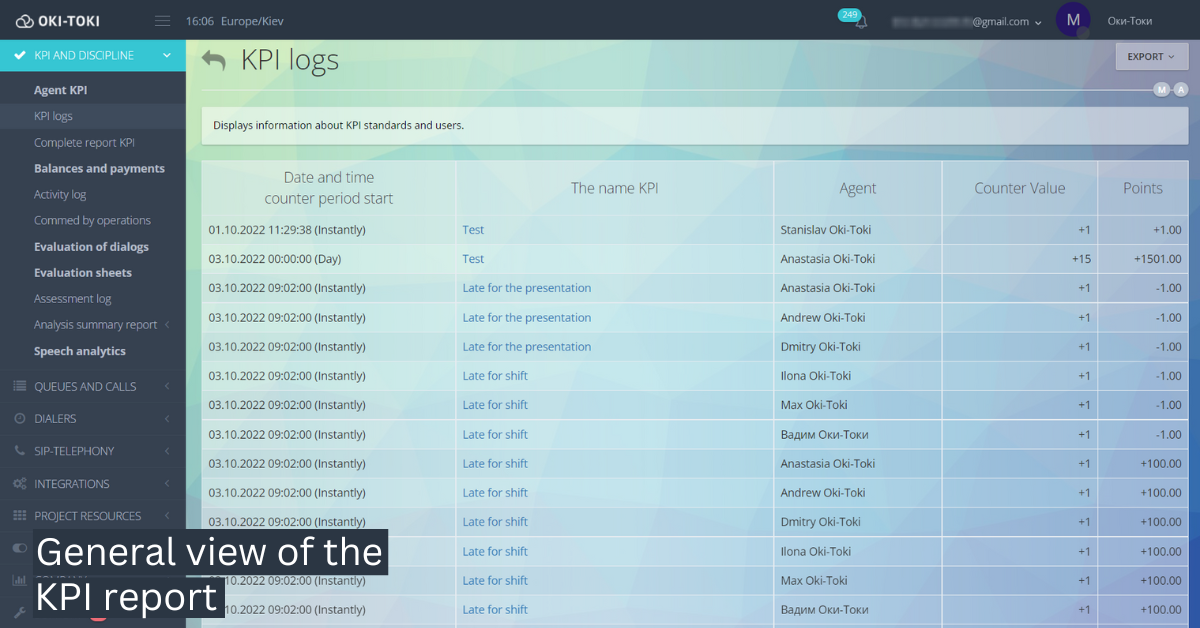 Reports in the Queues and Calls section
In this section you will find detailed and summary reports, the main ones being: Call log, Summary report, FCR and IVR report. The call log displays information about calls for the selected period with a lot of details: who called, what number and queue, who received the call, what functions were involved in the call, waiting time, conversation time, call total. Here you can also listen to and download the recording of the call, as well as find out who else listened to the recording. The summary report provides information about the duration of waiting and the duration of the conversation for the selected period by agents and queues:
Total calls, number of successful and unsuccessful;
Average and maximum expectation;
Average and maximum call duration;
The amount of conversations and the amount of expectations;
sl of the incoming line.
FCR displays statistics on unique numbers and the number of dialing attempts. This report is needed to determine the ratio of the number of calls per appeal. The IVR report provides data on response rates in the IVR. Data can be combined (grouped) by calls, numbers and, traditionally, days and months. You can turn off service responses "Other" and "Nothing clicked".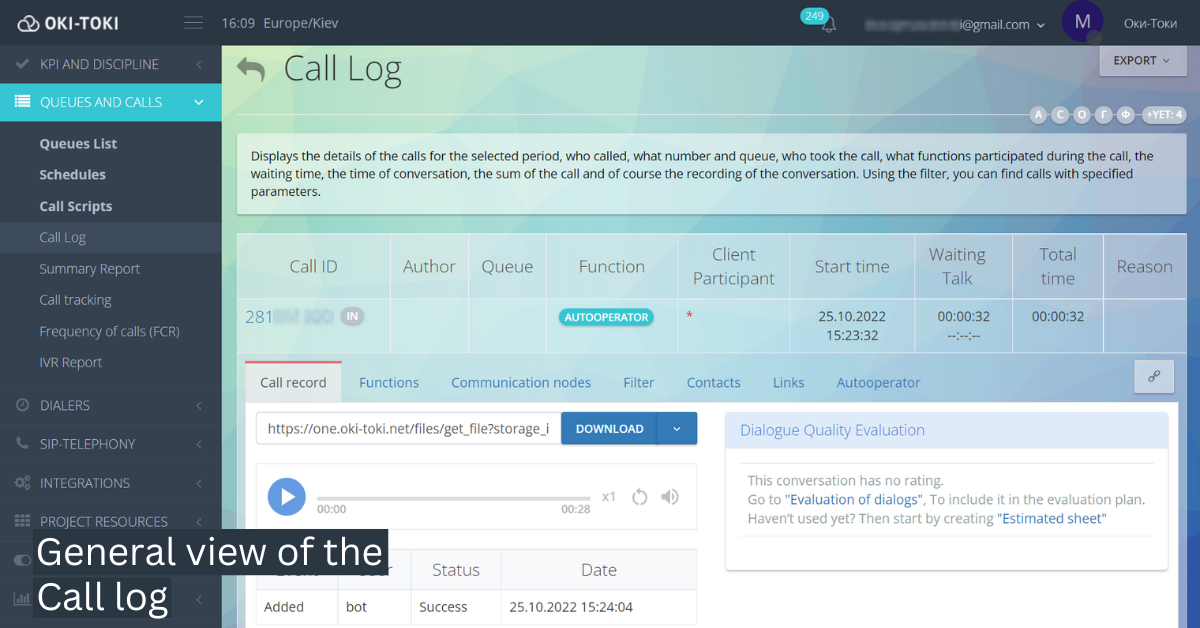 Reports in the "Dialer" section
There are 6 reports that allow you to evaluate the effectiveness of dialer. The most popular ones are Task List, Task Summary Report, IVR Report. The list of tasks displays tasks according to the filter: dialer name, phone number, hour, when and by whom it was added, and task status. The summary report displays the number of tasks with a certain status (Cancelled, Outdated, Success, Failed, Queued) for a period and groups them by call attempts or import numbers. The IVR report displays information about button presses or speech recognition while the autoinformer is running. This report will be useful when evaluating the quality of work: you can find out who pressed which button, and draw conclusions / find the reason.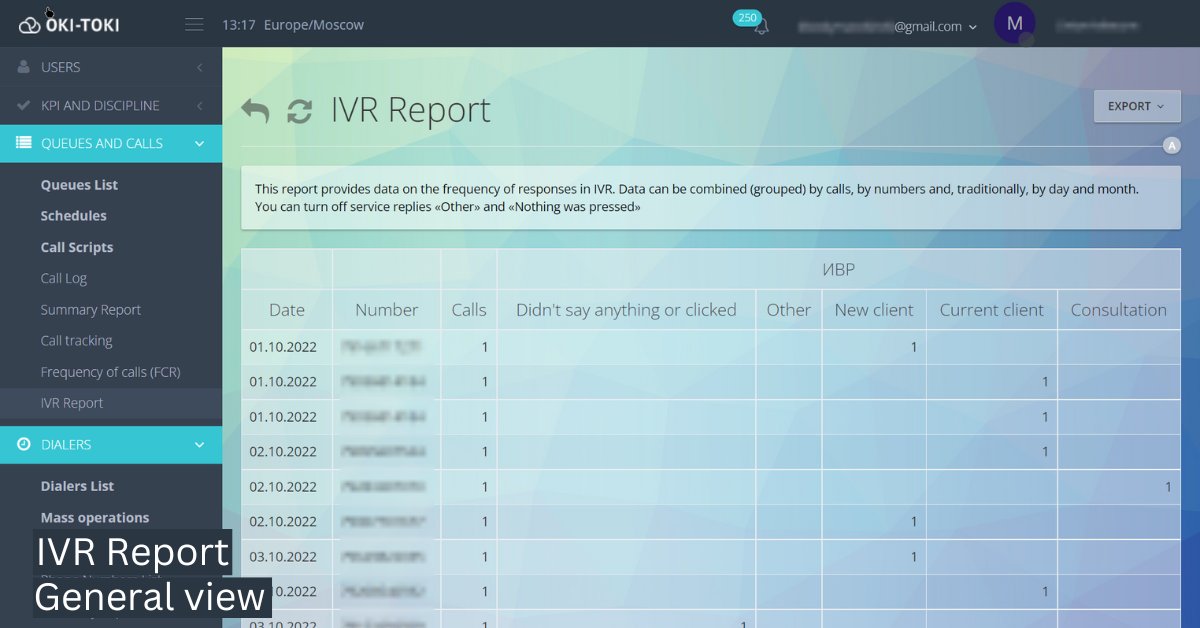 Reports in the sip-telephony section
There are 3 reports in this section that will provide you with all the necessary information about sip-telephony: Communication costs (for outgoing calls), Registration log, Incoming statistics. Communication costs – a report that shows the costs of outgoing communication by supplier in a random period of time. Data can be grouped by providers or queues. The registration log displays the results of attempts to register connected providers (providers). This report will help Allows you to see the cause and duration of carrier outages. Incoming statistics displays the statistics of incoming calls in the context of incoming authorizations (similar to Call Tracking).
Reports in the "Company" section
In this section you will find the financial report and reports. The financial report displays the amounts of replenishment and write-off from the balance for the maintenance of the call center for the selected period. If you have several projects, then you can allocate costs for each of them. New reporting tool – reports You no longer need to "run" through the system – reports display information from all reports in one place! The Oki-Toki cloud system provides the ability to track and take into account many parameters. Previously, for this it was necessary to open each of the system reports, but now reports are enough. Reports – a new type of reporting for PBX, operators and the entire call center. Their main advantages are compactness and information content. Reports are formed in the form of sections (each of them is an array of information with a certain wording). By selecting one desired section or several at once, you will receive a convenient report for data analysis. You can set up automatic receipt of reports for a certain period to one or more email addresses. Types of reports:
Waiting time for incoming calls in the queue;
Data on incoming calls;
Data about outgoing calls;
Report on the status of employees;
Callback report;
Queue activity data;
Report with international indicators;
Waiting time for incoming queues;
Reasons for ending calls.
Oki-Toki reports – convenient and informative
The basis of informed decisions is the availability of a large amount of information. We understand this, so we have created a system for you where all the data can be obtained with a single click of the mouse. Anytime. Regardless of location.
All reports can be uploaded to Excel or received via api;
All reports are stored in the cloud;
Using reports, you can receive data by mail at the appointed time.
Request a trial version of Oki-Toki to test the convenience of reports and reports yourself!