Oki-Toki is a cloud service for call centers, which has many opportunities for organizing a workflow, building reports and creating settings for various business ideas. Due to the large functionality, it becomes necessary to have competent technical support, which will always, and most importantly, on time, answer the question and find a solution to the problem. This is what our article is about, that is, how a ticket system is organized in Oki-Toki for processing customer requests.
Our ticket system has been in existence for over two years. The first ticket from a client was created in July 2018. Since then, we've been testing, observing, and adding tools to make it easier for customers to work on tickets and to monitor the quality of work of our technical support staff. We did it for ourselves and for the first time, so improvements appeared as we realized the need for them.
The article refers to the Cloud Call Center product .
Problems that we wanted to solve at the start
Lack of processing requests from customers. This was our main problem, for which we developed a ticket system. At that time, we used only Skype to communicate with clients, which means that all complaints, consultations and suggestions were written in the "General Chats". A large part of them were "lost" under the later messages in the chat.

Lack of personal responsibility for resolving the issue raised by the client. This provoked situations when employees could not take applications into work, in the expectation that someone else would take care of it.

It is difficult to control the problem solving process. Why monitor the situation if the client then somehow reminds himself of himself.

When working through Skype, it is difficult to evaluate both the contribution of an individual employee and the overall effectiveness of technical support.
In general, the problems are not unique, widely known, and their solution comes down to the implementation of two tools: ticket management and performance monitoring, a bunch of decorations and whistles.
Ticket management
The client creates a ticket, selects the type of appeal and closes it himself if the proposed solution to the problem suits him.

The technical support employee and the client correspond in the chat and fix the change in the state of the ticket by changing its statuses. Each side has its own allowed statuses. Technical support can set "Waiting for data" (when additional information is required from the client to solve the problem), "Pending" (with a timer for suspending work on the ticket), "In development" (if the solution requires the participation of programmers. The status in this case is accompanied by the choice of an engineer , issue number in Jira, and due date.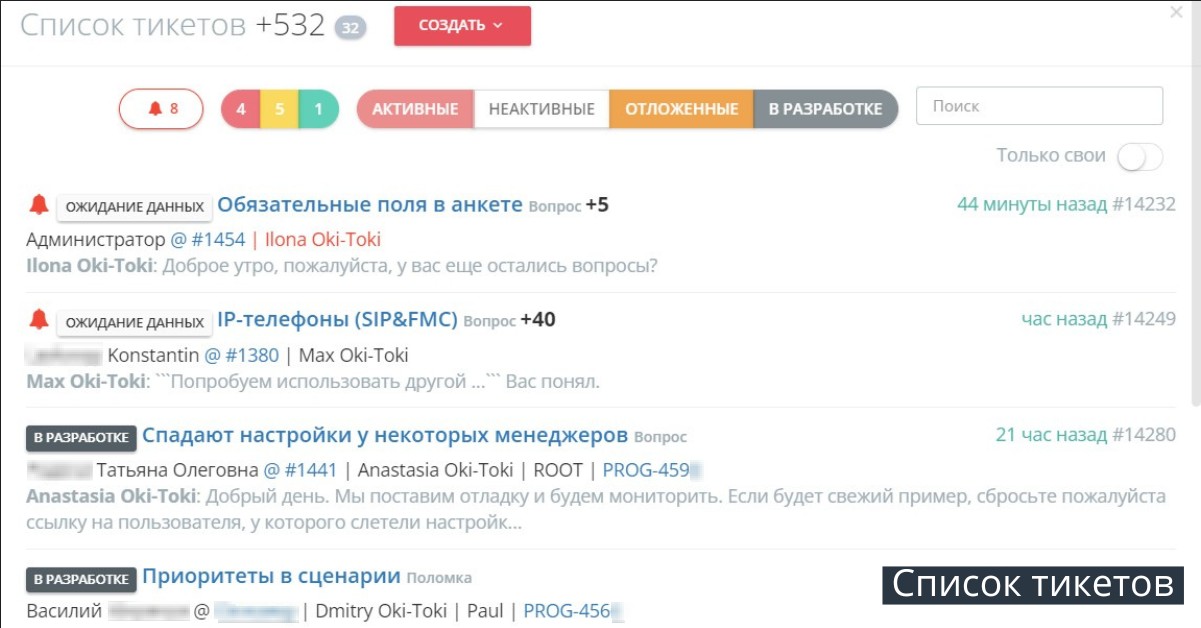 Help Desk Performance Monitoring
Preparing and emailing daily/monthly reports:

Statistics on created and closed tickets for the period

Ticket communication data: average number of messages per ticket and average length of messages grouped by employee

Summary table of ticket statuses and employees

Summary report on rejected decisions in tickets (grouped by companies and responsible)

Top companies by tickets and types (problem/consultation/idea)

Average duration of statuses in tickets grouped by responsible

Alerts (the number of disciplinary violations in connection with the status of each user)

Number of ratings (likes/dislikes) for messages in tickets

List of "In progress" tickets that have been pushed back more than once.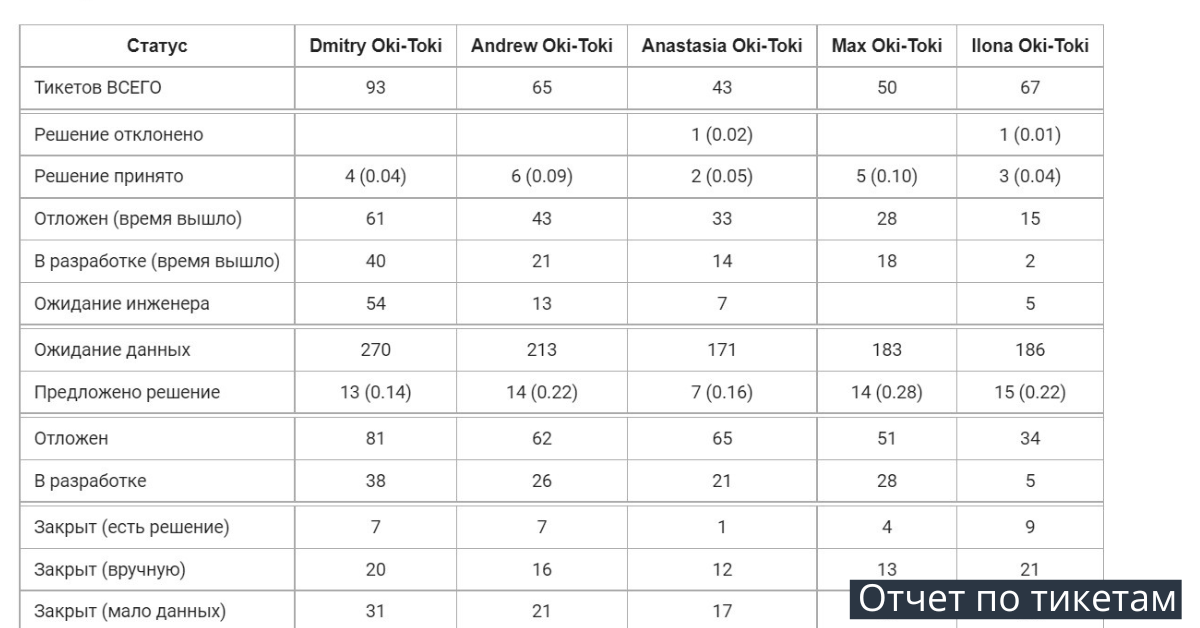 Disciplinary standards – alerts. For each status in the "Ticket Timeouts" a timer with intervals (from one to three) has been created. They correspond to the degree of disciplinary violation. The summary table on violations in the regular report reflects the type, number and degree of violations of the technical support work rules when processing tickets.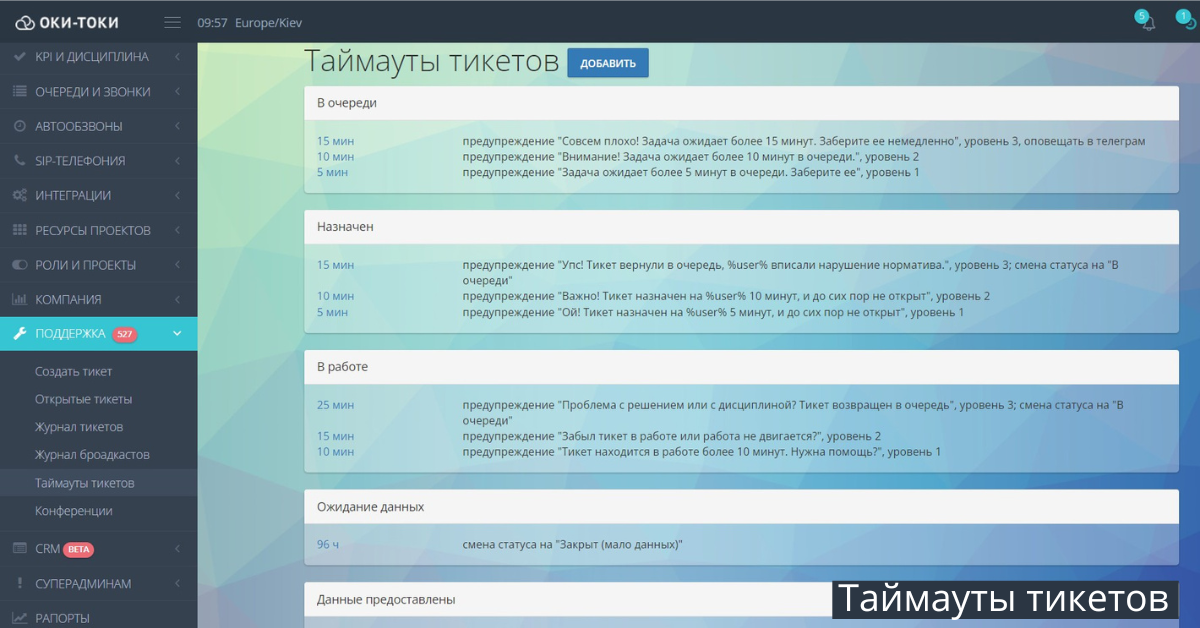 Flexible personal scheduling of technical support. Alerts about violations of discipline, as well as automatic distribution of tickets, rely on them.

Ticket system and KPIs. For example, according to the results of the month, the percentage of rejected solutions for a technical support employee should not exceed 20% (i.e., no more than 1 rejected per 5 proposed solutions)

Reactions (likes, dislikes), ticket ratings and the ability to leave feedback
Additional Tools
The system can automatically assign a ticket to a free employee or change the responsible one if the previous technical support employee "forgot" about the ticket and violated the disciplinary limit for processing ticket statuses;

A convenient set of filters and a form for searching for any active ticket;

Hidden messages in a ticket – useful for discussion and notes within tech support;

Two types of interaction with Telegram:

sending information about new tickets and changes to existing ones (for technical support employees)

reporting tickets with low scores, negative reactions or disciplinary alerts, ticket system for management

Alerts or "Broadcast" – global messages about breakdowns, implementations and planned work
What did we get?
According to customer reviews in work chats and feedback services, Oki-Toki's technical support is in the top 3 of Oki-Toki's main advantages

There was an understanding of which clients should be approached comprehensively in terms of solving complex issues;

Based on the data obtained, we can now assess which section of the system needs to be given more attention.

"Is the support person doing their best or just pretending?" I no longer ask myself such a question: everything is on paper, in numbers and shares. In addition, it has become easier to calculate the need for people, to reward for success or scold for their lack.
Now I can say that we are happy with what we have done. Flexibility, functionality, control, autonomy – what technical support has always lacked and what management wanted. This, of course, is not the final version – we have a list of ideas, global and smaller, on which we are actively working, but we have already implemented all the critical ideas.
Additionally
You can read

about

the Oki-Toki ticket system

in another article.

Soon the ticket system of Oki-Toki will be upgraded into our new product "

Chats

", which will expand the possibilities of communication with technical support.
Stanislav Luchkin
Ilona Chernyakova