Web call is a technical solution for calls from a website to a contact center. This solution has advantages that can be used in call centers and e-commerce. In this article, we'll describe how Web calling works, how to set it up, and how to integrate it into your digital business.
What is a Web call from a website
"WebCall" is an incoming call to the operator directly from the browser. With the help of a direct call "WebCall", the client can ask his question at a convenient time for him, and it is also a completely free option without using a SIP telephony provider.
Here's what it looks like. Call the robot from our blog:
WebRTC technology
"WebCall" is built on Webrtc technology , which is supported by all browsers. Of practical importance is the use of this technology on mobile devices and then on a PC where there is a headset. The 3G network is more than enough for calls, and the technology is already ripe for commercial use. It is used in mobile applications, but why, if a browser is enough.
Where can it be useful?
Internal services such as technical support. Advantages – a call bypassing the telephone network (and instant messengers);
Customer service in roaming. Benefits – the ability for the client to call through "Public Wi-Fi" or using the Internet of a local SIM card;
Communication from a landing page or other web page. Easy access to operators or voice bots. This is an opportunity to improve conversion by instant communication with the client.
How to set up WebCall in Oki-Toki
To create a Web call, go to Integrations – External Resources .
Create the desired WebCall view integration;
Choose color and text settings for the "Call" button;
Place the generated code with settings on the pages of your site, and add the URL to the button to make a call;
Important! Do not forget to specify the queue to which the client number will be sent and from which script element the call will start.

Benefits and benefits of WebCall Oki-Toki

What can "WebCall" from Oki-Toki bring to your business?

Advertising and sales

Optimization of the advertising budget and increase in sales conversion;
Increased conversions as customers move to action faster.
Our Call tracking report shows the source of incoming calls. This allows you to analyze the effectiveness of advertising on different sources or on specific pages of the site;

Operator work

Incoming calls from "WebCall" are instantly distributed to a free operator, get into the waiting queue or go according to a different call scenario;
The operator will be able to receive WebCall calls through the Oki-Toki operator station, personal or work phone number, as well as through an IP handset or softphone;
For calls received from the site, you can use KPI standards and speech analytics to monitor the work of the agent.

Benefits for customers

Convenience for the client: a call from the site in one click, without communication costs and anonymously;
Thanks to "WebCall", the client can contact the operator from anywhere in the world without the cost of long-distance calls;
Webcall Oki-Toki is suitable for all versions of browsers.

Integration with Oki-Toki

It is possible to view a recording of the conversation in the Call Log or listen to it in real time, and information will also be displayed that this client came from the site;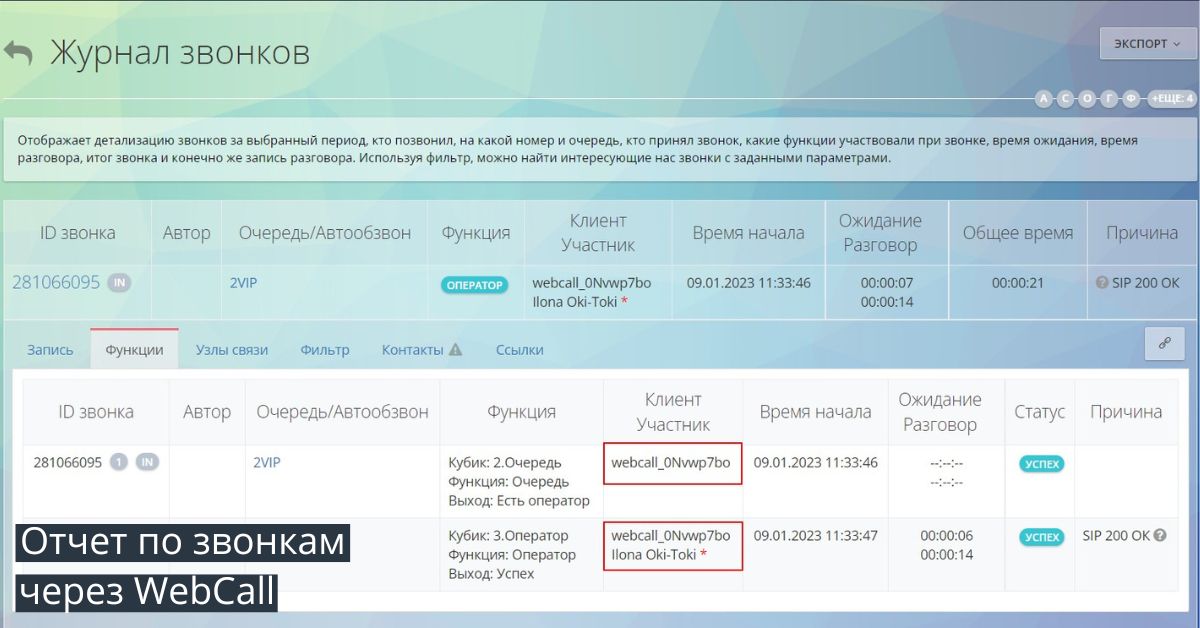 The "WebCall" widget is fully integrated with Oki-Toki, you can customize the script for incoming calls for different departments or employees, as well as use the voice assistant;

With the help of our CRM questionnaires and scripts, you can create the most successful scenario for a conversation with a client coming from the site.